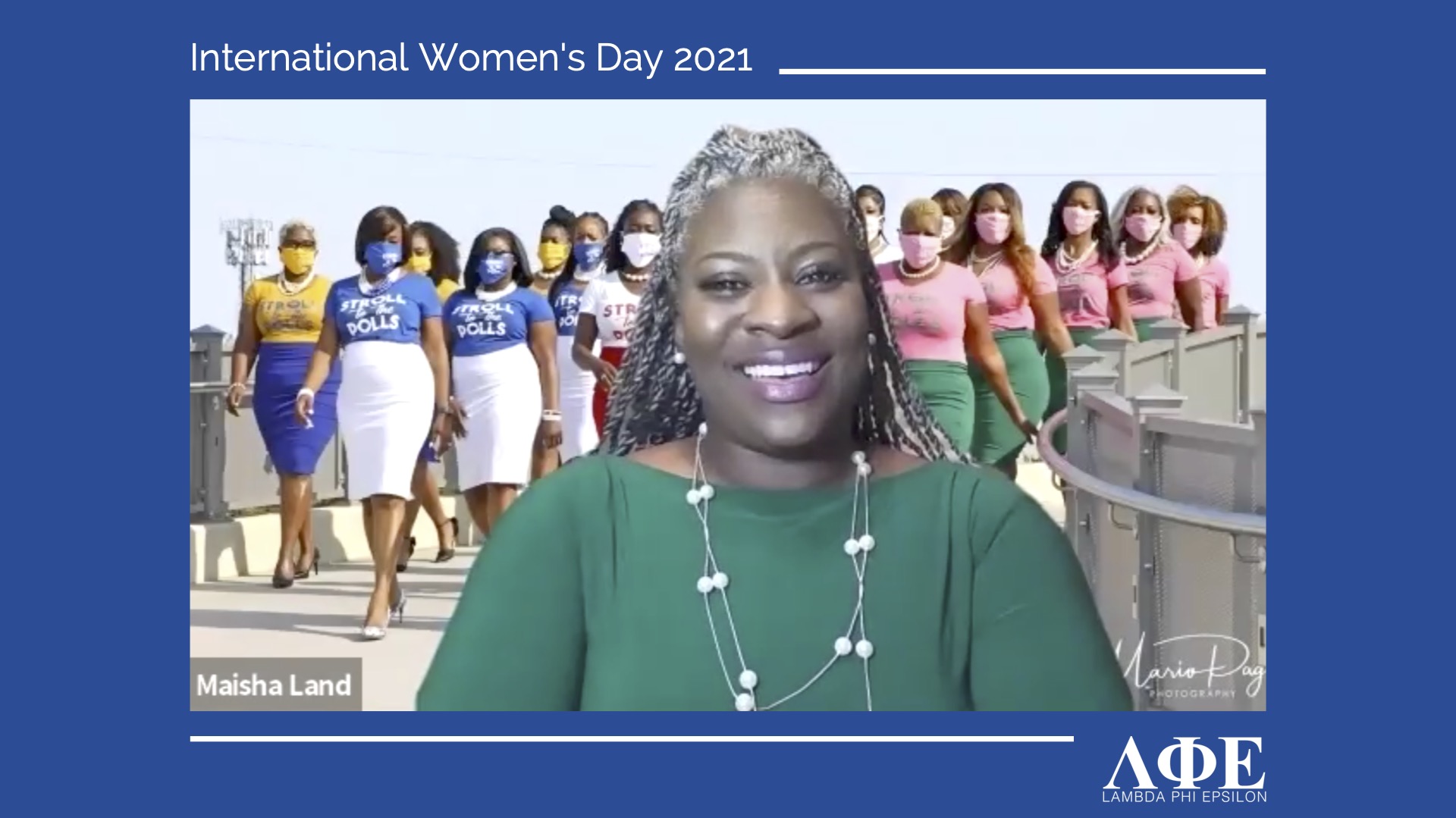 08 Mar

Pioneering Progress with Maisha Land
Maisha Land inspires membership in International Women's Day keynote
Celebrating International Women's Day 2021
In honor of International Women's Day on March 8, 2021, Lambda Phi Epsilon International Fraternity, Inc. hosted Maisha Land for a public keynote addressed to its membership and the broader community. Land is the Greek Visionary behind the movement that brought unity among historically Black and Asian Greek organizations to get out the vote during the 2020 US Presidential Election. The viral campaign resulted in a record turnout of Black and APIDA voters.
Land spoke on building momentum to counter the stigma of cultural appropriation. "Realize that your culture is not just something that belongs to you; it is something that you use for the movement of the well-being of everyone," said Land. "Pay homage to the inventor. You will always have an opportunity to create culture."
"The program brought a unique opportunity for members of both Black and APIDA fraternities and sororities to learn how we can support each other through hardships by understanding and learning from each other's experiences," said Tram Vo, LFE International Board Advisor. "The International Fraternity strives to be Leaders Among Men alongside its Black, Indigenous, Latinx, Asian, special interest Greek and non-affiliated allies."
Drawing upon her personal experiences as a member of Alpha Kappa Alpha Sorority, Inc., Land also illuminated the importance of taking risks through trailblazing. "Pioneering is about cutting paths for people who have no appreciation for the paths you cut, and don't want to walk them," says Land. "Pioneering comes with pains, but it also comes with progress."
"Maisha's words resonated with my soul," said Amelia Laytham, Pennsylvania State University alpha Kappa Delta Phi Sorority, Inc. alumna. "It validated the sleepless nights, neighborhood and social media activations, and the creation of a Bhangra stroll paying homage to our Vice President's South Asian heritage."
"Powerful is the simplest way to describe the words Maisha shared. She reminded us that each life creates endless ripples," said Kevin Yeung, LFE Director of Operations. "We encourage all our brothers to move forward and light up our world, one match at a time."
Conferring the Community Leader Award
At the end of the keynote, the International Fraternity bestowed the Distinguished Community Leader Award to Maisha Land. The Distinguished Community Leader Award is awarded to individuals who are exemplary figures of our organization's core values—authenticity, courageous leadership, cultural heritage, love, and wisdom—through impactful acts of service, groundbreaking advancements within their community, or inspirational feats of greatness.
"The initiative not only unified organizations under the National Pan-Hellenic Council, but welcomed additional culturally-based fraternal organizations to mobilize toward a common goal as we saw the needle of history moving in favor of an intersection many of our identities share," said Matthew Wright, LFE District Governor. "It was just one manifestation of bridging the gap between communities who, despite their publicized differences, often walk to the beat of the same drum."
"Women are at the heart of our communities and have always played a vital role in shaping the landscape of American history," said Dr. Bryan Dosono, LFE International President. "As Lambda Phi Epsilon's inaugural speaker for International Women's Day, Maisha Land reaffirms an intentional commitment from all of us to put in the work to be better and to lift up our communities in times of need."
Watch the Recording
###
Media Contact
Zac Antonius, Executive Director
Lambda Phi Epsilon International Fraternity, Inc.
zac.antonius@lphie.org
About Lambda Phi Epsilon
Founded in 1981 at Los Angeles, California, Lambda Phi Epsilon International Fraternity, Inc. has grown to become the world's largest Asian-interest fraternity. Lambda Phi Epsilon (ΛΦΕ, also known as LFE) aims to guide men on a lifelong discovery of authenticity and personal growth. To learn more, visit https://lambdaphiepsilon.com.