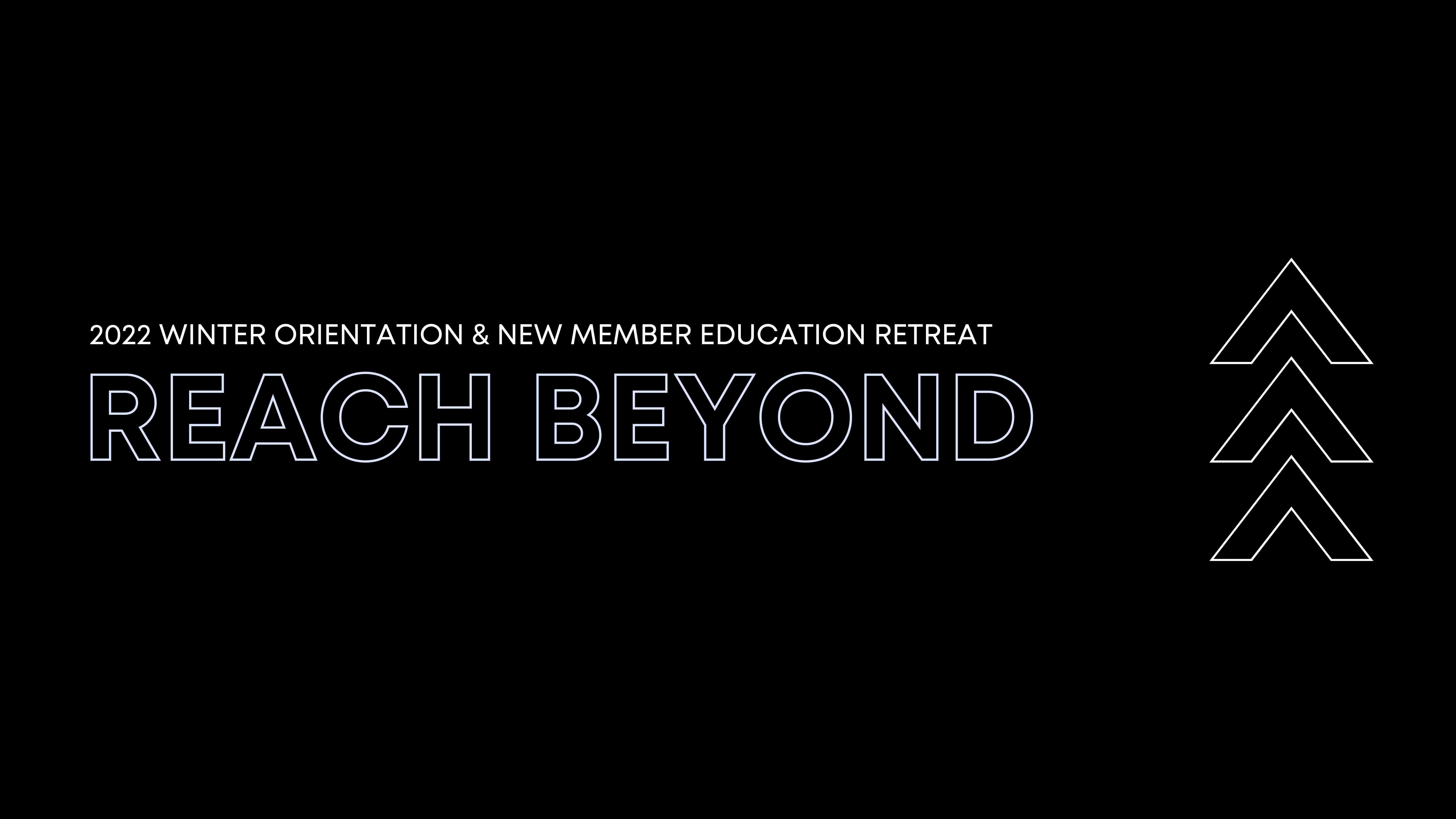 16 Jan

Orientation 2022
Reach Beyond
Last year, LFE Orientation gathered our chapters remotely under trying global conditions. At LFE Orientation 2022, brothers across various stages of involvement (chapter presidents, executive boards, and even those newly initiated) were invited to take the next step in their journey of development, to "reach beyond": beyond comfortable routines of learning from a distance; beyond traditional methods for serving our community; beyond established reputations as a fraternal organization; and beyond notions of building brotherhood today.
Lambda Phi Epsilon chapter leaders gathered virtually on Zoom over Martin Luther King Jr. weekend to refine the skills necessary to lead their chapters. On the first day of Orientation, Governors facilitated virtual breakout rooms for attendees to connect across distances and generations. The Executive Cabinet of the International Board presented workshops that enriched chapter development and strengthened chapter operations.
• Establishing Effective Alumni Advising Relationships
• Re-imagining Fraternal Involvement Beyond College
• Demystifying the Chapter Promotion Process
• For the Culture: Blurring Hybrid Social Experiences
• Growth and Recruitment: Sharing Strategies
• Show Me the Money: Budgeting Basics & Finance Fundamentals
Matthew Kroeger from Be the Match spoke about the International Fraternity's longstanding relationship with the National Marrow Donor Program. He illustrated a mutual alignment of mission, vision, and values, and the continued need for Asian and BIPOC donors. He reported that since September 1, 2018, the National Marrow Donor Program collected 1,648 swab kits thanks to efforts from Lambda Phi Epsilon.
"I enjoyed the alumni advising breakout room as I found that the advice given can be applied to any chapter. Alumni will always be a part of the fraternity, which makes them a very important part of the brotherhood," said Andrew Qiu of Chi Chapter at the University of Illinois Urbana-Champaign. "The lunch break was also great as we were able to meet out pbros and get to know what Lambda life is like in other universities."
"My favorite part was getting to meet up with my region with our governor present to discuss our chapter's evolution," said Terence Nguyen of the Washington State University Associate Chapter. "It was insightful to hear a small piece on how different chapters (with different cultures) handle similar issues."
"Orientation gave us an understanding of the state of the fraternity, our partners, and important aspects we should keep note of as leaders of our respective chapters and community," said Alexander Kyu of the North Carolina State University Associate Chapter. "It also gave us insights into how to grow as a chapter, hold more impactful events, and how to prevent risks that Greek Life inherently has."
New Member Educators received their specialized training on the second day of Orientation, as the Fraternity continued to make updates to the Noble Brother Program. The accessibility of this year's virtual format allowed for more brothers and alumni to engage with live programming beyond the annual attendance of chapter presidents and new member educators. Over 132 registered fraternity leaders attended the 10 hours of live-streamed programming split across two days.
Attendees reflected on their slice of Lambda Phi Epsilon's 40-year history while looking forward to new paths they have yet to traverse. To "reach beyond," chapter leaders broke down habitual mindsets to welcome the diversity of ideas and complex identities of brothers for embracing a new era of the international fraternity.
###
About Lambda Phi Epsilon
Founded in 1981 at Los Angeles, California, Lambda Phi Epsilon International Fraternity, Inc. has grown to become the world's largest Asian-interest fraternity. Lambda Phi Epsilon (ΛΦΕ, also known as LFE) aims to guide men on a lifelong discovery of authenticity and personal growth. To learn more, visit https://lambdaphiepsilon.com.
Lambda Phi Epsilon Contact
Zac Antonius, Executive Director
Lambda Phi Epsilon International Fraternity, Inc.
zac.antonius@lphie.org