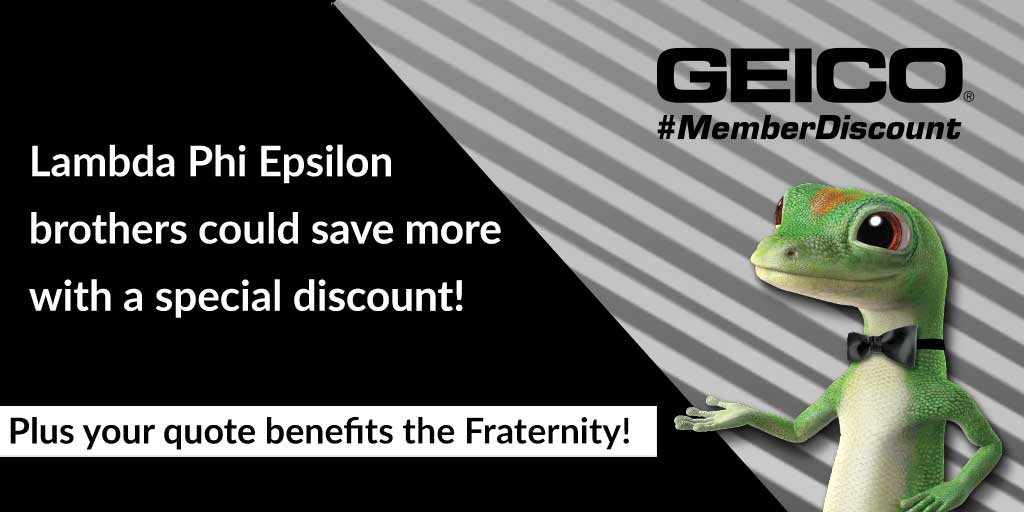 10 May

GEICO Partnership
Geico offers Lambda Phi Epsilon members auto insurance discount
Dallas, TX (May 10th, 2016) — Lambda Phi Epsilon International Fraternity, Inc. is pleased to partner with GEICO to offer a new member benefit: a discount on GEICO auto insurance. Through the International Fraternity's new partnership with the insurance agency, Lambda Phi Epsilon brothers may qualify for a special member discount, potentially reducing their auto insurance premiums. Additionally, each quote request helps to support the relationship with GEICO and contributes to the International Fraternity.
"We are extremely glad to be able to partner with the Government Employees Insurance Company and look forward to bringing our Brothers more programming and networking opportunities in the future," says William Tan, Director of Education of Lambda Phi Epsilon. "We encourage Brothers to support those partners who support our Fraternity. The marketing allowances we receive from these partners allow for much of the funding for our programs."
GEICO offers insurance for auto, motorcycle, and boat coverage, and can help members find competitive rates on insurance for homeowners, condo, renters, and much more through the insurance agency. The Fraternity encourages Brothers to consider GEICO when fulfilling these insurance needs. The more quotes from sought out from the Fraternity's brothers, the stronger its relationship with GEICO. Brothers may visit geico.com/greek/lambdaphiepsilon to get their quote today and begin their cost savings.
###
About Lambda Phi Epsilon
Founded in 1981 at the University of California at Los Angeles, Lambda Phi Epsilon International Fraternity, Inc. has grown to become the world's largest Asian-interest fraternity. Lambda Phi Epsilon (ΛΦΕ, also known as LFE) aims to guide men on a lifelong discovery of authenticity and personal growth. The fraternity is affiliated with both the North-American Interfraternity Conference and the National APIA Panhellenic Association. To learn more, visit https://lambdaphiepsilon.com.
Media Contact
Bryan Dosono
International Board Secretary
secretary@lambdaphiepsilon.org