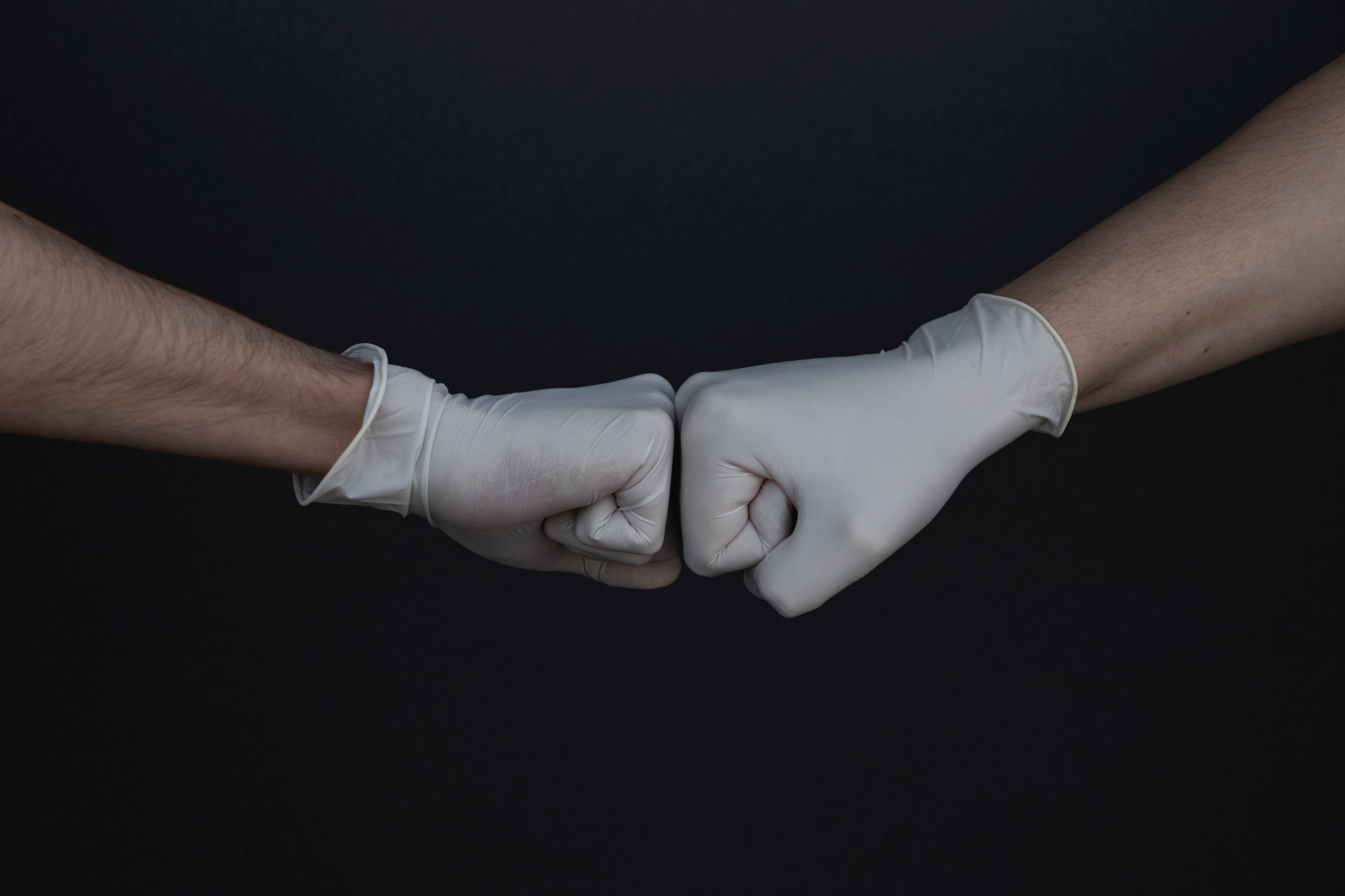 27 Apr

Fundraising for COVID-19 Relief

In wake of the COVID-19 pandemic, various regions of the International Fraternity have shared fundraising campaigns and contributed where they could to provide supplies for frontline responders.
Fraternity men in NYC spearhead Mask Our Heroes campaign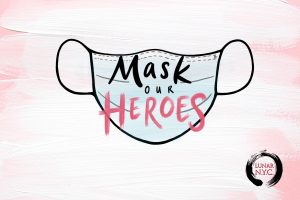 In New York, John Albert Herrick II (Spring 2015, University of Virginia) of Alpha Tau Chapter has been raising awareness of Mask Our Heroes, a GoFundMe campaign that donates personal protective equipment to hospitals in the NYC area. The cause has fundraised over $56,000 since its inception and is sponsored by Greek partners like Nu Alpha Phi Fraternity and MCK Threads.
In coordination with Brandon Wong of Nu Alpha Phi, Herrick has enlisted the support of fellow Lambda Phi Epsilon members Mahir Khan (Fall 2017, University at Buffalo) and Wei Ni Colon (Fall 2015, University at Buffalo) as founders of Trigger Collective—an NYC-based DJ/Producer group—to coordinate fundraising events for Mask Our Heroes. Among those include collecting donations via a nationwide Instagram bingo social media campaign as well as an upcoming digital live stream hosted on Twitch. The charity streaming event will include performances by brothers Herrick, Khan, and Colon, as well as several other DJs to continue the fundraising effort. The cause has been supported by chapters from Sigma Psi Zeta, Kappa Phi Lambda, Sigma Omicron Pi, and Alpha Sigma Rho.
Khan, a full-time EMT and New York native works on the frontlines, highlighting the importance of Personal Protective Equipment (PPE) for emergency healthcare professionals. He mentions the troubling scarcity of PPE in NYC and the struggles he faces every day in the era of COVID-19. "I've been using my same N95 mask for two weeks and I don't really switch it out unless the bands that hold it up to your head breaks," says Khan. "It's a terrifying thought that you can be working with a patient and the band snaps and that's it. You're exposed to the virus."
"Mask Our Heroes started off as a Greek initiative," said Wong. "As this situation hits close to home, we are looking to partner with other organizations and businesses to scale our fundraising operation, leverage our buying power with suppliers, and expand the reach for this cause." Alumni may contribute to the Mask Our Heroes GoFundMe campaign online: https://www.gofundme.com/f/maskourheroesNYC.
VCU alumnus utilizes economies of scale to purchase masks for health professionals and first responders



In the southeast region, Vinnie Tchong (Fall 2008, Virginia Commonwealth University) took it upon himself to directly purchase face masks in bulk for community organizations in Virginia.
"As we all know, the demand for disposable face masks is extremely high and the supply for them is very low, even for our health professionals and first responders," says Tchong. "So, because of this, I felt the urge to contribute."
So far, he has raised over $2,000 and has donated over 3,000 masks for essential services in need. Masks have thus far been donated to the Norfolk Fire and Rescue Squad, the Norfolk Police Department, and the Sentara Northern Virginia Medical Center.
"Many nurses, doctors, and other first responders are lacking the proper protection that they need to take care of patients," says Tchong. "I want to be able to provide them with supplies that they need to continue at what they do best."
Tchong's goal is to raise at least $3,000 through virtual donations on an online GoFundMe campaign: https://www.gofundme.com/f/uxe9sg-masks-for-first-responders.
Houston business owner commended by county for in-kind donations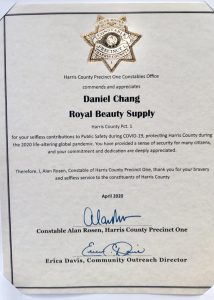 Daniel Cheng (Spring 2009, University of Houston) made a generous donation to the nation's second-largest constable's office and later received an unexpected appreciation.
CEO of Royal Beauty Supply, Cheng provided extra PPE supplies from his business to the Harris County Precinct One Constables Office, lauding his "selfless contributions to Public Safety during COVID-19, protecting Harris County during the 2020 life-altering global pandemic."
According to Alan Rosen, Constable of Harris County Precinct One, Cheng "provided a sense of security for many citizens, and [Cheng's] commitment and dedication are deeply appreciated. Therefore, I, Alan Rosen, Constable of Harris County Precinct One, thank you for your bravery and selfless service to the constituents of Harris County."
Officials in cities like Houston, TX began requiring citizens to wear masks that must cover their nose and mouth in public with possible fines of up to $1,000. Upon learning about the sanctions, Cheng felt a civic need to assist community members in need.
"I donated what I could to help people get masks that can't afford it," says Cheng. Good samaritans abound in the International Fraternity's southwest region.
West coast alumnus purchases masks from Facebook birthday donations after completing fundraising goals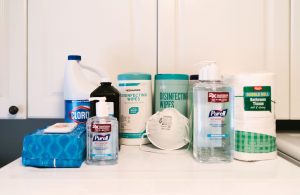 Raymond Yu (University of California Irvine, Spring 1995) celebrated his 44th birthday in an unexpected way. Due to shelter-in-place orders in California, he created a Facebook fundraiser under quarantine that was accessible to his maxed-out limit of 5,000 friends on the platform.
In less than three days, Yu met his fundraising goal of $2,000 collected by 22 donors on Facebook and through financial donations made via Venmo and Paypal. Yu procured a shipment of 600 KN95 masks that is en route to the medical workers in Los Angeles.
"This is for LA and those on the front lines not only helping to save their lives but to help save the lives of others we don't even know," says Yu. "It really just showed to me that those within my degrees of separation wanted to collectively do something for the cause."
A talented community connector, Yu decided to unleash the power of his social network to make a difference in his local community. While his Facebook campaign has closed with its fundraising goals met, Yu encourages Lambda Phi Epsilon brothers around the world to be safe and to support brother-owned businesses.
###
COVID-19 Impact
Lambda Phi Epsilon condemns incidents of racist behavior incited by coronavirus fears. We applaud the work of chapters like Cornell University that fundraise for COVID relief. Know of a chapter engaging in service or philanthropy for COVID-19? Let us know for a future roundup of ongoing relief efforts!
Media Contact
Zac Antonius, Executive Director
Lambda Phi Epsilon International Fraternity, Inc.
zac.antonius@lphie.org
About Lambda Phi Epsilon
Founded in 1981 at Los Angeles, California, Lambda Phi Epsilon International Fraternity, Inc. has grown to become the world's largest Asian-interest fraternity. Lambda Phi Epsilon (ΛΦΕ, also known as LFE) aims to guide men on a lifelong discovery of authenticity and personal growth. To learn more, visit https://lambdaphiepsilon.com.