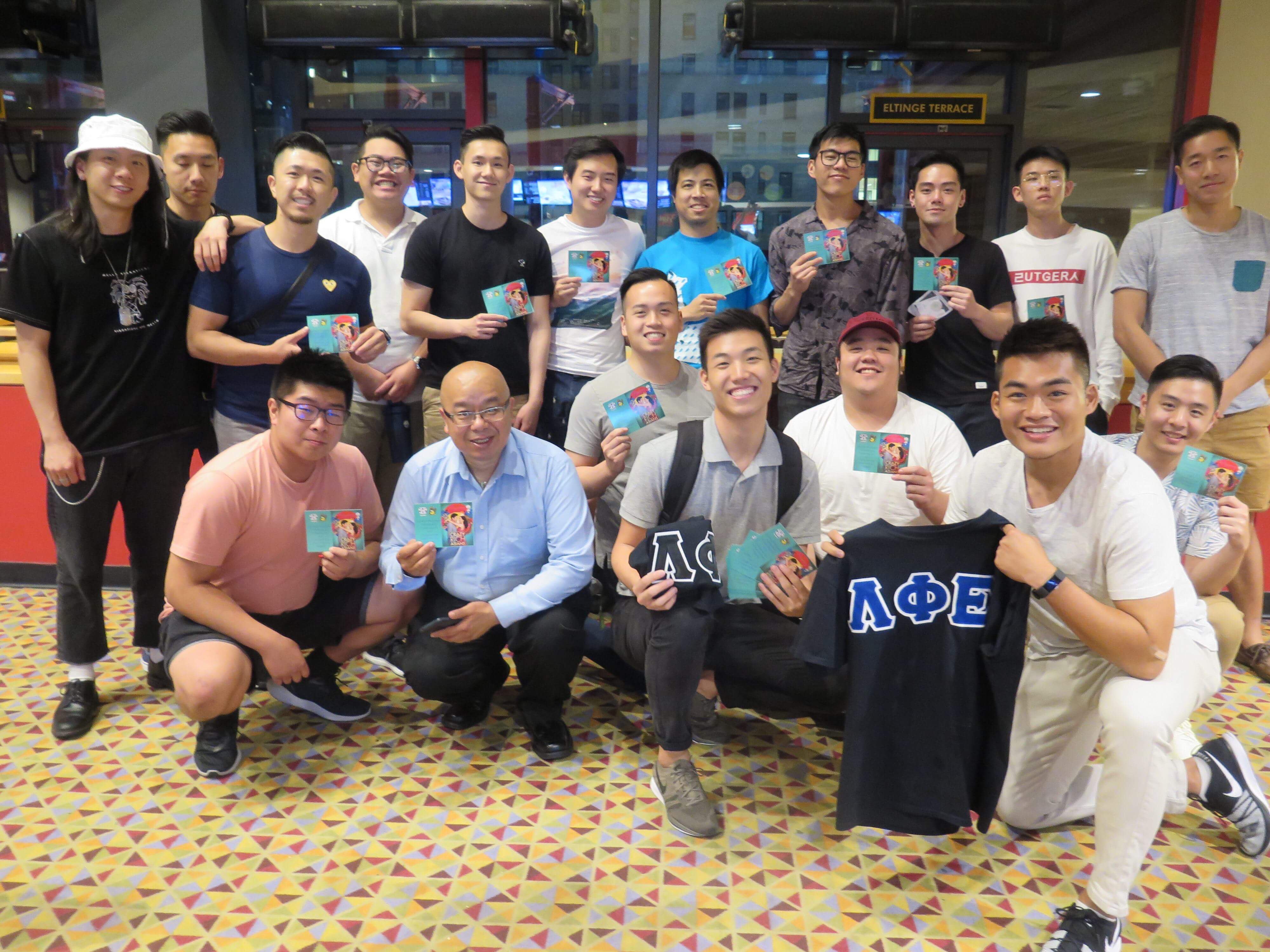 23 Aug

Crazy Proud Lambdas
International Fraternity Hosts Screening for 'Crazy Rich Asians'
Since the release of "The Joy Luck Club" in 1993, Asian Americans and Pacific Islanders have largely disappeared from mainstream television. The premier of "Crazy Rich Asians" (CRA) marks a historical milestone for Asian and Asian American representation in media. As the world's largest Asian-interest fraternity, Lambda Phi Epsilon hosted a screening of the film during its opening weekend at AMC Empire 25 in New York City.
Over 75 brothers (inclusive of undergraduate members and alumni) and friends of the fraternity received free tickets presented in traditional Chinese red envelopes that were distributed by officers of its International Board. "It was inspiring to see Lambda Phi Epsilon contribute to Crazy Rich Asians' #GoldOpen weekend by purchasing tickets for brothers of the organization and members of the community to enjoy. It was a joy to meet members who joined as early as 1995 to members who joined last semester," said Victoria Chan Fraizer, Lambda Phi Epsilon Director of Standards and Development.
The international fraternity employed a grassroots approach to organize a crowd for the screening, and collaborated with select partners to amplify the importance of supporting the film. Warner Brothers provided Lambda Phi Epsilon with gifts such as CRA-themed water bottles, sunglasses, and posters to distribute at the theater. Chinatown Ice Cream Factory, a staple in the NY Chinatown community, sponsored 25 of the free tickets and a free scoop of ice cream to everyone who redeemed their CRA ticket stub. Christina Seid, owner of the Chinatown Ice Cream Factory, was inspired by the fraternity's movement and contributed to ticket sales by co-sponsoring the viewing event.
Lambda Phi Epsilon's Northeast Governor, Calvin Guo, praised the film as "an empowering and relatable story that illustrates the modern complexities of Asian American identity." As the success of CRA will have a significant impact on Asian American representation in future media, Lambda Phi Epsilon members will continue to celebrate and advocate for groundbreaking moments of progress.
###
About Lambda Phi Epsilon
Founded in 1981 at Los Angeles, California, Lambda Phi Epsilon International Fraternity, Inc. has grown to become the world's largest Asian-interest fraternity. Lambda Phi Epsilon (ΛΦΕ, also known as LFE) aims to guide men on a lifelong discovery of authenticity and personal growth. To learn more, visit https://lambdaphiepsilon.org.
Lambda Phi Epsilon Contact
James Gaffney, Executive Director
Lambda Phi Epsilon International Fraternity, Inc.
executivedirector@lambdaphiepsilon.org