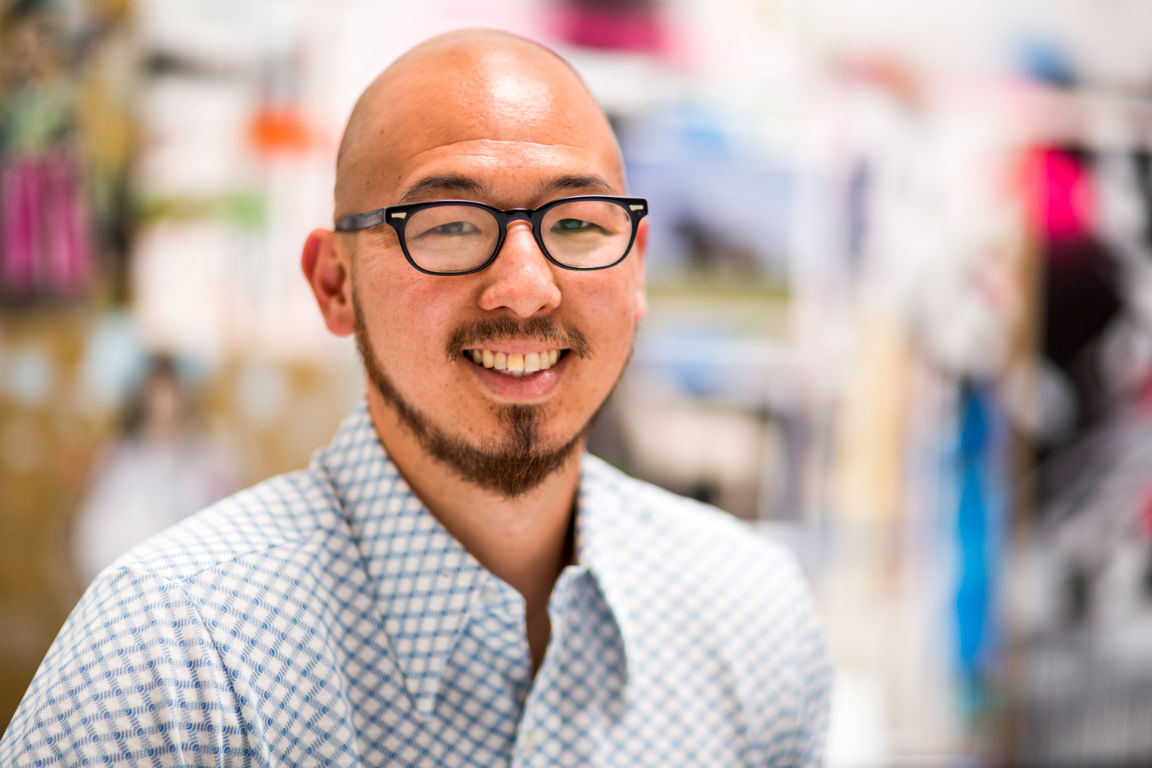 06 May

Art in Action
Asian Pacific American Heritage Foundation Names David Kim Winner of 2015 Heritage Award
For Immediate Release
San Francisco — Asian American Pacific (APA) Heritage Foundation named David Kim one of three winners of the 2015 Asian Pacific American Heritage Award. The most prestigious of its kind in the San Francisco Bay Area, the award celebrates those whose creativity in design has had significant impact in his or her field, the community as well as society. With this designation, David Kim, a fine artist and muralist, shares the title with previous winners who include Grand Master Seiichi Tanaka, founder of the first taiko group in North America; first native-born Asian-American female journalist Jan Yanehiro; and award-winning writer Elaine H. Kim.
Kim, who received his Master of Fine Arts from Mills College in 2014, says, "This recognition compels me to continue working towards enhancing Asian American awareness and to use my gifts to better the world around me." At Mills he worked closely with renowned painter Hung Liu; Kim's work explores the complexities of living as a Korean American.
Following the May 1st press conference where winners were announced at San Francisco City Hall with Mayor Ed Lee, the annual APA Heritage Awards ceremony honoring the individuals that have been awarded will be held on May 4 at San Francisco City Hall Rotunda building. The celebration will be filled with performances followed by a catered reception.
Established in 2010, the APA Heritage Foundation (APAHF) is the fiscal sponsor of San Francisco's annual celebration event for Asian Pacific American Heritage Month. The APAHF promotes appreciation of Asian Pacific American culture and heritage and provides a forum for the diverse APA community to share information, discuss issues of concern and collaborate on projects of community interests.
Currently, David Kim, also known as Dave Young Kim, is producing a documentary film called Interlaced that investigates the tension between Korean and Korean American culture among his generation. His mural work and fine art blend classical and street art style with urban and Asian influences. His murals are across the United States from Oakland to Miami as well as in Korea, Norway, and Mexico.
San Francisco APA Heritage Foundation names #LPhiE alum Dave Kim winner of 2015 Heritage Award http://t.co/sryFX9wRNx pic.twitter.com/t1UNZdlKng

— Lambda Phi Epsilon (@LFEfraternity) May 6, 2015
Q & A with Dave Young
Background information?
I currently live in Oakland, CA. Born and raised in Los Angeles before moving to Torrance, CA. I crossed at Beta Chapter, UC Davis in the fall of 1997 (Alpha Zeta Class).
How would you describe yourself in three words?
I NEED THERAPY.
How did you get interested in your profession?
When I was a young child I was diagnosed with ADHD and being hyperactive, my mother put me in every activity possible; soccer, little league, piano, you name it, to get me to avert my energy into something more productive, nothing worked until one day she enrolled me in art class, and I sat focused for hours, I've never stopped since. Painting and drawing have been something that I was naturally gifted at but like all things, it required development through constant practice.
Murals, or painting on walls is rooted in my L.A.upbringing where at the time graffiti and gangs was extremely common and almost a rite of passage, that experience has never left me and it's something I continued after I graduated from Davis, but especially after moving to Oakland and getting involved with Community Rejuvenation Project (CRP).
Why is Asian Pacific American Month is important?
I think the month is important because it provides a forum for us to get our rich, diverse culture out there and be recognized, not just for that month but it carries into the rest of the year and has a cumulative effect. There's still a lot of mystery, stereotype and misconception about Asians and the more we can portray the realities of who we are and what we do, there becomes a betterment of the overall community. Not just for Asians but for all people, less ignorance makes for a better society. Also there's an inherent beauty in the diversity, at the ceremony there's a moment where children come out wearing the traditional garb of their respective cultures and the visual effect of seeing all these cultures represented in one place was so moving.
Please elaborate on your favorite moment as an active member of the fraternity.
I don't have a favorite moment just because there are so many, but the most lasting impression I'm left with so many years later is the camaraderie. I remember feeling completely at home, secure, looked after and uninhibited. I can't think of a time in my life where I felt this type of brotherhood. These guys had my back whether it were in academics or confrontations.
What advice would you give the next generation of Lambda Phi Epsilon brothers looking to excel in their personal endeavors or professional careers?
There will be challenges in life; failure and rejection are inevitable. It's okay to have emotions and get down about things but don't stay in that place. Maintain a sense of discipline and diligence. You'll never get to see the potential if you don't go there and give it shot, it will only be a figment of your imagination until you enact it into reality. Some level of risk is required. You may be naturally talented at something but riding those coattails will only get you so far, practice, learning and further development of whatever you do are essential for success.
Never stop learning. Seek out those you admire and ask questions. Create a filter for yourself so that you maintain a sense of self but take in as much as you can and use it wisely. Don't be deterred by criticism, take it in as constructive of a way as possible. Always be confident but be humble. Don't forget those who came before you; your parents, grandparents, great grandparents—if you think you have it hard, trust me, they had it ten times harder.
Where can Lambda Phi Epsilon brothers connect with you?
Instagram: daveyoungkim
Facebook: daveyoungkim
Twitter: daveyoungkim