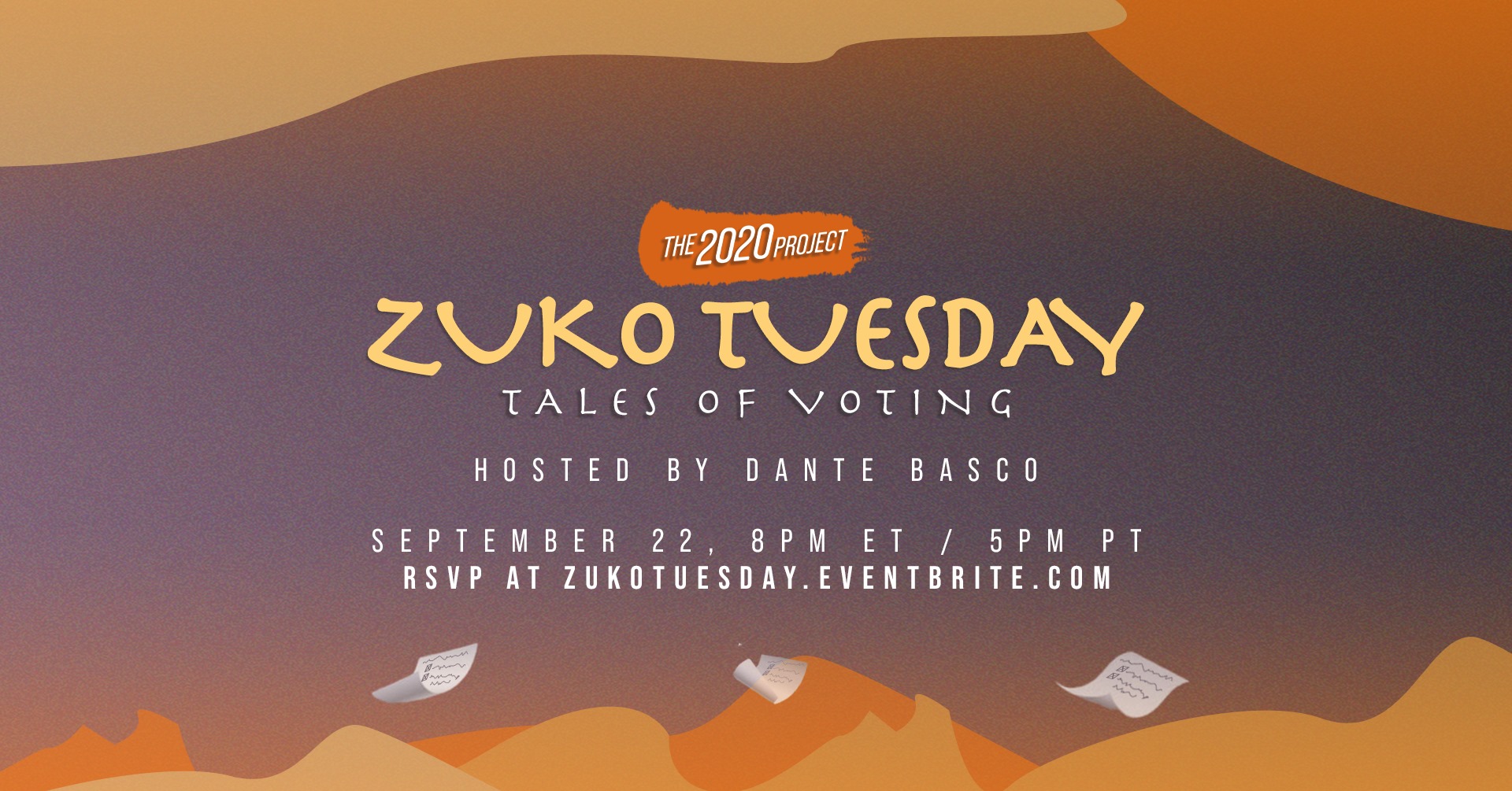 22 Sep

Zuko Tuesday
Heating Up National Voter Registration Day
On the evening of Tuesday, September 22nd, Asian American actor, Dante Basco, and the 2020 Project captivated the attention of Avatar: The Last Airbender fans far and wide. In conjunction with leading community organizations, Lambda Phi Epsilon served as a promoting partner for "Zuko Tuesday," an interactive virtual event that rounded up a star-studded cast of Asian American influencers to encourage registering to vote on National Voter Registration Day.
Senator Tammy Duckworth of Illinois made an appearance to discuss the importance of a single vote. She informed viewers that Asian Americans make up only a small portion of the votes and how the community can do better to encourage others to vote. Asian Americans sell themselves short when they do not engage in building a better democracy.
Furthermore, Phil Wang of Wong Fu Productions urged the importance of starting a political discussion with friends and family members. Examples of workarounds to political conversation barriers include:
• Emphasis on creating personal narratives as Asian Americans when it comes to politics.
• Help explain complex topics and terms for those who may not understand the context.
• Offer to find voting guides to assist with finding political leaders who resonate with them.
"Voting is imperative for improving the state of representation at the highest levels of the country's decision making," said Lambda Phi Epsilon Social Media Coordinator Sebastien Khoutxaysana. "Exercising our collective power at the polls makes the needs of our community visible and heard."
The activation of youth and fraternity members can change the course of the election. As a non-partisan organization that values courageous leadership, Lambda Phi Epsilon challenges its members to empower their community to register to vote regardless of political affiliation.
ΛΦΕ is a partner org for "Zuko Tuesday: Tales of Voting," a live virtual event to celebrate National Voter Registration Day presented by @vote2020project on 9/22 to get out the #vote and share civic engagement perspectives from AAPI influencers. RSVP at https://t.co/4PCSHHlpDe pic.twitter.com/Zns2bLIwoK

— Lambda Phi Epsilon (@LFEfraternity) September 18, 2020
Resources
Still haven't registered to vote? Voter registration is quick and easy and can take less than five minutes online: https://nationalvoterregistrationday.org/register-to-vote/?source=Lpe.
The voter registration deadline varies from state to state; keep up to date with local deadlines on the following website: https://www.vote.org/voter-registration-deadlines/.
Need to double-check voter registration status? Find out through this simple form courtesy of the 2020 Project: https://www.vote-2020-project.org/vote.
###
Media Contact
Zac Antonius, Executive Director
Lambda Phi Epsilon International Fraternity, Inc.
zac.antonius@lphie.org
About Lambda Phi Epsilon
Founded in 1981 at Los Angeles, California, Lambda Phi Epsilon International Fraternity, Inc. has grown to become the world's largest Asian-interest fraternity. Lambda Phi Epsilon (ΛΦΕ, also known as LFE) aims to guide men on a lifelong discovery of authenticity and personal growth. To learn more, visit https://lambdaphiepsilon.com.