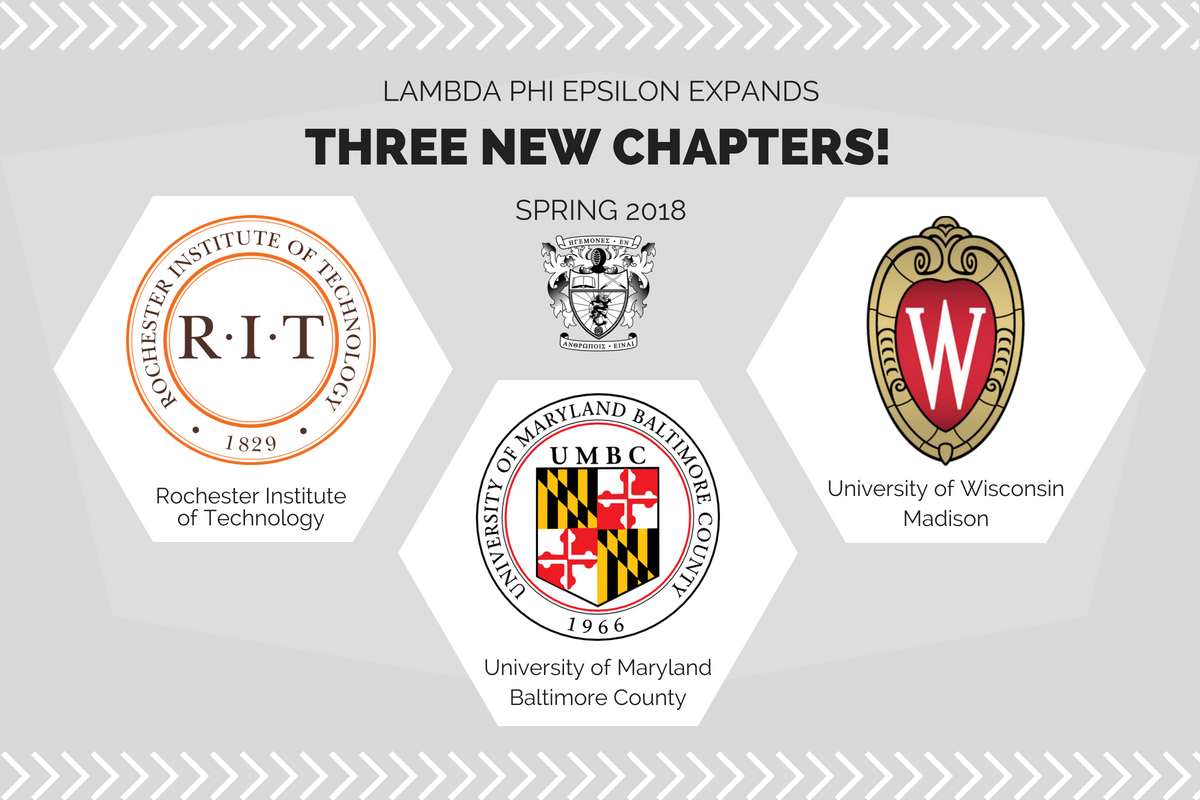 24 May

Tripartite Expansion

Lambda Phi Epsilon opens three new chapters this spring, marking a ten-percent growth in the roll of recognized chapters since Spring 2017.

"This most recent growth is just the latest in a string of successful chartering projects across America in recent years. Add to this our Return to Sacramento State University in California, and Washington State University in Washington, and it is hard to deny the momentum that Lambda Phi Epsilon is building," said Jim Gaffney, Executive Director.
Rochester Institute of Technology
Sixteen new members at RIT crossed into the International Fraternity on April 7th, 2018. Hosted by the Syracuse University Associate Chapter, brothers from various chapters across the Northeast Region served a mentoring role to the RIT Charter Class. Dr. Gregory Mak (Spring 2004) from Alpha Kappa Chapter at Cornell University supervised their intake process as the New Member Educator.
"The chartering process was a challenging and invigorating, but rewarding experience," said RIT Charter Class President Isaac Hammer. "I have met lifelong friends that have helped me grow as a person along the way. Together we have brought greater diversity to our school and created a strong unified voice for the Asian community to be heard."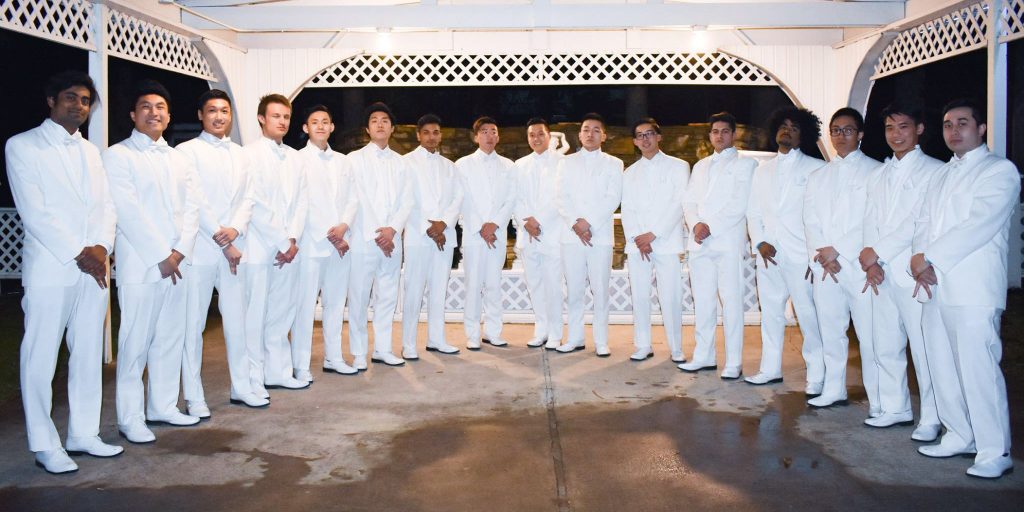 RIT Charter Class
1. Mr. Isaac Hammer
2. Mr. Zadrian Huang
3. Mr. Christopher Savan
4. Mr. Mark Hightower
5. Mr. Saad Khan
6. Mr. Benny Tan
7. Mr. Jacky Ren
8. Mr. Pheng Lee
9. Mr. Vincent Yu
10. Mr. Jazib Rao
11. Mr. Jiang Hao
12. Mr. Brandon Wu
13. Mr. Daniil Vasin
14. Mr. Victor Moy
15. Mr. Eric Ren
16. Mr. Kazi Rahman
University of Maryland, Baltimore County
On April 14, 2018, thirteen new brothers were initiated into Lambda Phi Epsilon in the Mid-Atlantic Region. Vincent Shieh (Spring 2013) of Psi Chapter at the University of Chicago served as the New Member Educator for the University of Maryland, Baltimore County Associate Chapter.
"Since the beginning of the journey, I have never stopped feeling proud of the UMBC Charter Class," said Shieh. "I hope that you all can join me in welcoming these charters to our family. Most importantly, teach and demonstrate as role models what we envision for the future of our brotherhood."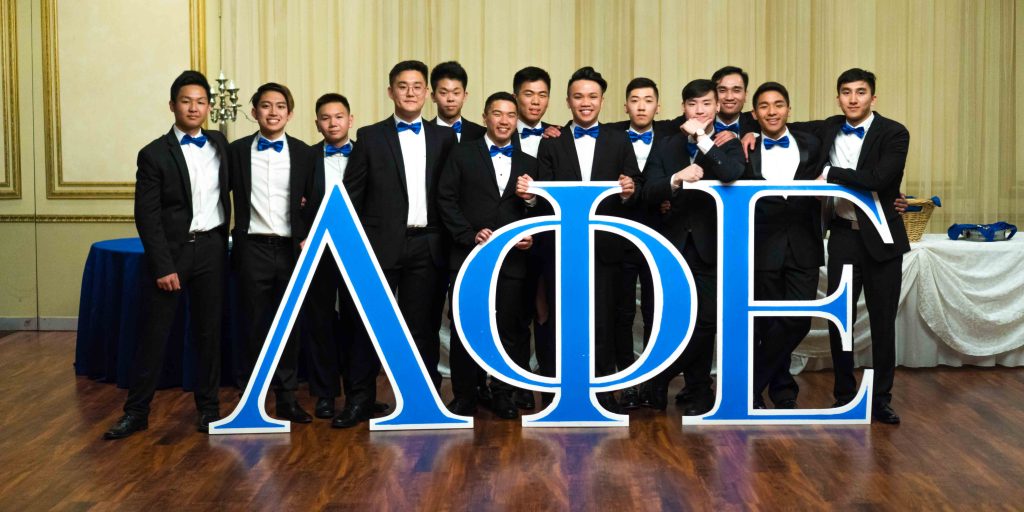 UMBC Charter Class
1. Mr. Paul Tran
2. Mr. Justin Hua
3. Mr. Clinton Huynh
4. Mr. Christopher Kwon
5. Mr. Enzo Rilloraza
6. Mr. James Kim
7. Mr. Andrew Vu
8. Mr. Andrew Tam
9. Mr. Andrew Le
10. Mr. Quang Bui
11. Mr. Stanley Wang
12. Mr. Michael Seo
13. Mr. Brandon Kim
University of Wisconsin–Madison
In the Midwest Region, fourteen new charters emerged at the campus of UW Madison on April 15, 2018. Hosted by DePaul University Associate Chapter, UW Madison was introduced to their Greek community via a campus-wide presentation. Ryan Gahol of DePaul University (Fall 2015) served as the New Member Educator.
"Chartering Lambda Phi Epsilon at the University of Wisconsin–Madison gave my brothers and me a glimpse of what our vision for our campus would look like. Our vision is to provide more opportunities, resources, networks, voices and overall a home for marginalized communities on a predominantly white campus, said UW Madison Charter Class President Kevin Nguyen. "Knowing and understanding how crucial it is for us as minorities to collaborate to achieve more, is why Lambda Phi Epsilon belongs on our campus."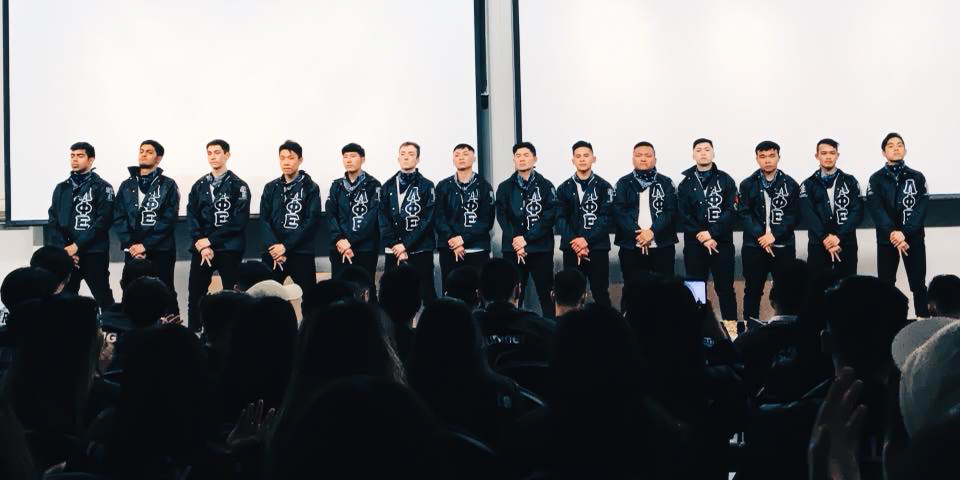 UW–Madison Charter Class
1. Mr. Nawal Dua
2. Mr. Neehar Namjoshi
3. Mr. Ly Hoang
4. Mr. Brian Leung
5. Mr. Nawang Singhe
6. Mr. Daniel King
7. Mr. Travis Dao
8. Mr. David Ho
9. Mr. Justyn Nguyen
10. Mr. Dustin Nguyen
11. Mr. Kevin Nguyen
12. Mr. Thang Nguyen
13. Mr. Hong Nhan
14. Mr. Timothy Tran
Future of Expansion
"As the largest Asian-interest Fraternity, we seek to provide our resources to students from all corners of the continent," says Director of Expansion Andrew Chen. "Whether that means re-opening campuses where we've had a presence historically or exploring brand new expansion opportunities, we continue to have a heavy focus and appetite for expansion."
Students interested in chartering a new chapter of Lambda Phi Epsilon may learn more on the International Fraternity website and express their intent by completing an expansion interest form.
###
About Lambda Phi Epsilon
Founded in 1981 at Los Angeles, California, Lambda Phi Epsilon International Fraternity, Inc. has grown to become the world's largest Asian-interest fraternity. Lambda Phi Epsilon (ΛΦΕ, also known as LFE) aims to guide men on a lifelong discovery of authenticity and personal growth. To learn more, visit https://lambdaphiepsilon.com.
Lambda Phi Epsilon Contact
James Gaffney, Executive Director
Lambda Phi Epsilon International Fraternity, Inc.
executivedirector@lambdaphiepsilon.org