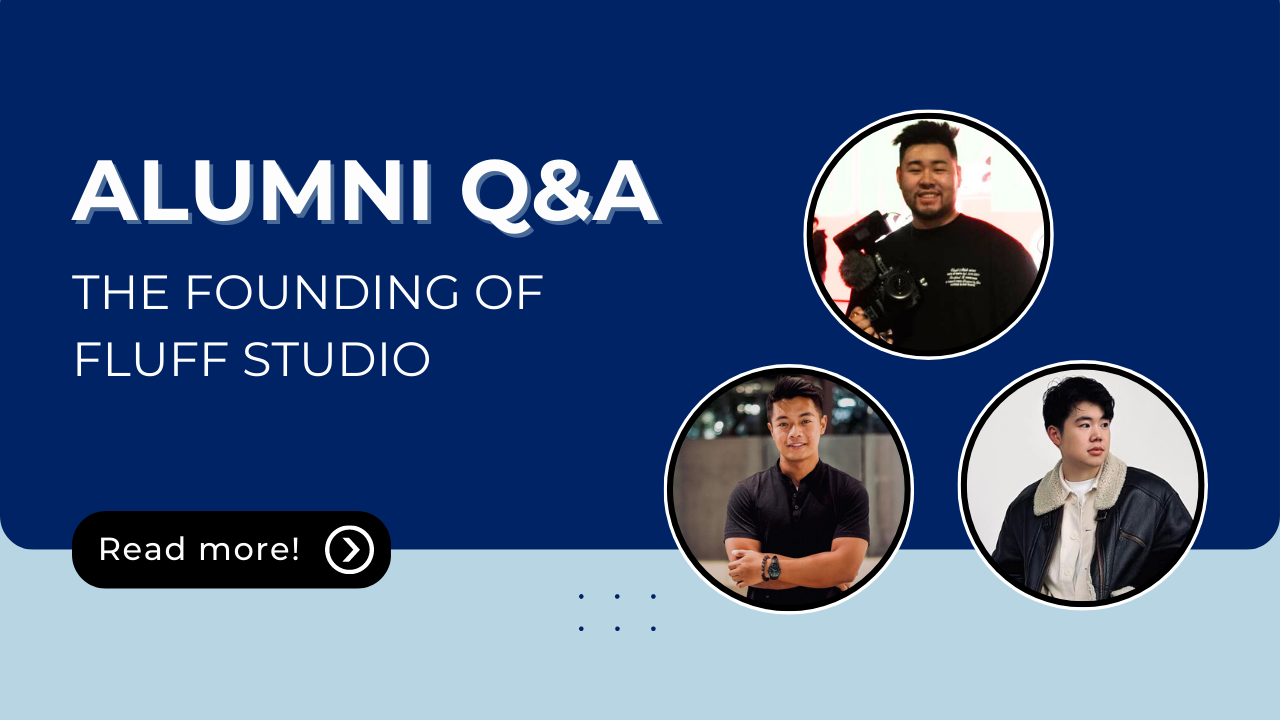 23 Mar

The Founding of Fluff Studio

The Lambda Phi Epsilon alumni network has such a diverse background with brothers internationally. Every month the LFE International Board will sit down with alumni to learn more about their backgrounds and what they are currently doing. For our inaugural interview, Director of Communications Jimmy Tran spoke with alumni from The Ohio State University who founded and actively manage Fluff Studio, a creative agency that works with clients to turn their ideas into marketable content.

What initially started the whole idea of Fluff Studio? How did you get the ball rolling?
Sean Dupiano has always thought about the visual market and started a club at The Ohio State University (tOSU) called Social Market. This was an effort to help individuals use social media to gain experience from small businesses. By his senior year at tOSU the Social Market had a strong network of members invested in the organization. Sean was approached by a start-up company at tOSU and was hired as a part-time employee to handle the social media marketing for the company. Gaining traction with different clientele Sean decided to go all in and found Fluff Studio in 2022.

Michael Joo always knew during undergrad that he wanted to tap into the creative space and was an artist by nature. Similar to the expectations that many other Asian Americans encounter, Michael was expected to become either a doctor, engineer, or lawyer. Initially on the pre-med track, Michael ended up switching his major six times but managed to still graduate a semester early. He met Sean through Lambda Phi Epsilon and when given the opportunity decided to go all in on joining Fluff Studio. Now as head of digital marketing, Michael handles all of the production for clients from brainstorming to editing.

Jerry Ta joined Sean's vision of Fluff Studio in February of 2022. It was his senior year, with three major changes, four years of architecture school, and countless all-nighters. The years were passing by quickly, and he landed his first internship as an architecture major, but it felt the complete opposite of what he envisioned. Jerry thought the field was for creatives who took unrealistic concepts and turned them into reality. So, a part of him wanted to drop the major and pursue something different,but Jerry didn't know what he wanted to do. Then he connected with Sean and their mutual friend, Richard. The three talked for an hour about the vision of Fluff Studio, a place where opportunities are created for creatives. After the conversation, he was sold, fully committed, and ended up finishing his architecture degree for his parent's sake but never looked back.
What has been the biggest hurdle (still facing now)?
For Sean Dupiano, it was overcoming the "burn the boat" mentality. Naturally as a planner, Sean would develop a Plan B as a safety net but this safety net often acted as a crutch mentally. Eventually Sean realized that he needed to go all in on Fluff Studio and visualize the future that he was trying to create for the company. Another hurdle Sean is working to overcome is appreciating the landmarks that are accomplished along the journey of growing the business. More often than not, people get so caught up in constantly trying to achieve and achieve that we fail to appreciate how far we have come.

In Michael Joo's case, full commitment and the constant comparison with your peers remains a challenge. Living in a comparative society constantly makes people wonder if what they are doing is enough. The other biggest hurdle has been the financial portion. As this is a start-up there will be moments where employees take on free work in the hopes of gaining exposure and referrals for new clients.  

Jerry Ta describes how confidence has been the biggest hurdle he's been facing. He has to constantly remind himself that this path of being a creative and start-up lifestyle isn't going to be done overnight. It'll be a long journey, faced with many first-time moments and unknowns. But to quickly adapt, learn and get repetition in, is how he is going to make himself more confident this year.
What is your personal goal and professional goal this year?
Sean Dupiano's personal goal for this year is reconnecting with ample people from the past and not forgetting the individuals that came along the journey. Two business goals that Sean has is making Fluff Studio a sustainable and profitable business for 5 employees and having Fluff Studio own its studio space to conduct business. 

Michael Joo's personal goal for this year is to be a better example for the individuals he surrounds himself with and to spend more time with loved ones. Working on a start-up gets so busy that it is easy to forget that spending time with family and friends is just as important. Michael's professional goal is to also have Fluff Studio own its own creative space and to become specialized in a creative craft. 

For Jerry Ta, consistency is both his personal and professional this year. His personal goal is to consistently create visuals, short films, or a YouTube Video once every month to progress his confidence and repetition to better his skills. As for the professional goal, it is to get the studio to be fully functional to have a space where new or old creatives can come in utilizing our space for photoshoots and podcasts.
Who and what is your dream client?
Sean Dupiano's dream client is Dan Khoi who is a motivational speaker and James Clear the author of Atomic Habits. Learning from these clients would teach him how to give creators the ability to create to their fullest potential. 

Michael Joo's dream client would be someone that fully trusts their creative process and vision. The team has passion in traveling so having a client that allows them to travel the world for creative work. 

Jerry Ta imagines his dream client to be someone within the sports arena—specifically soccer related. With the World Cup coming here to the United States in 2026, creating something alongside the World cup would be the dream right now.
What piece of advice would you give to anyone that wants to take the leap of faith and do creative work full-time?
Sean Dupiano recommends booking that first photoshoot even if it is free work. People tend to overthink so many situations and all of the logistics but they won't know what happens until they execute. Sean also mentions to be very honest with yourself. In the creative field, honesty yields respect. He lives by the motto, "Don't attempt to be somebody you are not because your client will be able to see right through that."

Michael Joo's piece of advice is to be very open to criticism and not to take things too personally in the creative field. Criticism is expected for growth. Enter this creative space with passion because it will show in the work.

Jerry Ta says to

"believe in yourself or no one else will." That's been the quote Jerry has been living by ever since he started this journey. It took him a long time to convince himself that he can have this lifestyle as a full-time creative. With as many ups and downs that come with this career, nothing made him regret this choice. The trips, people, and projects that he has had since just starting out a year ago have been amazing and unforgettable.