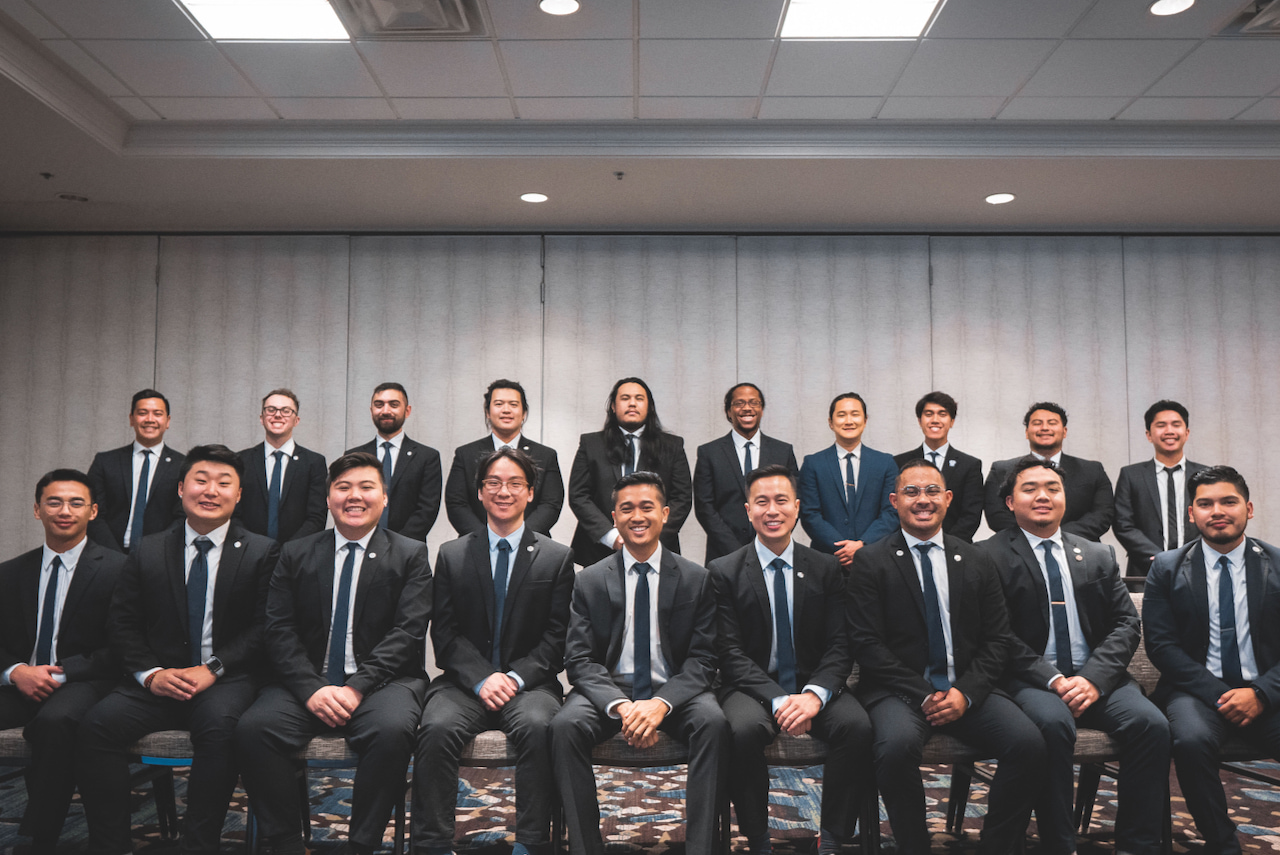 08 Aug

Summit 2021
Refresh, Reset, Renew
At LFE Summit 2021, incoming officers of the Lambda Phi Epsilon International Board transitioned onto their leadership roles and set the strategic direction of the organization for the upcoming academic year. The meeting convened through a hybrid approach of virtual and in-person attendance at the Dallas Marriott Suites in Dallas, Texas. All officers were fully vaccinated against COVID-19 prior to attending LFE Summit 2021.
"I love the culture and vibe of the International Board; everyone is super welcoming and it feels like a chapter outside of my home chapter," said Communications Coordinator Malvin Malai-Harrison. "Serving is a great way to continue the LFE experience while giving back to the brotherhood with dedicated brothers."
The meeting sought to align new and returning officers with goals and expectations for the upcoming year. The weekend-long program centered around CORE priorities:
• Competence: Equip fraternity leaders with the skills to succeed in their roles.
• Ownership: Empower individuals to drive collective goals and make sound decisions.
• Relationships: Establish a high bar of trust among all levels of leadership.
• Execution: Illustrate by example how to coordinate lasting and impactful programs.
"We also contributed directly to the new strategic plan, which helped us develop goals around our teams organically," said Director of Programming Ian Galope. "It was motivating to hear all of the wonderful aspirations and it really showcased the drive the team has to succeed."
The theme for the weekend—"refresh, reset, renew"—influenced the facilitation of goal setting. Team building activities staggered throughout LFE Summit 2021 ranged from guided meditation to intimate card games to board breaking.
"I enjoyed having the chance to meet fellow IB leaders and learn about the inner workings of the IB level of fraternal government," said Northeast Governor Jamal Wells. "I'm hopeful for the future of our fraternity and glad to have the chance to help in its prosperity."
Announcing the 2021-22 International Board
Board of Directors
• President: Bryan Dosono
• Internal Vice President: David Kim
• External Vice President: Van Dao
• Treasurer: Ferris Elestwani
• Secretary: Brian Van
Hired Staff
• Executive Director: Zac Antonius
• Director of Fraternal Standards: Emily Feinstein
Executive Cabinet
• Director of Communications: Matthew Wright
• Director of Education: Byron Solis
• Director of Operations: Christopher Torres
• Director of Programming: Ian Galope
Communications Team
• Graphic Designer: Nic Garza
• Communications Coordinator: Richard Ngo
• Communications Coordinator: Malvin Malai-Harrison
Education Team
• Education Administrator: James Maynard
• Education Administrator: Jeremy Dela Paz
• Education Administrator: Nicholas Dang
Expansion Team
• Expansion Coordinator: Austyn Vong
• Expansion Coordinator: Ruben Navarrete
• Expansion Coordinator: Christopher Buckley
• Expansion Coordinator: Winston Lee
Operations Team
• Mid-Atlantic Governor: Jeff Chen
• Midwest Governor: An Nguyen
• Northeast Governor: Jamal Wells
• Southeast Governor: Michael Seo
• Southwest Governor: Derek Koh
• West Coast Governor: Paolo De Guzman
Programming Team
• Programming Coordinator: Mitchell Liang
• Programming Coordinator: Austin Vo
###
Contact
Zac Antonius, Executive Director
Lambda Phi Epsilon International Fraternity, Inc.
zac.antonius@lphie.org
About Lambda Phi Epsilon
Founded in 1981 at Los Angeles, California, Lambda Phi Epsilon International Fraternity, Inc. has grown to become the world's largest Asian-interest fraternity. Lambda Phi Epsilon (ΛΦΕ, also known as LFE) aims to guide men on a lifelong discovery of authenticity and personal growth. To learn more, visit https://lambdaphiepsilon.com.