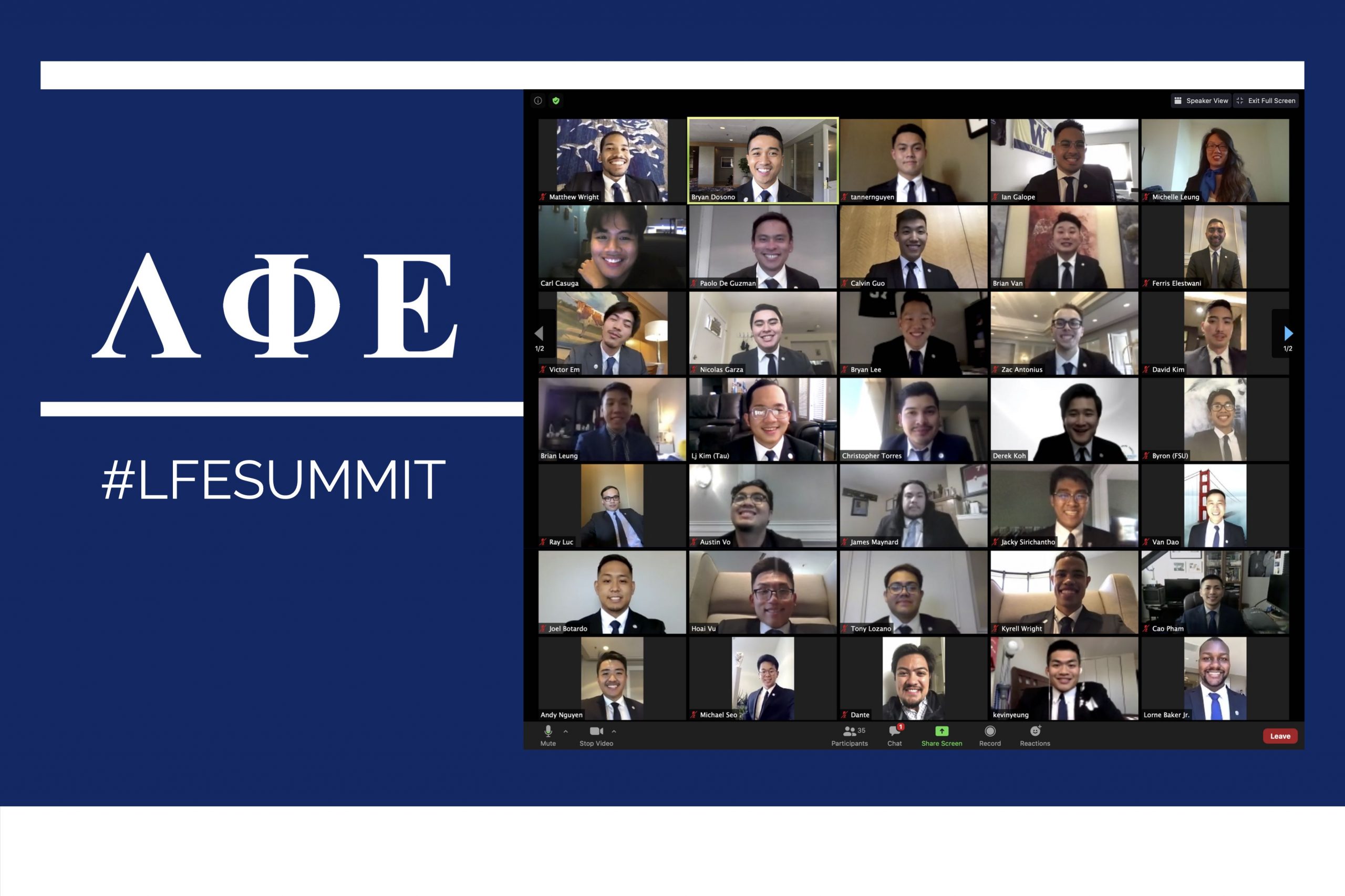 09 Aug

Summit 2020
Setting Strategic Priorities
At Summit 2020, incoming officers of the Lambda Phi Epsilon International Board convened virtually over Zoom to onboard onto their leadership roles and set the strategic direction of the organization for the upcoming academic year.
"Recalibrating Resilience" reverberated as the theme for this year's Summit. The Programming Team framed intentional conversations around the people, purpose, and potential of the fraternal experience. Despite the uncertainty of navigating a pandemic, the International Fraternity leadership determined shared priorities as the organization nears its 40th anniversary:
• Elevate Standards: By improving advising, enforcing reporting, and raising the bar on fraternal standards, we set the organization for measured excellence.
• Uplift Community: In building awareness and advocacy for social justice, cultural, and philanthropic initiatives, we remain a relevant institution for developing the next generation of Leaders Among Men.
• Modernize Messaging: By developing an accessible forum for members to facilitate discussion and professional networking, we increase our accountability with the general public, partner organizations, and our membership.
• Grow Sustainably: We secure the long-term viability of the International Fraternity by scaling our active membership count with the expansion of new locations, promotion of rising chapters, reinstatement of dormant chapters, and development of chapters in good standing.
• Advance Alumni: Providing relevant programming and event opportunities to the largest segment of Lambda Phi Epsilon fraternity members will strengthen alumni ties to the Fraternity beyond their graduation.
"Guiding the growth of our committed volunteers as they scale the impact of their contributions through their tenure on our team has been of my favorite aspects of serving on the International Board," said International President Bryan Dosono. "As with our inaugural virtual Convention this past May, the online transition of Summit 2020 illustrated one of many ways we recalibrate resilience and implement new innovations for our communities of practice."
To further engage the general membership, the Board of Directors will be hosting a lineup of Town Hall meetings on the week of August 17-21st as an open dialogue for members on the following topics:
• 8/17: Fall 2020 Operations During COVID
• 8/18: Sexual Misconduct Awareness and Prevention Initiatives
• 8/19: Joining a Lifelong Organization
• 8/20: Social Justice in Social Fraternities
• 8/19: Noble Brother Program Implementation
"Our team was able to flush out all the initiatives for the year and we're prepared for the exciting changes coming to our organization," said Director of Education Tanner Nguyen. "This past weekend at Summit 2020 renewed my passion for the volunteer work I'm devoting for Lambda Phi Epsilon and I'm energized for the future."
Announcing the 2020-21 International Board
Board of Directors
• President: Bryan Dosono
• Internal Vice President: David Kim
• External Vice President: Calvin Guo
• Treasurer: Ferris Elestwani
• Secretary: Brian Van
Hired Staff
• Executive Director: Zac Antonius
• Director of Fraternal Standards: Emily Feinstein
Executive Cabinet
• Director of Alumni Services: Lorne Baker
• Director of Communications: Michelle Leung
• Director of Education: Tanner Nguyen
• Director of Expansion: Van Dao
• Director of Operations, East: Kevin Yeung
• Director of Operations, West: Christopher Torres
• Director of Programming: Ian Galope
Alumni Team
• Alumni Coordinator: LJ Kim
• Alumni Coordinator: Cao Pham
Communications Team
• Graphic Designer: Nic Garza
• Social Media Coordinator: Sebastien Khoutxaysana
Education Team
• Education Administrator: Carl Casuga
• Education Administrator: Zhi Hu
• Education Administrator: James Maynard
• Education Administrator: Andy Nguyen
• Education Administrator: Earl Byron Solis
Expansion Team
• Expansion Coordinator: Kyrell Wright
• Expansion Coordinator: Jacky Sirichantho
• Expansion Coordinator: Dante Leesburg
• Expansion Coordinator: Hien Le
Operations East Team
• Carolinas Governor: Matthew Wright
• DMV Governor: Michael Seo
• New England Governor: Brian Leung
• NYC Governor: Mahir Kothari
• South Atlantic Governor: Joel Botardo
• Upstate New York Governor: Bryan Lee
Operations West Team
• California Governor: Valentino Gorospe
• Central Governor: Ray Luc
• Great Lakes Governor: Pai Liu
• Illinois Governor: Hoai Vu
• Northwest Governor: Paolo De Guzman
• Southwest Governor: Derek Koh
Programming Team
• Programming Coordinator: Antonio Lozano
• Programming Coordinator: Austin Vo
###
Contact
Zac Antonius, Executive Director
Lambda Phi Epsilon International Fraternity, Inc.
zac.antonius@lphie.org
About Lambda Phi Epsilon
Founded in 1981 at Los Angeles, California, Lambda Phi Epsilon International Fraternity, Inc. has grown to become the world's largest Asian-interest fraternity. Lambda Phi Epsilon (ΛΦΕ, also known as LFE) aims to guide men on a lifelong discovery of authenticity and personal growth. To learn more, visit https://lambdaphiepsilon.com.