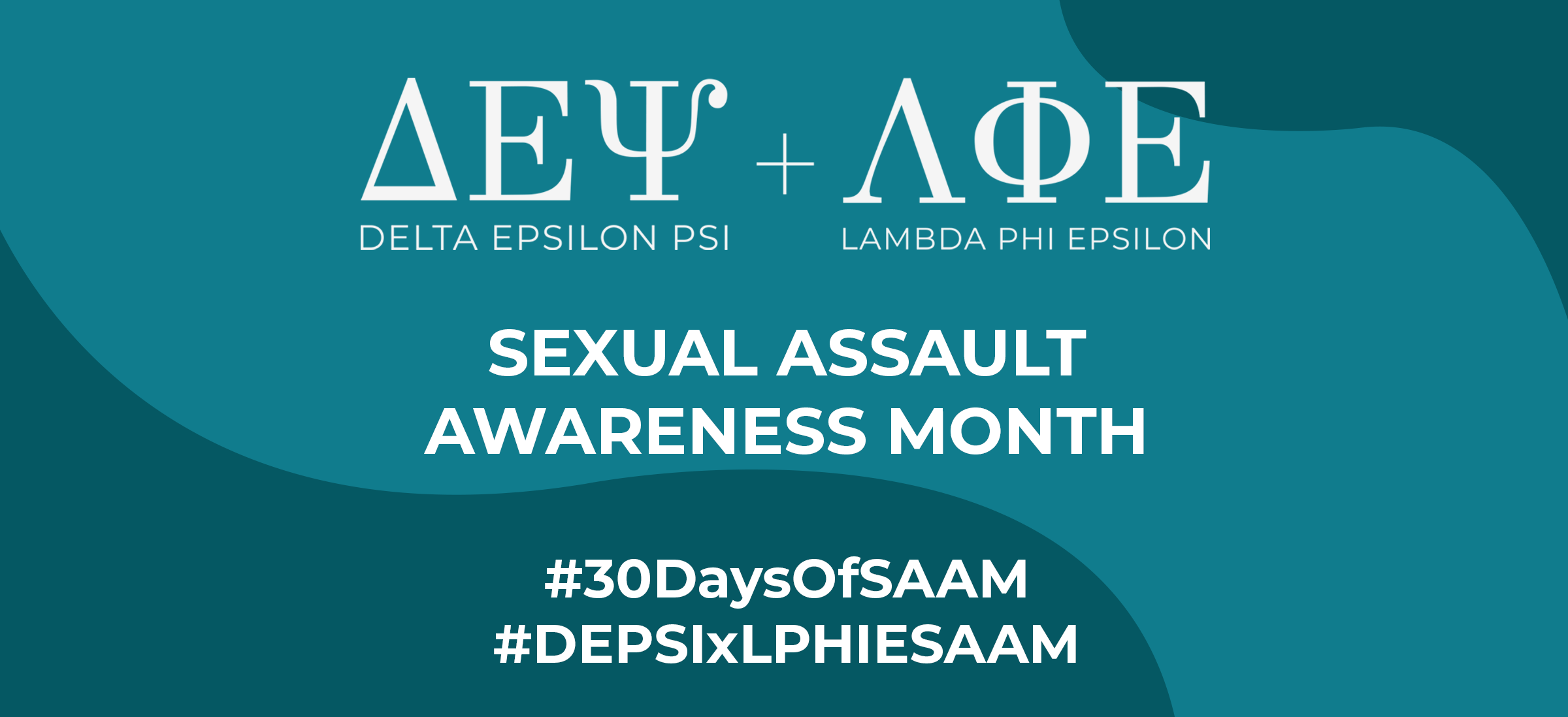 05 May

Sexual Assault Awareness Month 2021
Fraternal partners educate members, develop programming, engage industry experts, and talk prevention for Sexual Assault Awareness Month
In April 2021, the leadership of Lambda Phi Epsilon International Fraternity, Inc. (LFE) and Delta Epsilon Psi National Fraternity, Inc. (DEPsi) established a strategic partnership centered on sexual assault awareness and prevention to extend educational opportunities to both their membership and the community at large. As the largest Asian and South Asian-interest fraternities of the National APIDA Panhellenic Association (NAPA), LFE and DEPsi utilized their expansive reach on college campuses to voice their support for survivors and engage their chapters through the National Sexual Violence Resource Center's #30DaysofSAAM Challenge.
Both fraternities hosted behavioral scientist Laura M. Mercer Kollar, Ph.D. from the Centers for Disease Control and Prevention (CDC) in a virtual seminar promoting sexual assault awareness. The event took place on April 25th, 2021, with over 200 attendees consisting of delegates from both organizations, members of the NAPA community, and various institutional partners from the broader fraternity and sorority life advising community. Dr. Kollar, alumnae of alpha Kappa Delta Phi Sorority, Inc., emphasized that "violence is preventable" and highlighted further steps individuals, organizations, and communities can take to combat sexual violence.
Earlier in August 2020, DEPsi and LFE partnered with RAINN, the nation's largest anti-sexual violence organization, to invest in sexual misconduct and allyship training and co-create content for community-wide training sessions for undergraduate members from October 2020 to March 2021. When RAINN sessions concluded for the 2020-2021 academic year, the leadership of both DEPsi and LFE expressed a need to continue training, and both organizations signed additional contracts in a commitment to educating their leadership and active undergraduate membership. Today, both organizations successfully trained 100% of their current active membership and inter/national leadership—this includes a collective total of 932 undergraduate members and 51 alumni volunteers.
DEPsi and LFE are committed to fostering responsible behavior and setting higher standards for what it means to be an accountable member of each respective organization. For this reason, both organizations have hired Emily Feinstein, a subject matter expert with extensive Title IX certifications. As the appointed Director of Fraternal Standards for LFE and Director of Member Conduct for DEPsi, Emily Feinstein is responsible for providing expertise in developing a trauma-informed reporting process and for conducting prompt, thorough, and fair investigations into allegations of sexual misconduct.
The organizational commitment to sexual assault awareness and prevention extends beyond the month of April. Both organizations aim to continue building on the progress made this year and look forward to extending the innovative partnership to combat sexual misconduct on college campuses and the broader APIDA community.
###
Media Contact
Zac Antonius, Executive Director
Lambda Phi Epsilon International Fraternity, Inc.
zac.antonius@lphie.org
About Delta Epsilon Psi
Delta Epsilon Psi was founded on October 1st, 1998 at the University of Texas – Austin. Built on the pillars of Brotherhood, Discipline, and Commitment, the fraternity has grown to become the largest South Asian Interest fraternity. To learn more, visit http://deltaepsilonpsi.org.
About Lambda Phi Epsilon
Founded in 1981 at Los Angeles, California, Lambda Phi Epsilon International Fraternity, Inc. has grown to become the world's largest Asian-interest fraternity. Lambda Phi Epsilon (ΛΦΕ, also known as LFE) aims to guide men on a lifelong discovery of authenticity and personal growth. To learn more, visit https://lambdaphiepsilon.com.