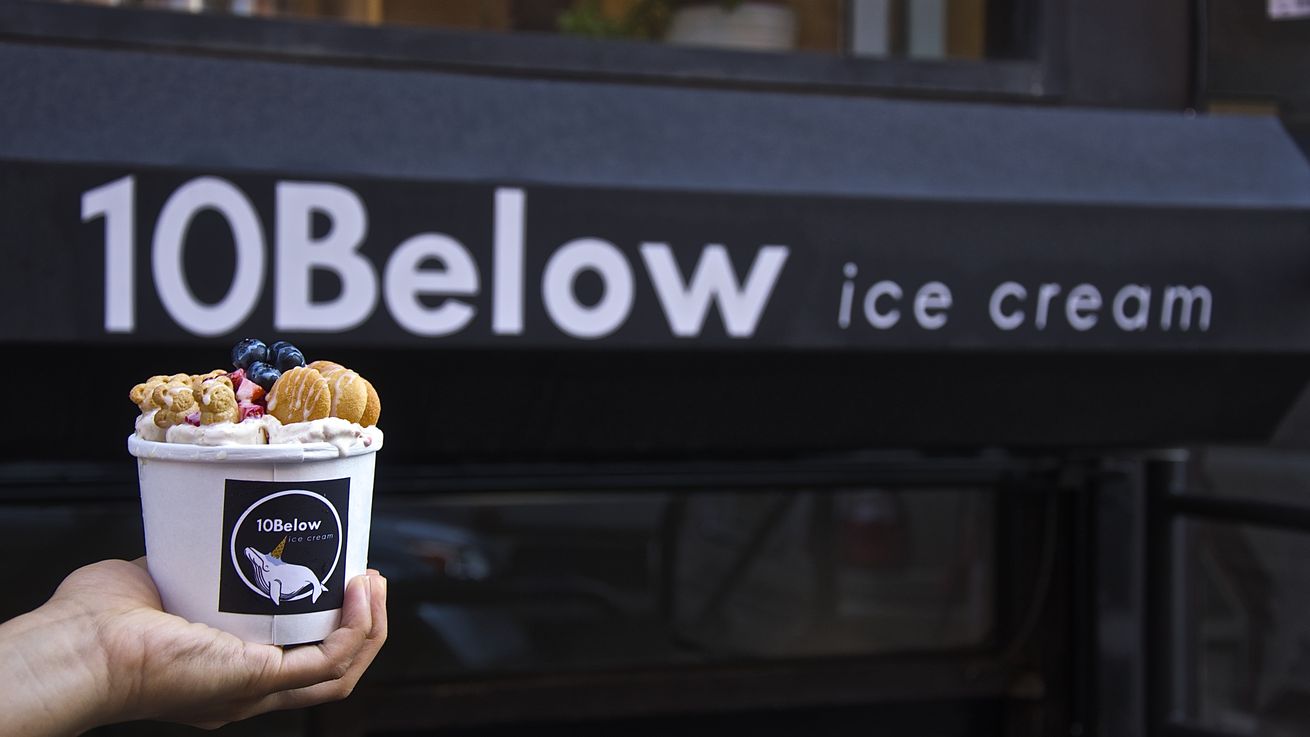 29 Aug

Rolling with 10Below
"They See Me Rollin'"
By Cole Hermida
When summertime hits New York City, certain routines persist. The tall skyscrapers will reflect the hot sun, causing sweat to gather at the forehead. The streets will be crowded with a mixture of disgruntled CEOs, eccentric street performers, and confused tourists clamoring to get out of the heat. And there will be a 20-minute (at least) wait outside one of New York City's hottest ways to keep cool: 10Below.
Now, at first glance, 10Below sounds like a typical foodie destination. It beckons another Instagram picture that millennials take to seem hip and cultured. However, upon closer inspection, 10Below becomes less of another social media must-have and more of a work of art. Flavored cream is poured onto a cooling plate, set to -10°F. Various ingredients like nuts, cookies, and fruit are smashed and spread. And a frozen treat is rolled into 5 intricate burrito-like entities, placed into a cup and topped with favorite fixtures.
"Richard has always loved ice cream," co-founder and Alpha Delta Chapter brother Wilson Tam explained 10Below's humble beginnings. "After seeing the concept on YouTube, we began trying it out. What started off as a concept and a hobby turned into something we thought we could build a business."
With his brother Richard and David Chen (both initiated Fall 2011 from Alpha Nu Chapter, the trio opened their first shop in Chinatown in 2015. Almost immediately the business took off with wait times lasting more than 3 hours and lines wrapping around the restaurant block. In a span of a year, 10Below expanded to two other locations, Flushing and the Lower East Side, with the latter opening this past July.
Boston native and sister of Kappa Phi Lambda Sarah Szeto reminisced her first experience there after waiting 30 minutes in line, saying, "It was so packed and I thought they lost our order. But when they called up my name and I could watch my ice cream being made—it was definitely worth it."
https://www.instagram.com/p/5Q6N3PGiD5/
"I love it when customers are amazed with the process and when they can taste the difference with fresh ice cream made with fresh ingredients," Tam shared, crediting 10Below's success to having a great product and strong customer service.
A number of the staffers are brothers of Lambda Phi Epsilon. One of them, Jason Huang from Alpha Delta Chapter, described how the 10Below founders created a positive work environment despite the stressful lines.
"I really like the way they treat us workers," Huang said. "In my opinion, it's why everyone chooses to work here and what separates them from any other typical job."
"When we first opened up, all of our employees were Lambdas and even today most of our employees are either Lambdas or friends of Lambdas," Tam said when asked about the impact the fraternity had on 10Below. "It helped set up a culture where we could have fun and grow a new food concept. Even today, we take much of the leadership training and core values that we learned from Lambda Phi Epsilon and apply it to our business."
https://www.instagram.com/p/BJqp0JjBbTt/
To learn more about 10Below and its locations, visit their website at http://www.10belowicecream.com/.
Photo by NY Eater.