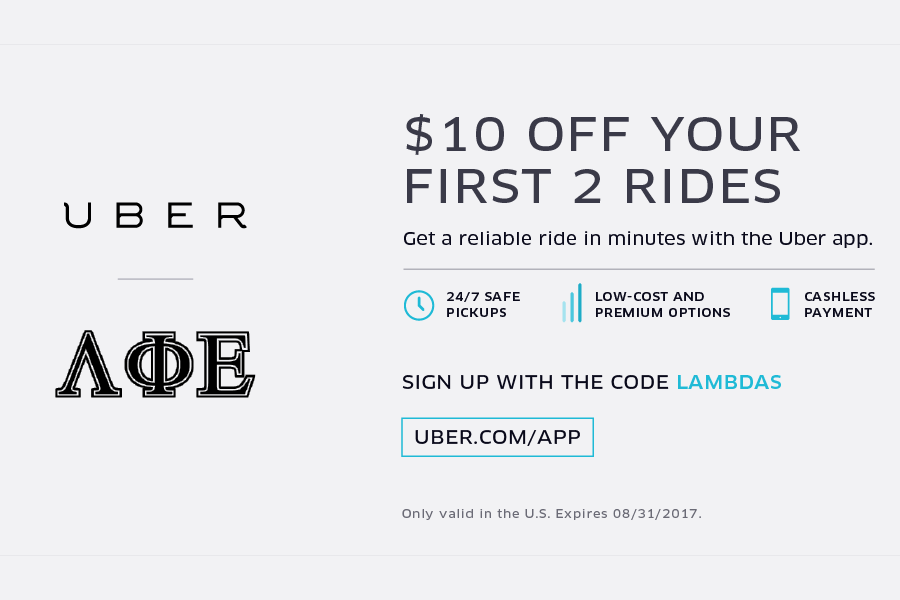 15 Aug

Ride with Uber

Lambda Phi Epsilon's new partnership with Uber allows you to receive $10 off your first two rides using the "LAMBDAS" promo code (available for new accounts only). The offer expires on August 31, 2017.

With summer winding down and back to school right around the corner, Uber is looking for ways to provide safe and reliable rides to college students all around the nation—starting with Greek organizations. By turning personal cars into shared vehicles, services like Uber are delivering new mobility benefits to riders in cities around the world.

Share the promotion with your family and friends today!

###

About Uber
Uber is evolving the way the world moves. By seamlessly connecting riders to drivers through our apps, Uber makes cities more accessible, opening up more possibilities for riders and more business for drivers. From its founding in 2009 to its launches in hundreds of cities today, Uber's rapidly expanding global presence continues to bring people and their cities closer.

About Lambda Phi Epsilon
Founded in 1981 at Los Angeles, California, Lambda Phi Epsilon International Fraternity, Inc. has grown to become the world's largest Asian-interest fraternity. Lambda Phi Epsilon (ΛΦΕ, also known as LFE) aims to guide men on a lifelong discovery of authenticity and personal growth. To learn more, visit https://lambdaphiepsilon.com.