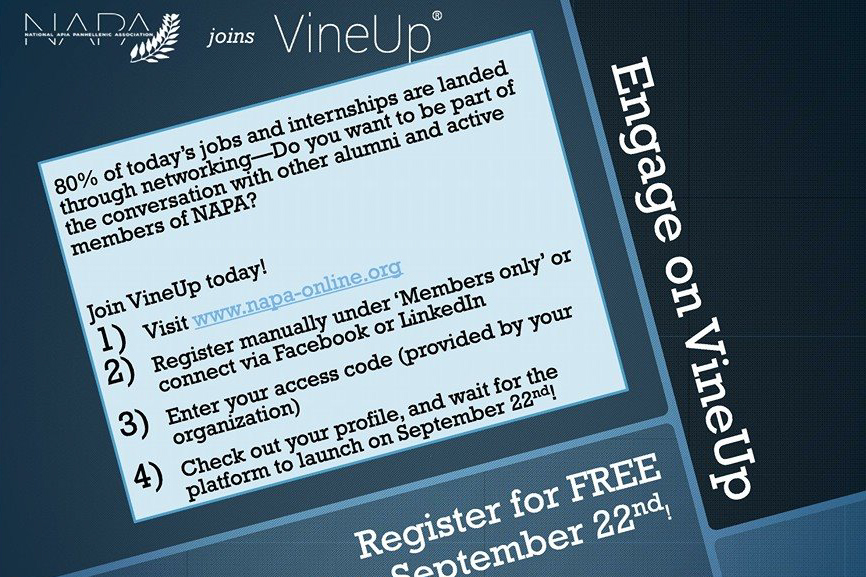 10 Sep

Register for VineUp!

Lambda Phi Epsilon invites its alumni to VineUp, an online career development and mentoring community.

The National APIA Panhellenic Association's new private online community is designed to support the professional and entrepreneurial development of our students and alumni through the connection of our members.
For Actives
80% of today's jobs and internships are landed through networking and half of those are landed through direct introductions. However, most graduates have a very small professional network upon graduation, which can make it hard to land their first job. We are hoping to solve this problem for our members!

Ever wanted to connect with someone that could help you get the introduction that would help you land an internship or job at your ideal company? Now you can! We have a database of graduates who are looking to share their advice and support with you! The community is our fantastic new online resource that includes more than 8 million employment and internship opportunities from around the world. Also included are opportunities provided by our administrators, our graduates, and our partners. Our goal with the community is to help our student members increase the size of their professional and entrepreneurial network through the generation of mentor mentee relationships with our alumni.
For Alumni
The VineUp community is our fantastic new resource full of international careers and information, including access to more than 8,000,000 employment opportunities from around the world. Included are jobs and internships provided by our administrators, fellow graduates, and our partners. We would also like to invite you to post job vacancies and internships to our community free of charge. All job postings are updated daily, giving you up-to-date, country-specific career development advice and services.

The community is designed to support the sharing of skills and foster an environment that encourages mentoring relationships within our alumni and also between our students and alumni. Within the community we are hoping to connect our brightest students with alumni like yourself, that may be able to spare a few minutes a month to share advice and tips online or in-person. Choosing to share your knowledge with our student members and fellow alumni will help to provide our future world leaders with the best start that we could possibly wish for them.
How Do I Join?
To join the community simply visit napa-online.org and click on the "For Members" link in the upper right hand corner. On the main page you will have the options to register manually or you can connect via your Facebook or LinkedIn making registration and updating of your profile information incredibly easy.

During your registration process you will be prompted to enter the special access code provided to you in this email. This code will only be requested once and you will not need to memorize it. Once you have completed the steps you will have to verify your email address then, once your profile has been approved by our administrators, you will be able to access the community once it is officially launched. The platform has a mobile ready interface, so there is no need to download any apps. It works smoothly and easily on all devices and browsers.
Help us make a positive difference in both the lives of our current and future alumni. We look forward to seeing you on VineUp!
About Lambda Phi Epsilon
Founded in 1981 at Los Angeles, California, Lambda Phi Epsilon International Fraternity, Inc. has grown to become the world's largest Asian-interest fraternity. Lambda Phi Epsilon (ΛΦΕ, also known as LFE) aims to guide men on a lifelong discovery of authenticity and personal growth. To learn more, visit https://lambdaphiepsilon.com.