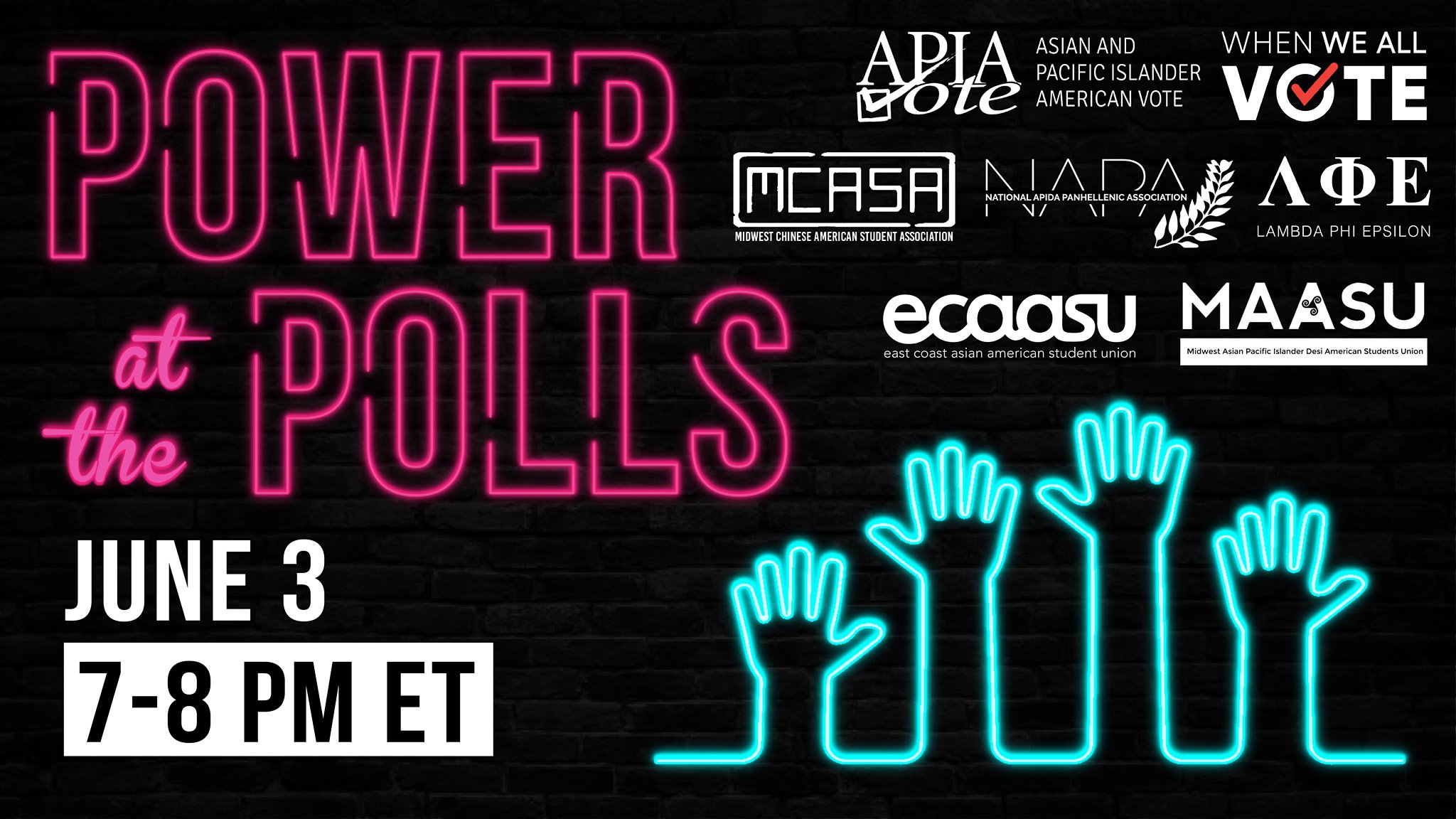 03 Jun

Power at the Polls
When We All Vote Training
Asian American and Pacific Islander voices are vital to the upcoming election, and young people are at the forefront of community engagement. In honor of Asian American and Pacific Islander American Heritage Month, Michelle Obama's civic engagement organization When We All Vote joined forces with APIAVote and numerous AAPI student organizations to get young organizers trained to bring their community's power at the polls. The virtual training shared how to take action, build a voting squad, register people to vote, and make an impact in the AAPI community during the 2020 election season.
Hey all TONIGHT at 5 pm pt I'm gonna be doing an event to help people learn how to register voters

Even if you can't vote yet you can help people see how important it is…… especially now

Come throughhttps://t.co/6gecc91keJ pic.twitter.com/6zdfMXxuSq

— Hudson David Yang (@HudsonDYang) June 3, 2020
Rising Asian American stars like Ashley Liao, Hudson Yang, and Stephanie Shepherd imparted encouraging words to mobilize young voting organizers. APIAVote thanked organizations like 2020 Project, East Coast Asian American Student Union, Midwest Asian American Students Union, Midwest Chinese American Student Association, National APIDA Panhellenic Association, and Lambda Phi Epsilon for bringing their leaders to the webinar and for making the virtual training an engaging way to learn about voter registration.
Join the Fight for Safe and Fair Elections
No American should ever have to make the choice to risk their health or the safety of their family to cast their ballot. Amid COVID-19's ongoing impact, Lambda Phi Epsilon International Fraternity strongly supports efforts to expand access to:
1. Vote by mail: Vote-by-mail could be the only safe and secure option for some Americans. States must offer multiple options for requesting, receiving, and returning mail-in ballots while maintaining the security of our voting system, multiple ways to request mail-in ballots, including online, in person, by phone, and by mail, and safe and secure options for returning ballots by expanding deadlines for mail-in ballots to be requested and returned.
2. Early in-person voting: While all Americans should have the choice to vote by mail, it is crucial that we recognize that many people will prefer to vote in-person. We must make in-person voting as safe and available as possible. Expanded early voting will allow voters to cast their ballot a few days or sometimes weeks before Election Day. This will help voters adhere to social distancing protocols, ensure election officials are properly prepared, and ensure those who can't vote on Election Day have an option to vote in-person. Likewise, states should adopt "vote anywhere" rules, to reduce lines at specific polling locations by letting voters vote at any polling location in their county.
3. Online voter registration: We should not make voter registration complicated if we really want everyone to participate. Online voter registration is a safe, accessible, and secure way for voters all across this country can sign up to participate in our democracy. It allows eligible voters to quickly and easily register to vote online from the comfort of their own home. Online voter registration follows the trends of conducting government business online, which helps save taxpayer dollars each election cycle while reducing errors and cleaning up their voter registration database.
As our country continues to grapple with the impact of COVID-19, it is now more important than ever that voters have fair and safe access to registering and voting. Take When We All Vote's pledge online to stay updated and fight for fair, safe, and accessible voting for all Americans.
###
Media Contact
Zac Antonius, Executive Director
Lambda Phi Epsilon International Fraternity, Inc.
zac.antonius@lphie.org
About Lambda Phi Epsilon
Founded in 1981 at Los Angeles, California, Lambda Phi Epsilon International Fraternity, Inc. has grown to become the world's largest Asian-interest fraternity. Lambda Phi Epsilon (ΛΦΕ, also known as LFE) aims to guide men on a lifelong discovery of authenticity and personal growth. To learn more, visit https://lambdaphiepsilon.com.