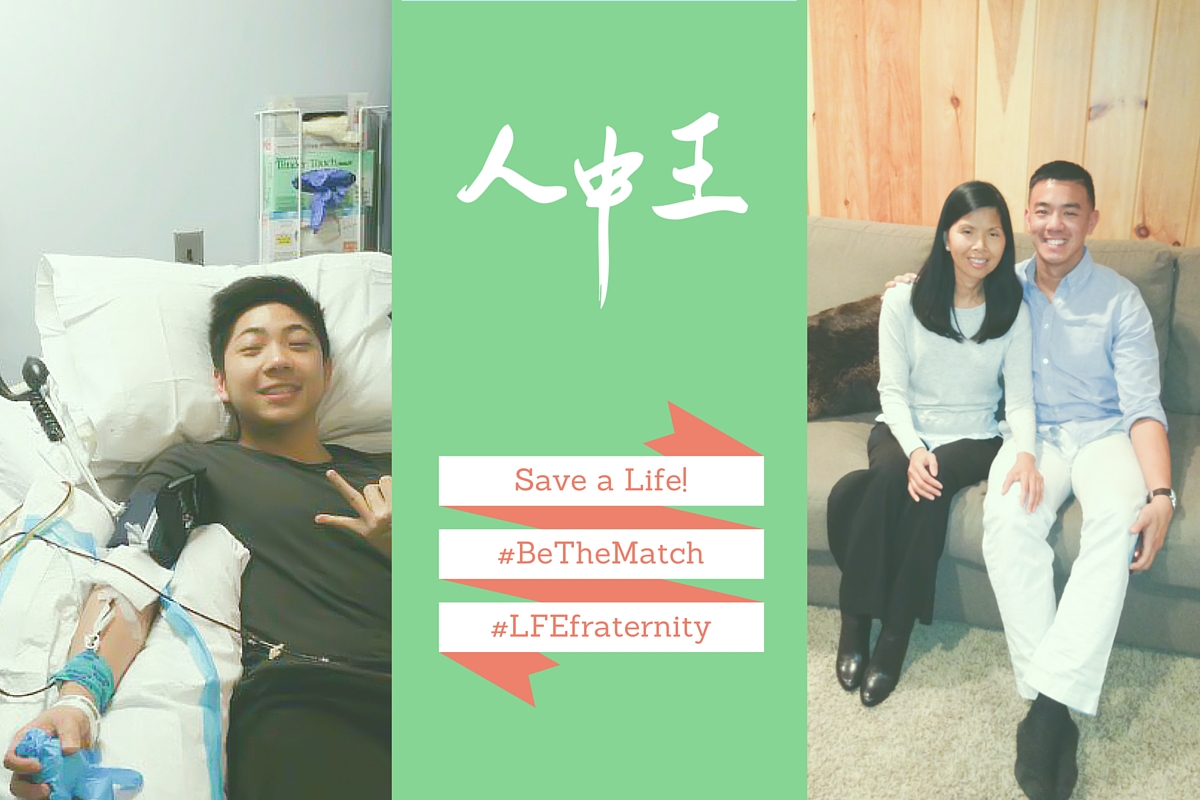 04 Mar

Miracle Matches
Memorializing a fallen brother
In 1996, Evan Chen, a brother of Theta Chapter at Stanford University passed away to leukemia. In Evan's memory, Lambda Phi Epsilon established its fraternal philanthropy with the goal matching bone marrow donors for those in need and spreading awareness on the importance of finding committed ethnic donors.
Every semester, Lambda Phi Epsilon chapters organize bone marrow registration drives to help find matches for the 70 percent of cancer patients who have to look outside their families for donors. Chapters of Lambda Phi Epsilon amass hundreds of new registrants every year in national campaigns like Save Janet Liang and Save Nina Louie.
Spotlighted below are the stories of a couple of Lambda Phi Epsilon members who have donated their bone marrow to cancer patients. We encourage all members to share their experiences using the #LFEphilanthropy and #LFEfraternity hashtags.
Hiro turns hero
Answering the call of duty was no exception for Alpha Epsilon Chapter, State University of New York at Stony Brook. Andrew "Hiro" Chen (Spring 2015), a junior studying sociology, was looking forward to another semester at Stony Brook after a long winter break, and when he least expected it, received a fateful phone call.
The phone call informed him that his cheek swab donation in the spring of 2015 matched him perfectly with a 49-year-old woman who was diagnosed with Non-Hodgkins Lymphoma, a cancer that starts in the cells of the body's immune system. Also known as NHL, Non-Hodgkins Lymphoma is one of the most common cancers in the United States, accounting for about 4% of all cancers. This year, statistics estimate that over 70,000 people will be diagnosed with NHL and approximately 20,000 people will die from this cancer.
Like many, Chen never thought that he would ever become a match due to the rarity of ever finding a match. "I received more phone calls explaining how the procedure would go and if I had any questions." Chen said. "I never thought I was ever going to be a match because I heard it was so rare. But, I got lucky."
Andrew Chen—Spring 2015, Stony Brook University—donating platelets for #BeTheMatch! #LFEfraternity #LFEphilanthropy pic.twitter.com/xLcMn2lR2X

— Lambda Phi Epsilon (@LFEfraternity) March 4, 2016
Humbling horizons
Wesley Vu crossed Spring 2010 at Pi Chapter at the University of Houston. The National Marrow Donor Program (NMDP), which operates the Be The Match Registry, gave Wesley a call notifying that he was a possible match. Wesley agreed to go through the match confirmation process and did not have to travel far to have his blood checked. A quick ten-minute trip to the local blood collection station, a few vials drawn, and he was back home. Several weeks whiz by, and the second phone call comes in—he's a perfect match.
A week later, when the recipient was ready and Wesley was in proper health, a nurse came by his home to administer shots to his boost stem cell count. After driving to the clinic, he underwent 4-5 hours of dialysis to extract marrow from his blood. When asked the question, did it hurt? Wesley responded, "Not really. Just two needles in my forearms. After the procedure, I drove home, no problems. Like nothing happened."
Wesley eventually met the recipient and her family. "It didn't really hit me, what I did, until I actually met the family. She has four kids, each of whom had to cope with the idea of losing their mother; she and her husband had both lost their vision. It made me think about all the small things I complained about growing up. My problems felt minuscule in comparison." He remarks that the whole experience was humbling, and his message to the brothers of Lambda Phi Epsilon: "Encourage everyone you can to say yes."
ΛΦΕ alum Wesley Vu (Spring 2010, University of Houston) meets the recipient his bone marrow donation and her family pic.twitter.com/5zHgSFNuA4

— Lambda Phi Epsilon (@LFEfraternity) March 4, 2016