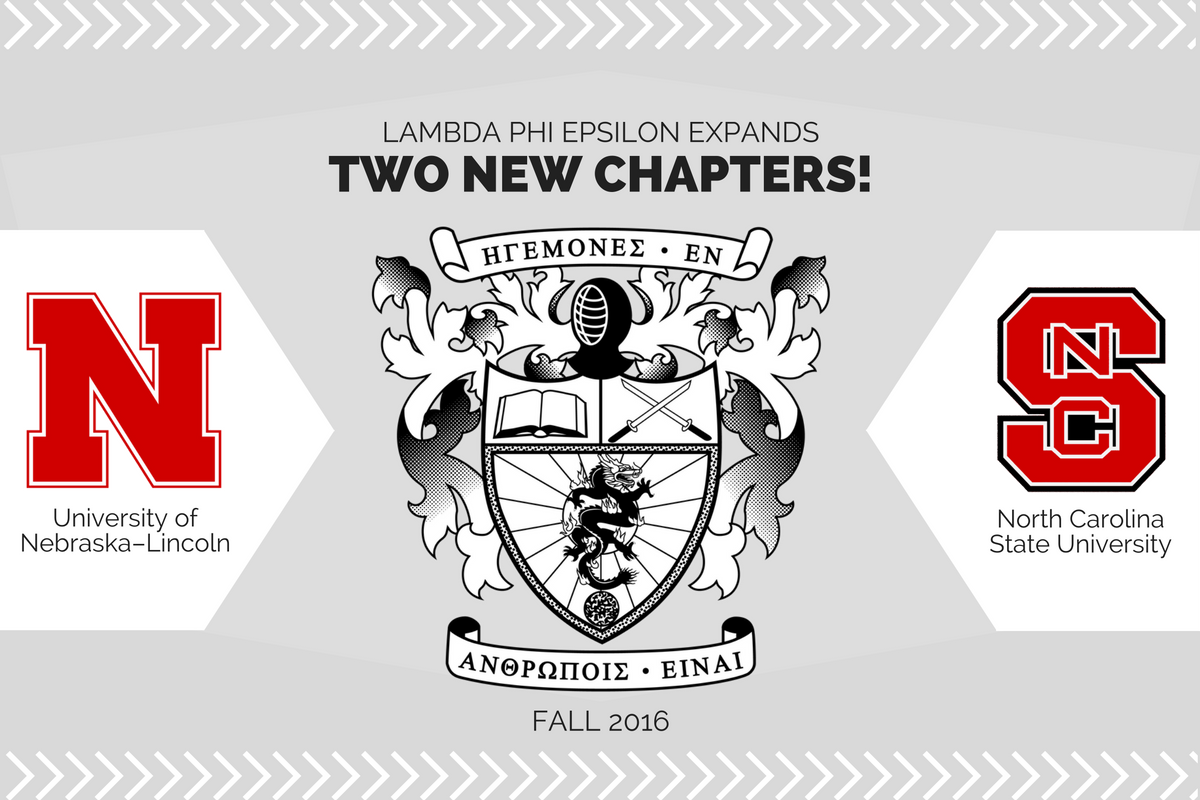 06 Dec

Make Way for UNL & NCSU
Lambda Phi Epsilon charters on two more campuses in Fall 2016
The International Board of Lambda Phi Epsilon is pleased to announce the successful chartering of two new chapters this fall. "We on the Expansion Team are very excited to welcome these two new chapters to our ever growing roster. We hope to continue our current expansion schedule at institutions that demonstrate the demographic and cultural capacity to sustain fully operational chapters in the coming years," says Andrew Chen, Director of Expansion.
On November 6th, the International Fraternity established its 61st chapter at the University of Nebraska at Lincoln, located in the Midwest Region. Alumni from the University of Kansas facilitated the expansion process. "Being a mentor to the UNL charter class this past year has been an honor, extremely rewarding, and self-reflecting. Self improvement as a leader never stops. As a Lambda men, we must continue to grow ourselves, build our foundation and invest in our future," says New Member Educator Hoang Nguyen (Spring 2003).
University of Nebraska–Lincoln Charter Class
1. Dominic Duong
2. Gabriel Hubbard
3. Johnny Nguyen
4. Nam Nguyen
5. Phat Nguyen
6. Tanner Nguyen
7. Trent Nguyen
8. Matthew Pham
9. Ryan Rustam
10. Anthony Tran
The Southeast Region welcomed the 62nd chapter of Lambda Phi Epsilon at North Carolina State University (NCSU), established on November 18th. New Member Educators Tim Wu (Fall 2013) and Henry Lieu (Fall 2014) from the University of North Carolina at Chapel Hill oversaw the implementation of the Noble Brother intake process. "The decision to choose Lambda Phi Epsilon was made in the summer of 2015 as we recognized that Lambda Phi Epsilon offers an extensive amount of resources with over 10,000 brothers. I want to provide an opportunity for men who seek self-improvement without compensating authenticity. As I embark on an active journey as a new chapter, I seek to provide a sense of identity for Asian Americans on campus," says Justin Lo, president of the NCSU Chapter.
North Carolina State University Charter Class
1. David Chang
2. RJ Javier
3. Philip Nguyen
4. Ye Htet
5. Justin Lo
6. Jason Nguyen
7. Dylan Stein
8. Terrance Touch
9. Kevin To
10. Justin Shu
11. Adam Le
Both chapters held new member presentations on their respective institutions to introduce their presence to the greater campus community. Expansion Chairman Justin Lau comments, "From the moment I met these two Interest Groups, I knew these men embodied the characteristics of Lambda Phi Epsilon's mission, vision, and core values. I have no doubt that these two new chapters will have great success on their campuses as well as their communities."
###
About University of Nebraska–Lincoln
The University of Nebraska–Lincoln is a public research university located in Lincoln, Nebraska. It is the state's oldest university, and the largest in the University of Nebraska system. Learn more at www.unl.edu/.
About North Carolina State University
North Carolina State University is a public research university located in Raleigh, North Carolina, United States. It is part of the University of North Carolina system and is a land, sea, and space grant institution. Learn more at www.ncsu.edu/.
Lambda Phi Epsilon Contact
Bryan Dosono
Director of Communications
Lambda Phi Epsilon International Fraternity, Inc.
communications@lambdaphiepsilon.org