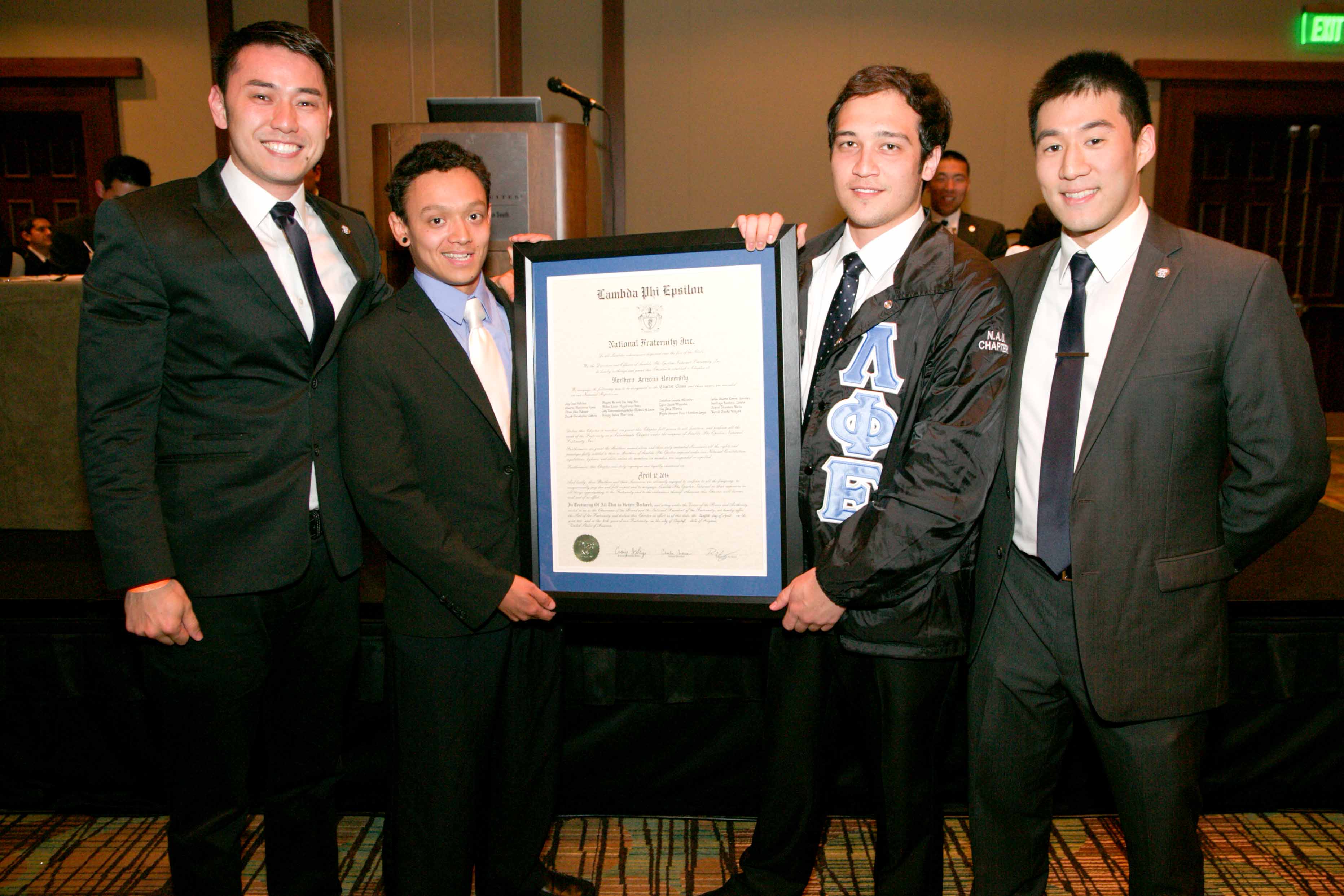 12 Apr

Make Way for the Northern Arizona University Lambdajacks

On April 12, 2014, under the guidance of alumni from Stanford University and the University of California, Los Angeles, sixteen young men crossed into eternal brotherhood to establish the Northern Arizona University Colony Chapter of Lambda Phi Epsilon International Fraternity, Inc.

NAU Lambdajacks Charter Class Roster:
1. Reejay Martinez
2. Kyrell Wright
3. Jonathan Melendez
4. Jay Morita
5. Milton Ibera
6. Ethan Fukawa
7. Blayne Waiololi Hoe
8. Jay Fletcher
9. Angelo Perez
10. Tyler Miranda
11. Santiago Sandoval Canela
12. Cody Maika'i-St Louis
13. Eduardo Flores
14. Jamal Wells
15. Carlos Ramirez
16. Jacob Gibbons

Please join us in welcoming our newest colony established at Northern Arizona University!

###

About Northern Arizona University
Northern Arizona University (NAU) is a public university located in Flagstaff, Arizona. It is accredited by the North Central Association of Colleges and Schools and has 36 satellite campuses in the state of Arizona. Represented by the lumberjack for a mascot, NAU's mission is to provide an outstanding undergraduate residential education strengthened by research, graduate and professional programs, and sophisticated methods of distance delivery.

About Lambda Phi Epsilon
Founded in 1981 at Los Angeles, California, Lambda Phi Epsilon International Fraternity, Inc. has grown to become the world's largest Asian-interest fraternity. Lambda Phi Epsilon (ΛΦΕ, also known as LFE) aims to guide men on a lifelong discovery of authenticity and personal growth. To learn more, visit https://lambdaphiepsilon.com.