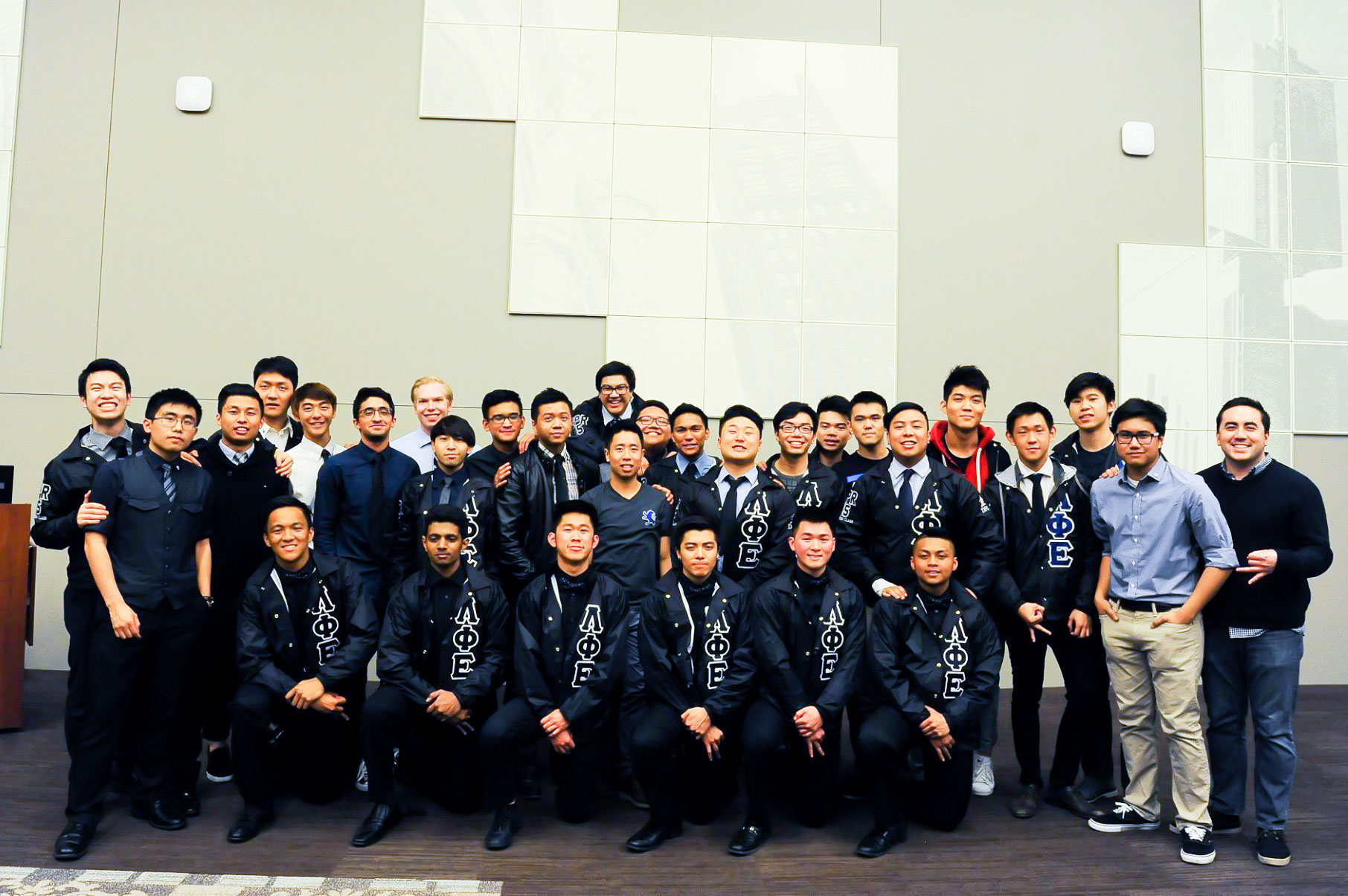 29 Apr

LUC Marks 60th Chapter
Lambda Phi Epsilon Expands to Loyola University Chicago
Congratulations to our newest colony chapter at Loyola University Chicago! The founding class spans a diverse spectrum of Asian American and Pacific Islander ethnicities inclusive of Filipino, Indian, Chinese, and Vietnamese heritage. Comprising of six founding fathers, the LUC colony aspires to grow even larger in the coming years.
1. TJ "Front Runner" Escobar
2. Jay "Southpaw" Ruthala
3. Jeffery "Visored" Phonn
4. Paul "Jump Street" Nguyen
5. Vincent "Pioneer" Trieu
6. Jan "Key Change" Calimlim
The chapter was formally established on April 23, 2016 with the guidance of big brother mentors from DePaul University. Brian Van, a Spring 2015 Charter of DePaul University and New Member Educator for the LUC Colony, says, "I had the privilege of seeing these six gentlemen grow since their recruitment, and I look forward to seeing them pursuing their goals. My own New Member Educator once told me to treat this as an investment—what you get out of this is an opportunity to change their lives. I am wholeheartedly proud of these six men and I cannot wait to see them put in the work to establish themselves as proud brothers of Lambda Phi Epsilon." Alex Nguyen—another DePaul University Charter—comments, "Expansion translates to providing more opportunities for more students to become brothers. Seeing them close to my own chapter at DePaul reassures me that they will always have our support, wisdom, and guidance in all of their endeavors."
The Fraternity's International Board officers are thrilled to welcome the newest chapter into the family. "We enjoyed working with Janine Myers, Coordinator for Sorority & Fraternity Life, to bring this chapter to fruition. Our organization is moving in a more purposeful direction with our New Member Education program. Now with Loyola on board, we look forward to another chapter and more members spreading the positive change," says Education Administrator Toubee Yang. Per Christopher Chen, Vice President of Expansion, "We're very excited to welcome these new men to the brotherhood. Loyola University is an outstanding campus and environment for undergraduates and we are looking forward to watching them grow and develop."
Lambda Phi Epsilon undergraduates organized a New Member Presentation at LUC's Damen Student Center on Thursday, April 28th at 8:30 PM. A number of organizations within the Chicago area attended the event in support of Greek unity.
https://www.instagram.com/p/BExM1MYBYcW/
ABOUT LOYOLA UNIVERSITY CHICAGO
Loyola University Chicago, a private university founded in 1870 as St. Ignatius College, is one of the nation's largest Jesuit, Catholic Universities and the only one located in Chicago. Comprising eleven colleges and schools, Loyola offers over 80 undergraduate and 140 graduate/professional programs and enrolls approximately 16,000 students total. To learn more, visit http://www.luc.edu/.
ABOUT LAMBDA PHI EPSILON
Founded in 1981 at the University of California at Los Angeles, Lambda Phi Epsilon International Fraternity, Inc. has grown to become the world's largest Asian interest fraternity. Lambda Phi Epsilon (ΛΦΕ, also known as LFE) aims to guide men on a lifelong discovery of authenticity and personal growth. The fraternity is affiliated with both the North-American Interfraternity Conference and the National APIA Panhellenic Association. To learn more, visit https://lambdaphiepsilon.com.
Lambda Phi Epsilon Contact:
Christopher Chen
International Board Vice President of Expansion
expansionvp@lambdaphiepsilon.org