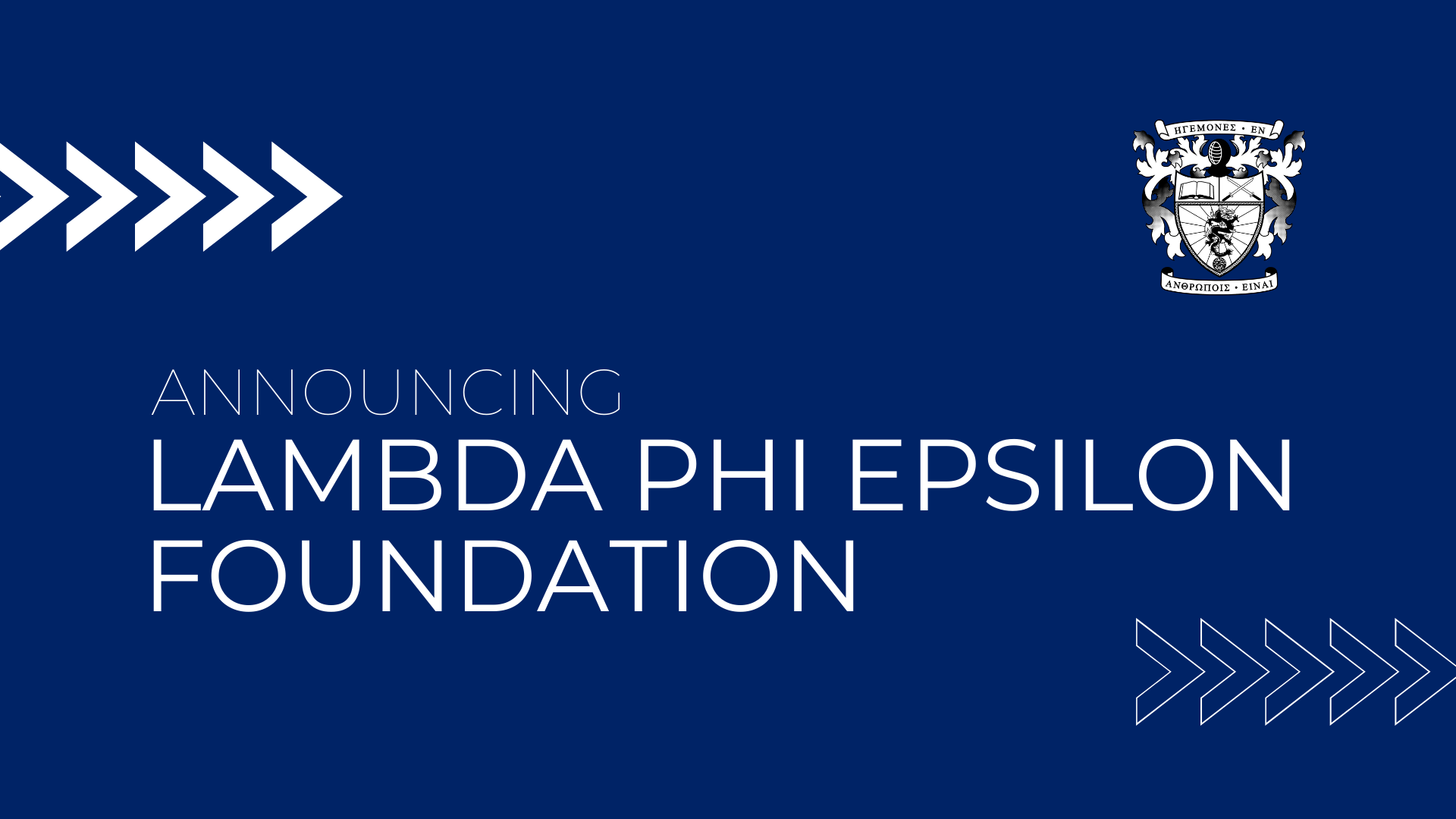 30 Nov

LFE Foundation Partnership
Investing in LFE members and the communities they serve
The Board of Directors of Lambda Phi Epsilon International Fraternity, Inc. announces a formal partnership with the Lambda Phi Epsilon Foundation, enhancing mutual support to the fraternal mission of guiding men on a lifelong discovery of authenticity and personal growth from active life through alumni life.
The Lambda Phi Epsilon (LFE) Foundation is a 501(c)(3) entity incorporated in Indianapolis, Indiana on May 19th, 2021. Led by a separate Board of Trustees, forming a new legal entity built upon past work initiated by past International Board officers to steward a modern direction for raising capital. The LFE Foundation promotes the educational interests of Lambda Phi Epsilon active members and young alumni by bestowing merit and need-based scholarships, providing ongoing professional development programming, and giving back to charitable causes selected by its donors.
"We envision the Foundation taking an active role in cultivating the alumni experience of what Lambdas have achieved and uplifting future brothers to reach new heights," said LFE Foundation Board of Trustees President Victor Em. "We are in the support role as alumni, and it's time for us to help the next generation of active members champion their moments in academia, service, and brotherhood."
Effective immediately, the LFE International Board will transfer ownership of fraternity scholarships to the LFE Foundation, making alumni giving tax-deductible. Moving forward, the LFE Foundation will also own the LFE Magazine to engage and reconnect alumni through shared stories of philanthropic impact. The LFE Foundation will have an institutionalized presence at standing LFE International events (e.g., LFE Convention) and vice versa.
"Building off the momentum gathered from our LFE Month of Service, our newest partnership with the LFE Foundation marks a milestone in the maturity of our alumni base in the meaningful ways alumni and friends of the fraternity donate their time, talent, and treasure," said LFE Board of Directors President Bryan Dosono. "Advancing alumni engagement through charitable platforms remains a key priority of our strategic plan, and we are eager to see how this new entity expands our membership's ability to invest and capacity to give."
Individuals may visit the Donate page of the fraternity website to make a donation to the LFE Foundation today. Additional details about the partnership will be shared at LFE Orientation 2022.
###
LFE International Board Contact
Zac Antonius, Executive Director
Lambda Phi Epsilon International Fraternity, Inc.
zac.antonius@lphie.org
About Lambda Phi Epsilon
Founded in 1981 at Los Angeles, California, Lambda Phi Epsilon International Fraternity, Inc. has grown to become the world's largest Asian-interest fraternity. Lambda Phi Epsilon (ΛΦΕ, also known as LFE) aims to guide men on a lifelong discovery of authenticity and personal growth.
LFE Foundation Contact
Victor Em, Board of Trustees President
Lambda Phi Epsilon Foundation
victor.em@lambdaphiepsilon.org
About the LFE Foundation
The purpose of the Lambda Phi Epsilon Foundation is to engage in charitable activities and provide educational support to members of Lambda Phi Epsilon International Fraternity, Incorporated within the meaning of section 501(c)(3) of the Internal Revenue Code.