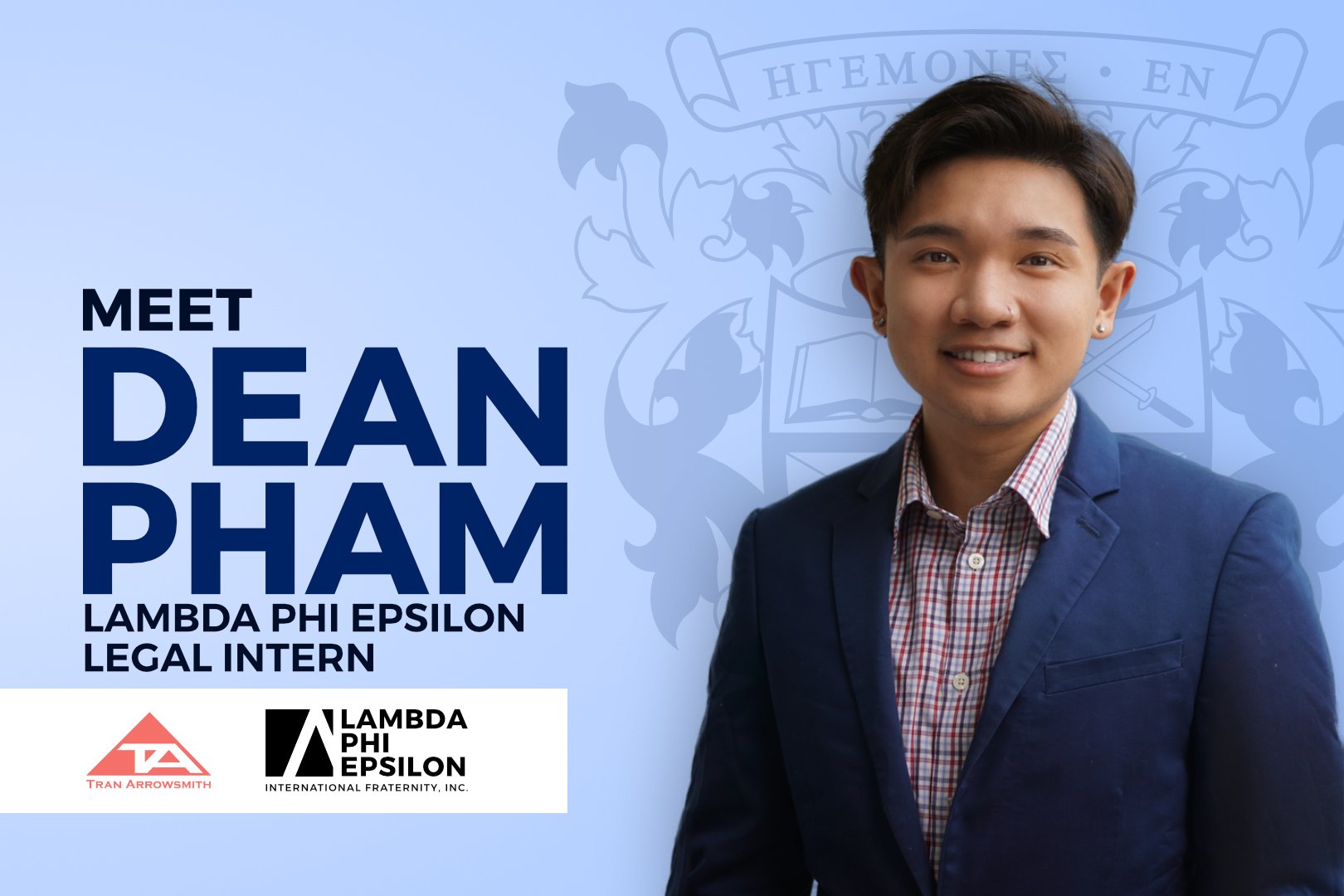 31 Aug

Law & Order
Meet Dean Pham, the first Lambda Phi Epsilon Legal Intern
The law firm of Tran Arrowsmith PLLC and Lambda Phi Epsilon International Fraternity, Inc. are excited to announce the first legal intern under the Lambda Phi Epsilon Legal Internship Program: Dean Pham, a second-year law student at Western State College of Law.
More about Dean
"Hello! My name is Dean, an­d I am currently an incoming 2L at Western State College of Law. I am a first-generation college graduate that holds a bachelor's degree in political science and business administration. I am currently interested in practicing entertainment law and intellectual property law, but overall, I am truly passionate about helping and advocating for those in need. As a legal intern at Tran Arrowsmith PLLC, I am confident that I will gain valuable experience and insight into the world of fraternal governance, LGBTQ+, and DEI matters, while effectively honing my communication skills with attorneys who have mastered their legal passions. Other than pursuing law, I am also passionate about digital media, namely pursuing videography, photography, and illustration."
About the Legal Internship
The semester-long Internship will strategically expose the Intern to various aspects of Tran Arrowsmith's practice areas, including fraternal governance, campus recognition, judicial hearings, vendor contracts, as well as member misconduct and response. The Intern will also have collaborative opportunities to assist with various litigation matters, including name changes and claims of discrimination in employment, places of public accommodation, housing, and education.
###
Contact
Zac Antonius, Executive Director
Lambda Phi Epsilon International Fraternity, Inc.
zac.antonius@lphie.org
About Lambda Phi Epsilon
Founded in 1981 in Los Angeles, California, Lambda Phi Epsilon International Fraternity, Inc. has grown to become the world's largest Asian-interest fraternity. Lambda Phi Epsilon (ΛΦΕ, also known as LFE) aims to guide men on a lifelong discovery of authenticity and personal growth. To learn more, visit https://lambdaphiepsilon.com.
About Tran Arrowsmith 
Tran Arrowsmith PLLC is a boutique law firm based in Phoenix, Arizona, specializing in outside general counsel legal services for CBFOs, in addition to direct legal services for the LGBTQ community and those from underrepresented, underserved backgrounds. Our experience extends to organizations within NALFO, NAPA, NIC, NMGC, NPC, NPHC, and even those not belonging to an umbrella conference. Tran Arrowsmith has experience supporting groups through issues of internal governance, misconduct reporting and response, campus recognition and relationships, judicial hearings, vendor contracts, diversity, equity, and inclusion (DEI), and related education and training.