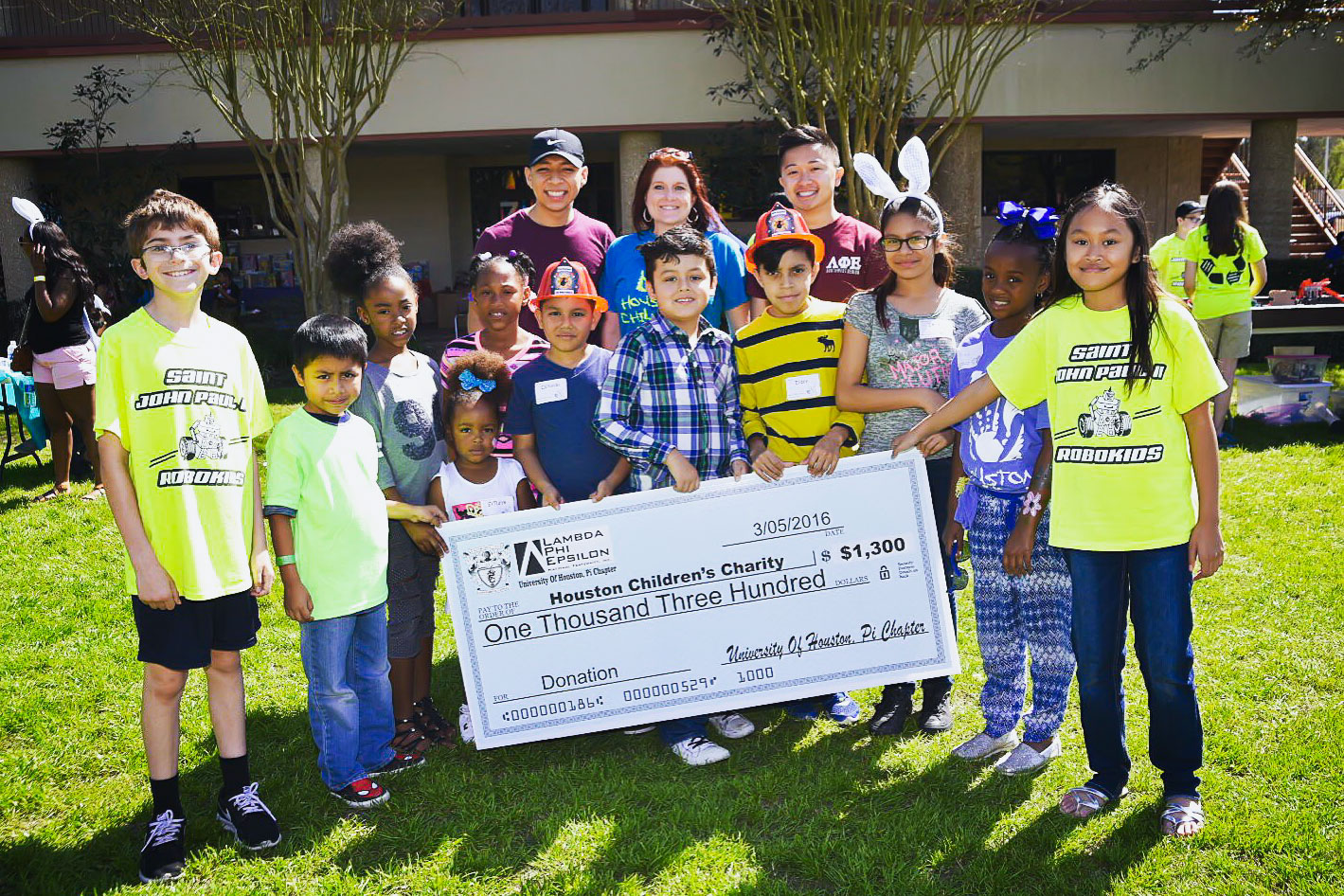 10 Mar

Jugs for Hugs

Last month, Lambda Phi Epsilon members at the University of Houston (Pi Chapter) organized a philanthropy event that raised much more money than they initially anticipated. Aptly named "Jugs for Hugs," active members deposited loose and spare change into water jugs between February 1st to 15th, 2016.

College senior Micael Tran (crossed Spring 2015), Chapter Vice President and Philanthropy Chair, coordinated the fundraiser. Per Tran, "The chapter aimed to raise awareness of the underprivileged, abused, and disadvantaged children in Houston. We chose to donate all our proceeds to Houston Children's Charity because we wanted to give back to our local community. The children are our future, and we wanted to express that we care for them. Jugs for Hugs was our way of giving a hug to those in need of one during February—the month of love."

Within a span of two weeks, the chapter raised $1,300, surpassing their expected goal of $200. Chapter Historian Davis Dang attributes the financial surplus to the healthy sibling rivalry between classes of the chapter. "We always make it into a class competition to see who could raise the most money," says Dang.
Jugs for Hugs was a great turnout! We raised $1,300 for the Houston Children Charity and all from collecting change! pic.twitter.com/rFKajNoJus

— UH Lambdas (@UHLPhiE) March 10, 2016
On Saturday, March 5th, 2016, active Lambda Phi Epsilon members presented a giant check to Houston Children's Charity at their Spring Easter Festival at the Northland Christian School in North Houston. Elizabeth Atkins, Program Coordinator of Houston Children's Charity, received the check, astonished at how much the chapter has raised for the nonprofit's cause. Houston Children's Charity hosts an annual spring holiday event that provides each child with gifts, such as Easter baskets. This year, Lambda Phi Epsilon at the University of Houston helped to fund 130 baskets!
This was the first time we worked w/ the Houston Children Charity & it was a success. We don't plan on stopping! pic.twitter.com/bm18vHxD0P

— UH Lambdas (@UHLPhiE) March 10, 2016
The chapter formed an ongoing partnership with Houston Children's Charity, and its members look forward to organizing future projects together. According to Tran, "Active brothers from Pi Chapter are intrinsically motivated to improve the well-being of our community. With this new partnership, we have started a new journey to make a significant change in the lives of the children of Houston."