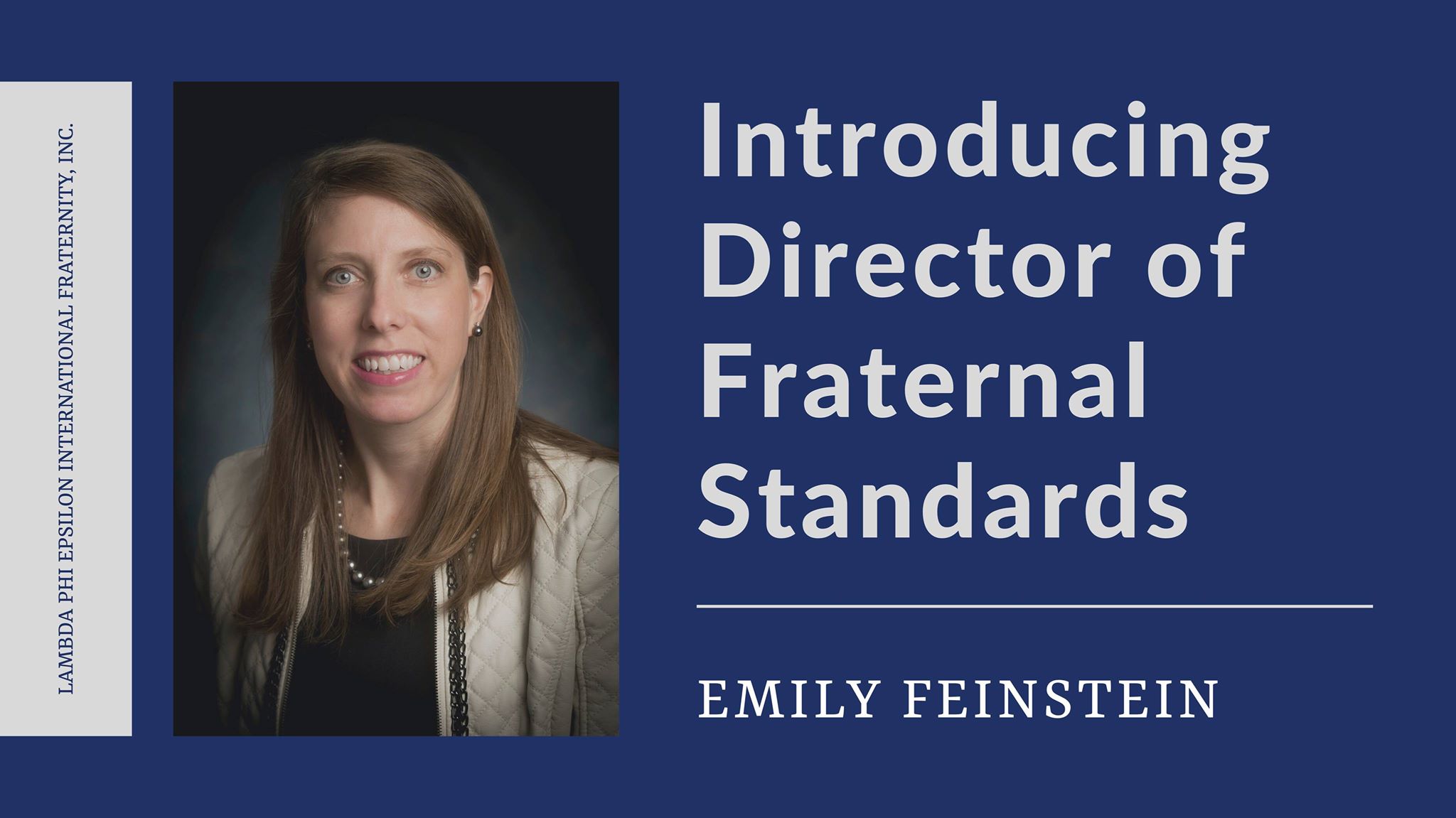 10 Jul

Introducing Director of Fraternal Standards

The Board of Directors of Lambda Phi Epsilon International Fraternity announces the hiring of Emily Feinstein as Director of Fraternal Standards.

"We are grateful to bring on such an experienced professional from the fraternal community into our organization," says Executive Director Zac Antonius. "Emily's work will be integral toward our path of higher standards and greater membership accountability."

Operating out of Mountain Brook, Alabama, Emily will be leading new Lambda Phi Epsilon initiatives to proactively address sexual misconduct and establish higher standards of safety within the fraternal community. Emily will helm a new Lambda Phi Epsilon approach to sexual misconduct awareness, prevention, and response that is survivor-centered, trauma-informed, and fair and equitable.

Emily is a member of Kappa Delta Sorority and a graduate of The University of South Alabama, where she obtained both a Bachelor of Arts in Criminal Justice and History and a Master of Education in Educational Leadership. For nearly 18 years, Emily has held various roles in student affairs including Director of the Office of Student Conduct, Office of Student Outreach and Title IX Deputy Coordinator at UAB; and Assistant Dean of Student Affairs at the University of California, San Diego. Emily began her career advising fraternity and sorority life and then moved into other facets of student life as her career progressed. Emily has extensive Title IX training and certifications.

In addition to her role for the International Fraternity, she works as the Director of Membership Accountability for Pi Kappa Phi Fraternity, where she is responsible for providing expertise in developing a trauma-informed reporting process, and for conducting prompt, thorough and fair investigations into allegations of sexual misconduct. Emily also serves as a volunteer on the Kappa Delta National Leadership Team where she is the University Case Manager responsible for membership reviews and managing chapter university proceedings.

Outside of Lambda Phi Epsilon, Emily enjoys spending time with her husband and two boys and traveling abroad when time permits.

###

Contact
Emily Feinstein, Director of Fraternal Standards
Lambda Phi Epsilon International Fraternity, Inc.
emily.feinstein@lphie.org
(205) 234-5446

About Lambda Phi Epsilon
Founded in 1981 at Los Angeles, California, Lambda Phi Epsilon International Fraternity, Inc. has grown to become the world's largest Asian-interest fraternity. Lambda Phi Epsilon (ΛΦΕ, also known as LFE) aims to guide men on a lifelong discovery of authenticity and personal growth. To learn more, visit https://lambdaphiepsilon.com.