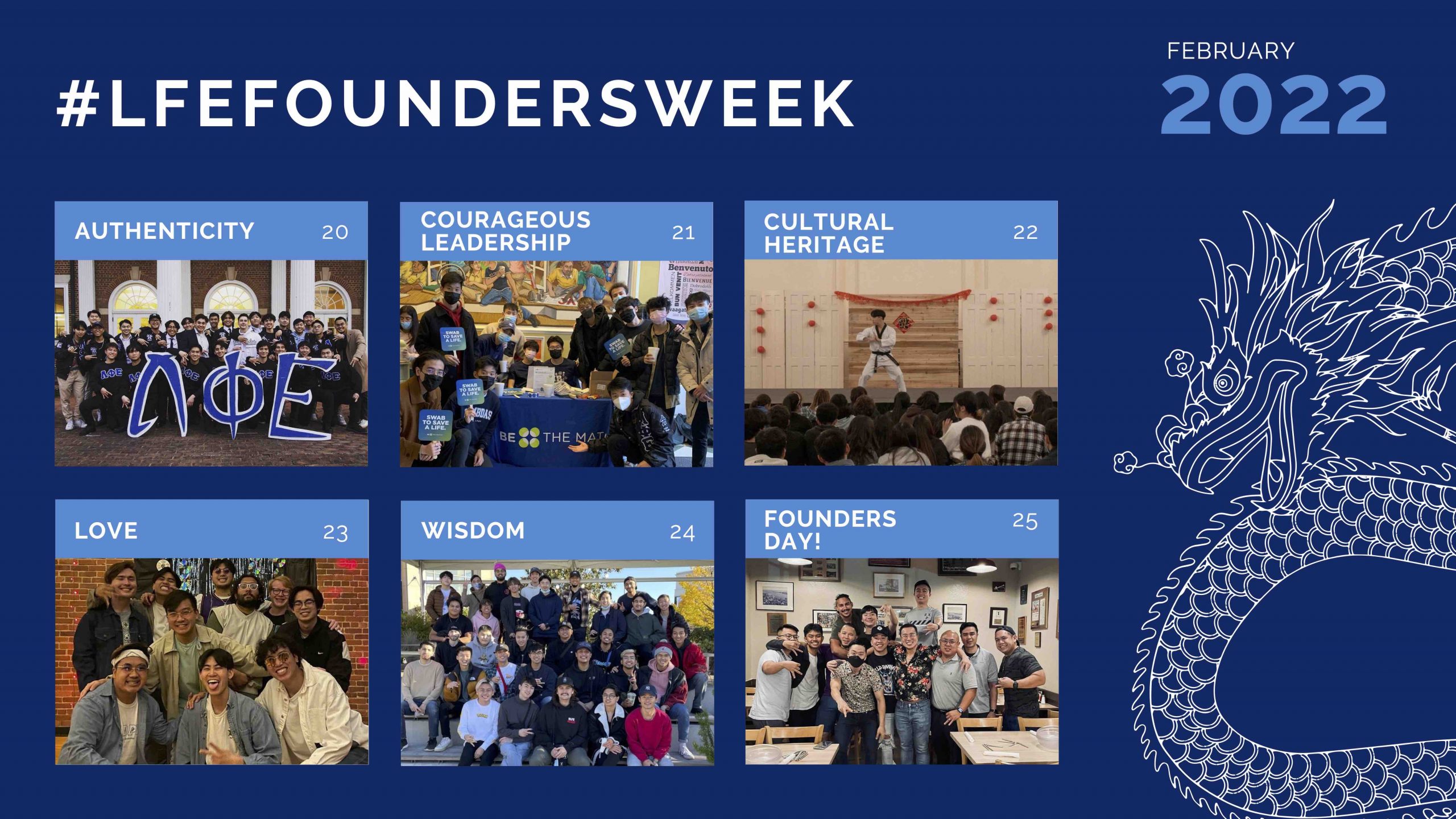 26 Feb

Founders Week 2022

In celebration of ΛΦΕ's 41st Anniversary, members and friends of the International Fraternity shared how they and their chapter embody Lambda Phi Epsilon's five core values on social media.

Authenticity
Virginia Polytechnic Institute and State University Associate Chapter: "As Lambda men, we value the intricacies that make us unique, and present our identities with pride and prowess. We respect each other's histories and cultures to move forward, exposed and united."
Courageous Leadership
University of Illinois Urbana-Champaign, Chi Chapter: "The goal of Lambda Phi Epsilon is to develop Leaders Among Men. We emphasize taking action in serving our community and university in any way we can. Be The Match is an organization near and dear to our heart. We acknowledge the honor of being able to save a person's life through stem-cell transplants and we spread the word as much as we can on campus by setting up workshops and encouraging everyone to sign up. Special shout-out to our very own President (#213 Thinh "Bippa" Nguyen) for constantly demonstrating Courageous Leadership through his actions and steering our large active house at UIUC in the right direction."
Cultural Heritage
University of Tennessee Associate Chapter: "Staying close to our roots and where we come from is a core belief that Lambda Phi Epsilon holds closely. Knowing where we come from is a huge step in the path of personal growth. We get to embrace and understand each brother's life. With our diversity and campus involvement, we will continue to spread Asian Awareness among our campus and teach every about our countries rich culture and traditions."
Love
Oklahoma State University Associate Chapter: "Love comes in many shapes and forms! For us, what started as a meeting between an unlikely group of people quickly blossomed into a lifelong friendship. Lambda Phi Epsilon has become the foundation on which our brotherhood is built, and has acted as a medium for the relationships we have formed today. Here at Oklahoma State University we brothers have nothing but love for each other."
Wisdom
Washington State University Associate Chapter: "Everyone has their own kind of wisdom gained through the quality of their own experience and knowledge that our members develop through their time once they become part of ΛΦΕ. As Leaders Among Men, the title of leader is not given, but gained through experience and qualities where one is ready to lead by example."
Founders Day
University of Central Florida Associate Chapter: "Tonight we had dinner at Boston Lobster Feast with the alumni of the Florida Graduate Chapter. 41 Years of greatness, brothers continuing and creating a lasting legacy from our 19 original founders. We take pride in being our most authentic selves and being a Leader Among Men."
The International Board encourages active undergraduates to re-engage their alumni in meaningful programming to honor those who have paved the way for an organization built In Eternal Brotherhood.
###
About Lambda Phi Epsilon
Founded in 1981 at Los Angeles, California, Lambda Phi Epsilon International Fraternity, Inc. has grown to become the world's largest Asian-interest fraternity. Lambda Phi Epsilon (ΛΦΕ, also known as LFE) aims to guide men on a lifelong discovery of authenticity and personal growth. To learn more, visit https://lambdaphiepsilon.com.
Lambda Phi Epsilon Contact
Zac Antonius, Executive Director
Lambda Phi Epsilon International Fraternity, Inc.
zac.antonius@lphie.org