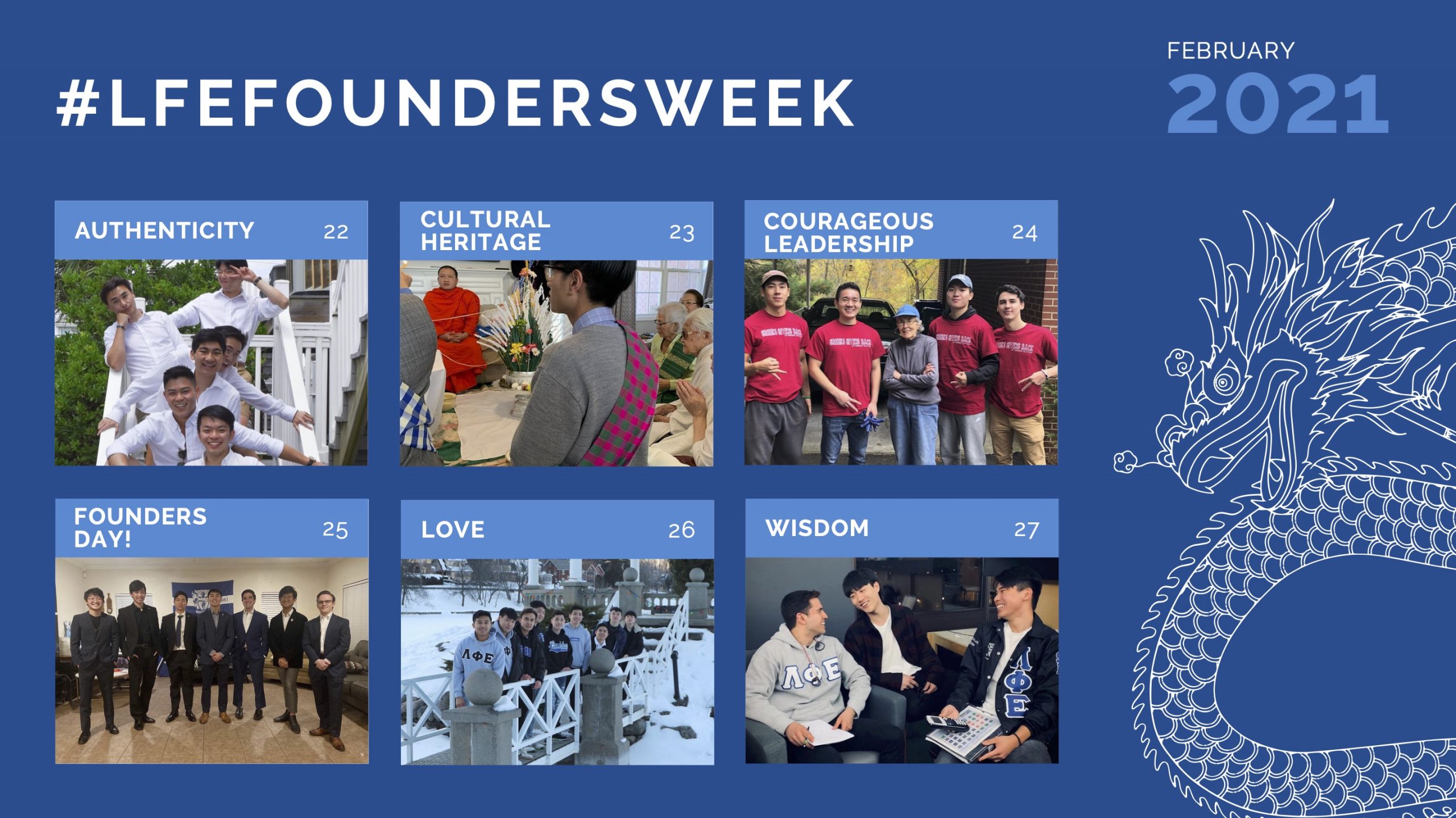 26 Feb

Founders Week 2021

Members and friends of the International Fraternity shared how they and their chapter embody Lambda Phi Epsilon's five core values on social media for LFE Founders Week 2021.
Authenticity
University of Virginia, Alpha Tau Chapter: "Authenticity means staying true to yourself and not being afraid to show that to others. As brothers, we strive to create an environment that is accepting where everyone is unafraid to speak their minds or be real. Being authentic is being your best self, and we'll always support each other without fail!"
Courageous Leadership
Virginia Polytechnic Institute and State University Associate Chapter: "Today, we celebrate courageous leadership by reminiscing on our last year's achievement with acts of service. This year, we will continue to strive to be leaders for each other and for our community through these tough times."
Cultural Heritage
University of Tennessee Associate Chapter: "Staying close to our roots and where we come from is a core belief that Lambda Phi Epsilon holds closely. Knowing where we come from is a huge step in the path of personal growth. With our diversity and campus involvement, we will continue to spread Asian Awareness among our campus and teach every about our countries rich culture and traditions."
Love
Syracuse University, Beta Gamma Chapter: "Have love in your heart for the people in your life, the things you have, and most importantly, yourself. We would like to thank everyone who had reached out to us to congratulate us on our Founders Day! We love and appreciate the community that surrounds us so much."
Wisdom
Rochester Institute of Technology Associate Chapter: "Our brothers value learning, whether it's in school or through their experiences in life. With this knowledge, we hope to better our surroundings."
Founders Day
Baylor University, Alpha Gamma Chapter: "Happy Founders Day! Founded on February 25, 1981 at the University of California, Los Angeles, our original founders sought an establishment that drew its membership equally from the different segments of the Asian American community. Their vision was that the members would eventually become the leaders of their respective ethnic communities, and thus, bridge the gaps fragmenting the Asian American community through their affiliation with a common organization."
In celebration of ΛΦΕ's 40th anniversary, the International Board honors the trailblazers who have paved the way for an organization built In Eternal Brotherhood.
###
Media Contact
Zac Antonius, Executive Director
Lambda Phi Epsilon International Fraternity, Inc.
zac.antonius@lphie.org
About Lambda Phi Epsilon
Founded in 1981 at Los Angeles, California, Lambda Phi Epsilon International Fraternity, Inc. has grown to become the world's largest Asian-interest fraternity. Lambda Phi Epsilon (ΛΦΕ, also known as LFE) aims to guide men on a lifelong discovery of authenticity and personal growth. To learn more, visit https://lambdaphiepsilon.com.