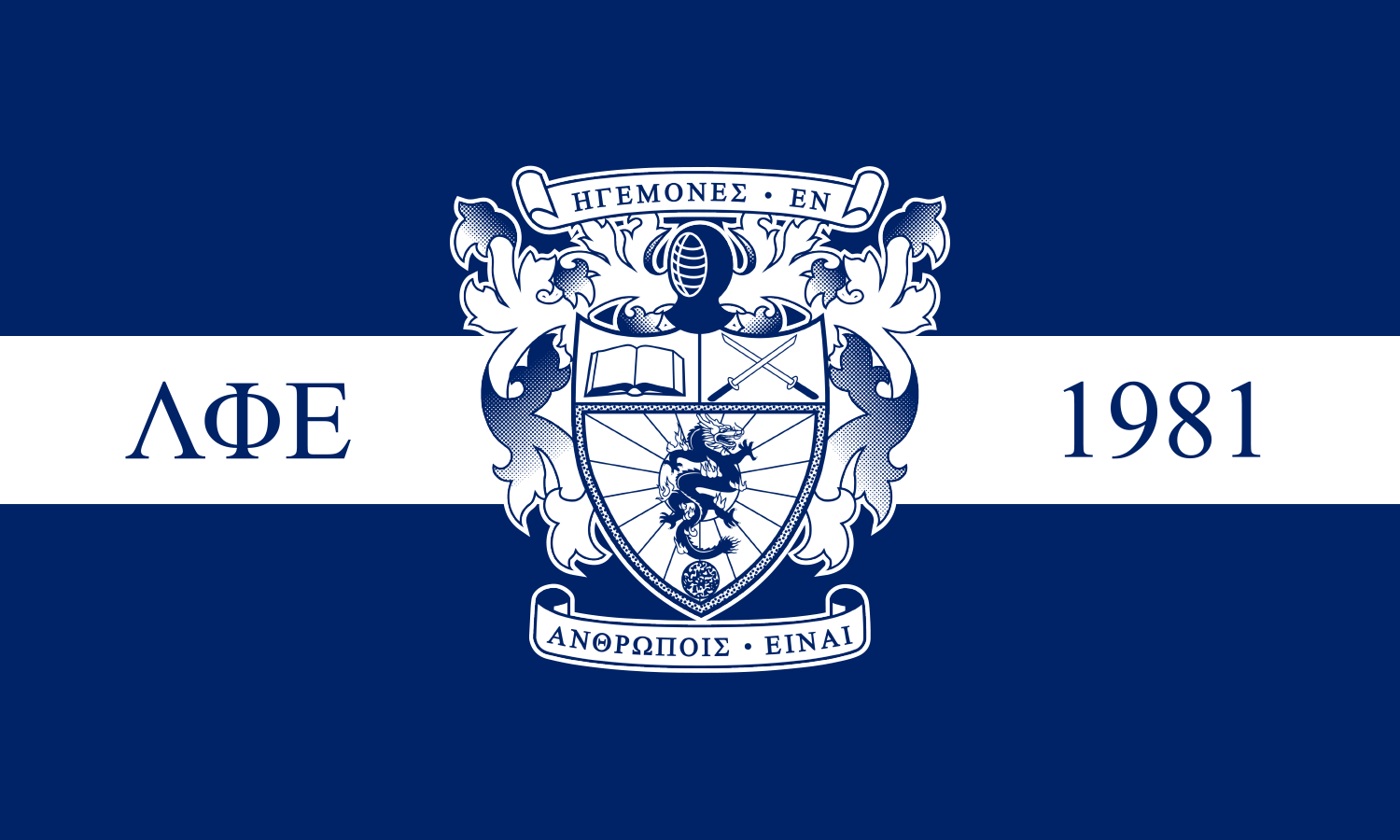 01 Jun

Flag of the Fraternity

During the summer of 2018, the Board of Directors opened a design contest among the general fraternity membership to create the official flag of Lambda Phi Epsilon. After reviewing numerous submissions, the International Board selected the design created by Nicolas Garza, a Spring 2018 initiate of the Zeta Chapter at the University of Texas, Austin.

The Flag of the Fraternity consists of a white horizontal bar across a royal blue field with the fraternity crest in the center. On the left of the seal within the white bar are the "ΛΦΕ" Greek letters for Lambda Phi Epsilon. To the right of the seal is "1981," the year of the founding of the Fraternity.

Garza is a third-year majoring in accounting with a marketing minor. He is responsible for designing most of his chapter's social media as well as shirts for recruitment, social functions and formal events. Garza was also responsible for the design of the official shirt of the 30th Convention of Lambda Phi Epsilon.
At the 30th Convention of Lambda Phi Epsilon in Baltimore, each chapter was gifted with the new Flag of the Fraternity to bring home to their own campus. "I've been really proud of my letters, and now that something I made is being used internationally by the fraternity, I can only imagine I'll be even more proud," remarks Garza.
###
About Lambda Phi Epsilon
Founded in 1981 at the University of California at Los Angeles, Lambda Phi Epsilon International Fraternity, Inc. has grown to become the world's largest Asian-interest fraternity. Lambda Phi Epsilon (ΛΦΕ, also known as LFE) aims to guide men on a lifelong discovery of authenticity and personal growth. To learn more, visit https://lambdaphiepsilon.com.
Lambda Phi Epsilon Contact
James Gaffney, Executive Director
Lambda Phi Epsilon International Fraternity, Inc.
jim.gaffney@lambdaphiepsilon.org