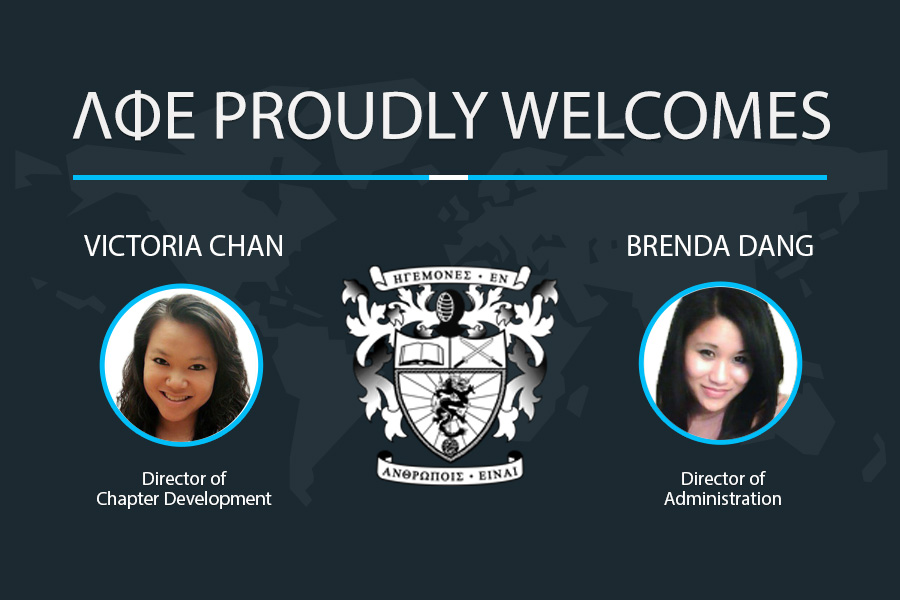 14 Aug

Executive Appointments
Lambda Phi Epsilon Selects First Female Officers
The leadership of Lambda Phi Epsilon International Fraternity, Inc. is thrilled to announce the creation and selection of two new International Board officers. Victoria Chan, M.Ed. and Brenda Dang, Esq. begin their roles as Director of Chapter Development and Director of Administration effective immediately. Their appointments mark the first time an Asian American Greek Letter Organization (AAGLO) opens their doors for non-members to serve in an official capacity.
As Director of Chapter Development, Chan is tasked with creating and implementing action plans to bring at-risk, previously sanctioned chapters, and newly chartered chapters into good standing with university administration. In her role as Director of Administration, Dang coordinates annual performance reviews of international board officers and designs best practice resources for transitioning officers. Their direct involvement allows for Asian American Greek Letter Organizations to explore the concept of peer accountability and education.
Per Chan, "When I was approached to apply for this position, I was extremely excited about the opportunity to work with a fraternity I highly respect for their progressive steps in completely revamping the landscape of AAGLOs. We spent months discussing the state of the organization and how important it was to have more members on the International Board who understood student development in college. There was never a question about my decision to serve."
"I am beyond excited to work and serve on the International Board of Lambda Phi Epsilon Fraternity, Inc.," says Dang. "Seeing how the organization has developed over the last few years through its initiatives and programming has been an inspiration, and I am confident the fraternity will continue to grow and refine its course and operations. As a current board member of NAPA, my team and I advocate for collaboration between the member organizations, and by the fraternity appointing officers such as myself and Victoria, I see the International Board as taking one of the first steps for that open collaboration to advance the AAGLO movement."
International President Charles Andrean and other fraternity executives reviewed a competitive pool of candidates for both positions. "We are incredibly elated and proud to announce the addition of Brenda Dang and Victoria Chan to our Lambda Phi Epsilon team," expressed Andrean. "We are confident that making this historic and unprecedented decision to diversify our perspectives will better allow us to serve our members."
About Victoria Chan
Since 2000, Victoria has been involved with non-profit performing arts programs, working with the Britney Spears Foundation, American Idol, 50 Cent's G-Unity Foundation, Jackie Chan's Charitable Foundation, and Usher's New Look Foundation. She worked as Jackie Chan's executive assistant for The JC Group International, LTD and traveled from Mongolia to Miami, from Singapore to Spain, assisting in earthquake and drought relief efforts to being on the international promotional tour of "The Karate Kid" with Sony Pictures. Chan has been featured in The Hollywood Reporter, MTV, People Magazine, Daily News, VH1, and Empire Magazine.
Chan earned her bachelor's degree in Political Science and African American Studies from Syracuse University, where she was initiated into the Gamma Chapter of Kappa Phi Lambda Sorority, Inc. She completed her master's degree in Professional Counseling and College Student Affairs from the University of West Georgia, where she served as the National Pan-Hellenic Council and Multicultural Greek Council advisor. Chan is currently the Assistant Director of Student Conduct at Emory University and is involved with both the Association of Fraternity & Sorority Advisors and Student Affairs Administrators in Higher Education.
About Brenda Dang
Brenda Dang received her bachelor's degree in International and East Asian Studies at University of Oklahoma, where she chartered the Chi Chapter of alpha Kappa Delta Phi Sorority, Inc. She pursued her juris doctor degree at Texas Southern University, and is currently In-House Counsel/Attorney for a global software company headquartered in Chicago. In her free time, she trains Brazilian Jiu-Jitsu and coaches youth in the art.
Dang is the current Executive Chair for the National APIA Panhellenic Association. She has served on numerous boards for nearly 10 years, including the Korean American Society of Houston, the Asian American Bar Association, and all 3 boards for the alpha Kappa Delta Phi International Sorority, Inc. Dang has a growing passion in APIA Greek organizations and development through adequate strategic planning. An advocate for process improvement, she has implemented policies, procedures, and programs, such as the comprehensive NAPA 360 Evaluations and a naming convention for NAPA. Additionally, she has worked with various NAPA organizations, advising on policies and general operations.
About Lambda Phi Epsilon
Founded in 1981 at the University of California at Los Angeles, Lambda Phi Epsilon International Fraternity, Inc. has grown to become the world's largest Asian interest fraternity. The organization aims to guide men on a lifelong discovery of authenticity and personal growth. The fraternity is affiliated with both the North-American Interfraternity Conference and the National APIA Panhellenic Association.