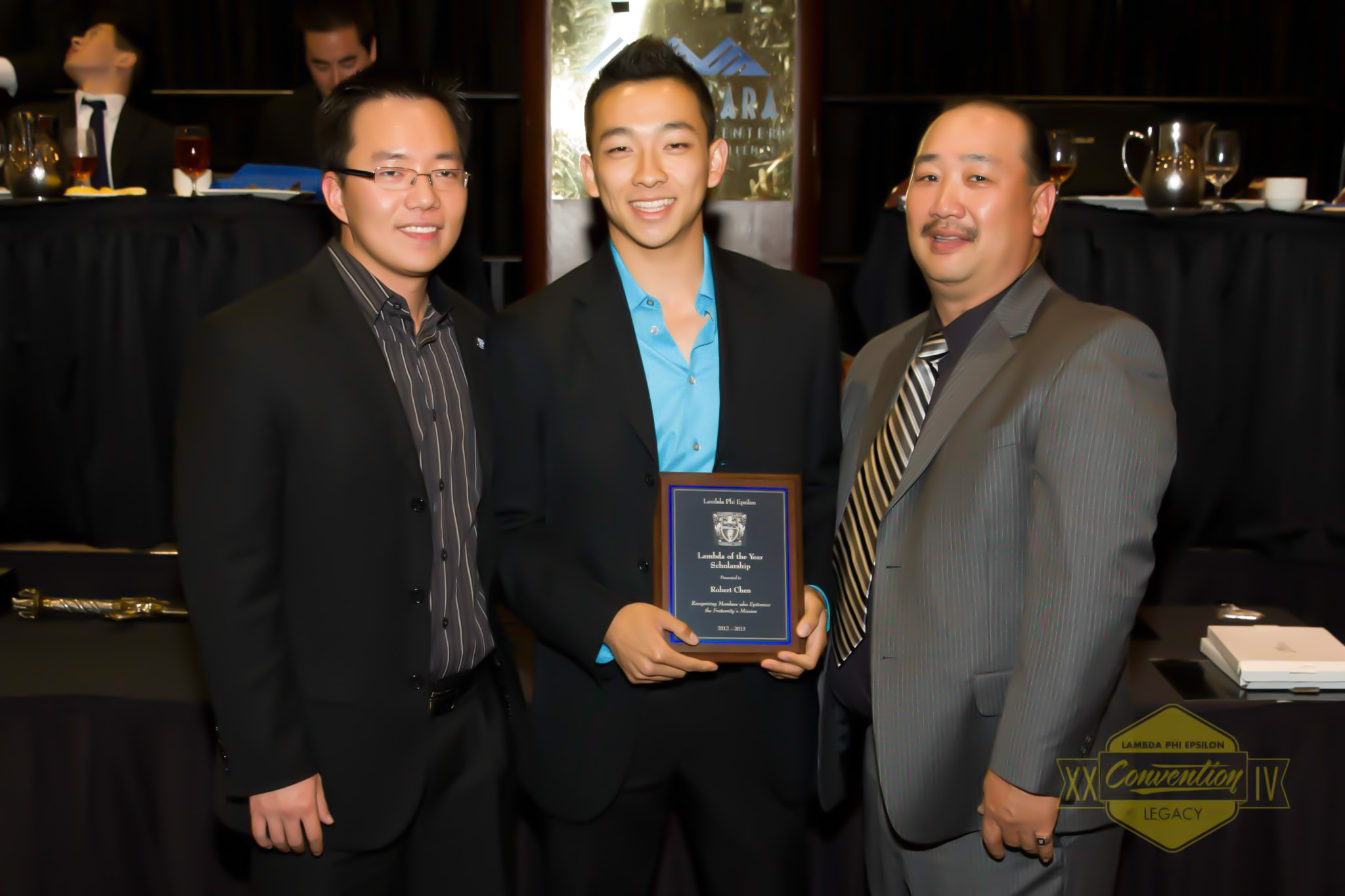 26 May

Engineering the Magical Cure
Scholar Story: Engineering the Magical Cure
There are few things in life that are certain, many that are a mystery, and a great number that we do not know are mysteries. But for the few things we do know, they bring us happiness, clarity, jealousy, sadness, reason, and purpose. For these few things, we create a meaning for our life from the world around us. For all of those uncertain things in my life, I know one thing for certain – that I am going to become a Neurologist specialized in Alzheimer's Disease research. There are three things in my life that I can positively identify as things that shape me, that drive me, that define me, and these three things are why I am so certain of my future – they are my family, medicine, and magic.
I was born in California and was the first generation in my family to be raised in the states. My parents came to California from Taiwan for the same reason many parents of Asian descent come to America – to start a family with the hopes that their children will be better off than those before them. For this reason, my parents worked tremendously hard to establish themselves among white-collared America, earning Masters degrees in specialized fields in order to compete with the rest of the working world, all while barely speaking a word of English. By traversing the thickets of the language barrier and the condescending notes of American racism, my parents ensured that I would not have to endure such a struggle myself. My parents' actions helped me embrace and thicken in a stew of courage, dedication, hard work, and sacrifice, Asian values that I now hold dearly on to. Moreover, my parents were the most respectful children to their parents, sending them money every month, visiting them every week, and calling them every day. They were role models as parents as well as children, and they helped me become a better son to them and a better person to those around me. To ensure that my parents' struggles were not in vain, I worked hard to achieve an accomplished academic record and was accepted into the University of California, Berkeley in the Bioengineering department, where I unraveled the next chapter in my life.
Up until my second week in college, I didn't know what I wanted to do a Bioengineering degree. It was at the end of this week when my grandfather was diagnosed with Alzheimer's Disease, a progressive and incurable dementia where the brain continuously decays until all memories and motor control are unsalvageable. Nobody thought that my grandfather, one of Taiwan's most brilliant aerospace engineers, would be the one to develop a brain pathology, and it created a ripple of panic and confusion throughout my family. My mom, the anchor of our family, was devastated, because she knew that she would also likely contract the disease given its genetic disposition. In my entire extended family's history, there had been nobody who had a medical education, but now more than ever my family needed someone medically minded who could restore a sense of calm. It was in that moment when I made a decision about my future – I would take my deep interest in Biology and knack for problem solving and apply them to Alzheimer's Disease. I began looking up scientific literature about the disease, applied to biology laboratories on campus to develop my research skills, and planned my elective coursework to encompass discourse in Neurobiology. By my Sophomore year, I thought I knew everything about there was to know about Alzheimer's Disease, was working in a stem cell and aging lab driving cutting edge research with my creative vision, and was learning about human physiology and anatomy to prepare myself for my pre-medical studies. But somehow, no matter how much I read about human medicine and brain pathologies, I felt that it was impossible to know enough to cure such a disease, especially before the disease scarred my grandfather or even my mother. I looked for inspiration in an unlikely source – magic.
Magic, the art of astonishment, has been my passion since high school. What I had always loved about magic was that it empowered me to blur the distinction between impossibility and reality, to create innovative solutions to make anything possible. Most importantly, I approached magic not with the intent of deceiving an audience, but with the mission to inspire hope and awe in the eyes of its beholders. Although I had once thought of magic only as a hobby, I realized that I could be using my passion to inspire hope in people who needed it the most, people like my grandfather. Magicians and medical practitioners had the same goal – to bring joy to people through miracles. My hobby inspired me to create a program called Magic for Medicine, a volunteer service promoting magical performance at medical organizations with the purpose of creating miracles similar to the ones that doctors perform every day. I am still an active magician in my program and perform at three different clinics every week, with each performance bringing a new set of smiles and a new ray of hope. To expand this program, I have branched out to five other organizations on campus, offering to perform inspiring shows at their outreach events. Moreover, to perpetuate my harmonious vision of magic and medicine, I started a student-run course on magic with another Lambda, which is now in its second semester of instruction.
Magic is a passion that runs deep in me because I believe it runs deep in all of us; it is a medium for inspiration and a spectacle for the believer.
With magic reminding me that there are no bars too high in life and no ideas too far out of the box, I am committed to finding a way to cure and prevent Alzheimer's Disease in my family and throughout the world. I will be graduating from UC Berkeley this May with a degree in Bioengineering, and will be applying to a joint MD/PhD program the following June. During my wait for medical school admission results, I will be working at in the most recognized Alzheimer's lab in Genentech this summer, and following my sojourn in the neuro-pharma industry, will take on a clinical research position at UCSF working in Dr. Ari Green's lab in the Memory and Aging department, also studying Alzheimer's Disease. I am proudly building my knowledge, life experiences, research tools, and scientific aptitude toward my passion of curing Alzheimer's Disease. The interspun web between my family, medicine, and magic is inextricably intertwined with how I define my vision for myself now and in years to come. My story is but one of billions but to me it is a special one, one that I hope will end with curing Alzheimer's Disease and with providing a magical world for those around me.
Robert Chen
University of California—Berkeley, Spring 2011
2013 Lambda of the Year Scholarship Recipient
Lambda Phi Epsilon International Fraternity, Inc.