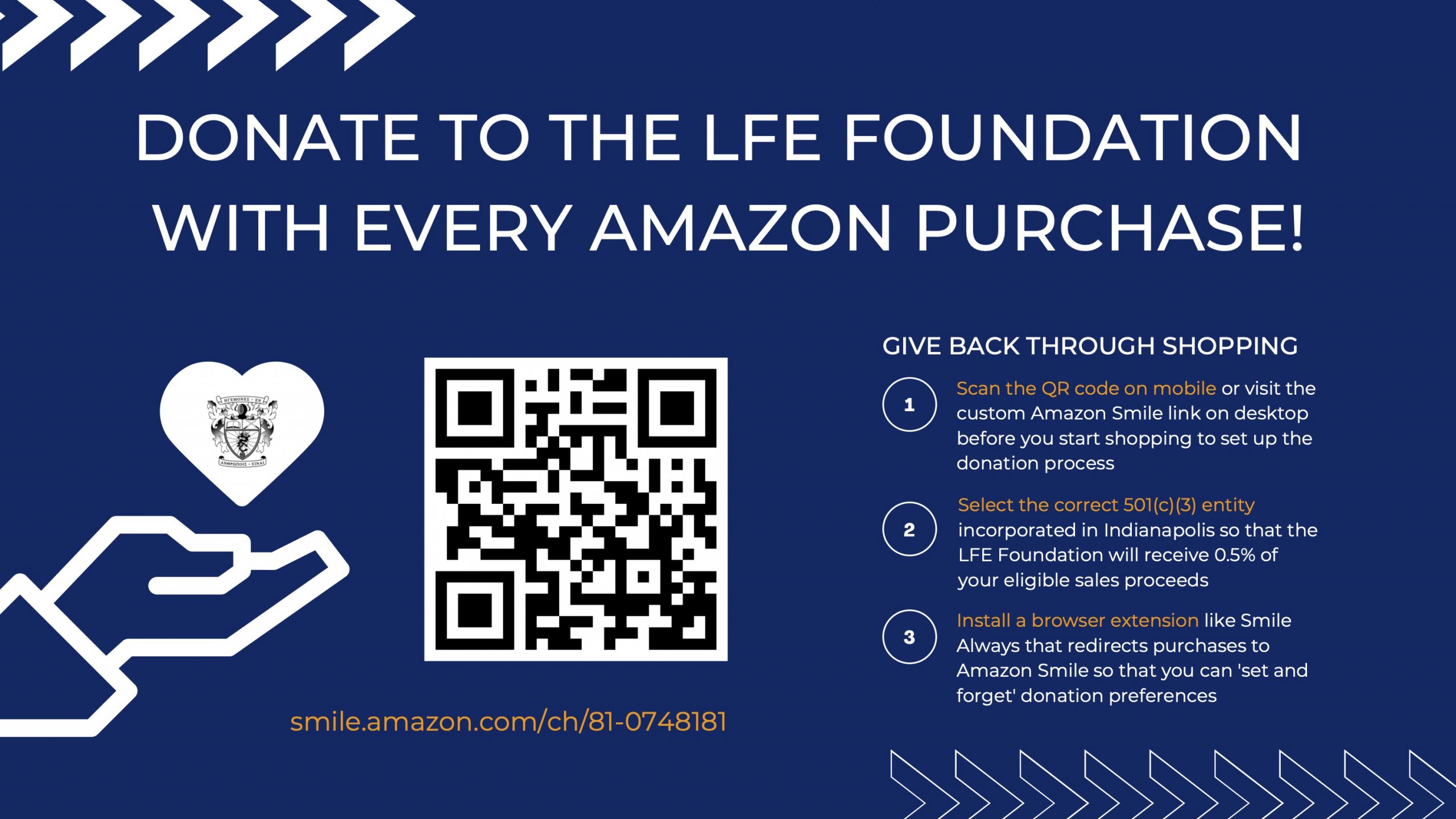 28 Feb

Donate to the LFE Foundation with Every Amazon Purchase
Give back to the International Fraternity through online shopping at no extra cost
The LFE Foundation Board of Trustees has set up the opportunity to contribute to the Foundation at no expense to you! Shop at smile.amazon.com and Amazon will donate 0.5% of eligible purchases to your chosen charitable organization. Purchases completed through the shopping cart, wish list, wedding or baby registry, and other account settings also count toward Amazon Smile contributions.
Scan the QR code to visit the Amazon Smile page today!
https://smile.amazon.com/ch/81-0748181
Anyone may give back through shopping:
1. Scan the QR code on mobile or visit the custom Amazon Smile link before you start shopping to set up the donation process.
2. Select the correct 501(c)(3) entity incorporated in Indianapolis so that the LFE Foundation will receive 0.5% of your eligible sales proceeds.
3. Install a browser extension like Smile Always that redirects purchases to Amazon Smile so that you can 'set and forget' donation preferences.
Spread the word to brothers and friends of the fraternity who shop online so that the LFE Foundation can grow through Amazon.
###
LFE Foundation Contact
Victor Em, Board of Trustees President
Lambda Phi Epsilon Foundation
victor.em@lambdaphiepsilon.org
About the LFE Foundation
The purpose of the Lambda Phi Epsilon Foundation is to engage in charitable activities and provide educational support to members of Lambda Phi Epsilon International Fraternity, Incorporated within the meaning of section 501(c)(3) of the Internal Revenue Code.
About Lambda Phi Epsilon
Founded in 1981 at Los Angeles, California, Lambda Phi Epsilon International Fraternity, Inc. has grown to become the world's largest Asian-interest fraternity. Lambda Phi Epsilon (ΛΦΕ, also known as LFE) aims to guide men on a lifelong discovery of authenticity and personal growth. To learn more, visit https://lambdaphiepsilon.com.