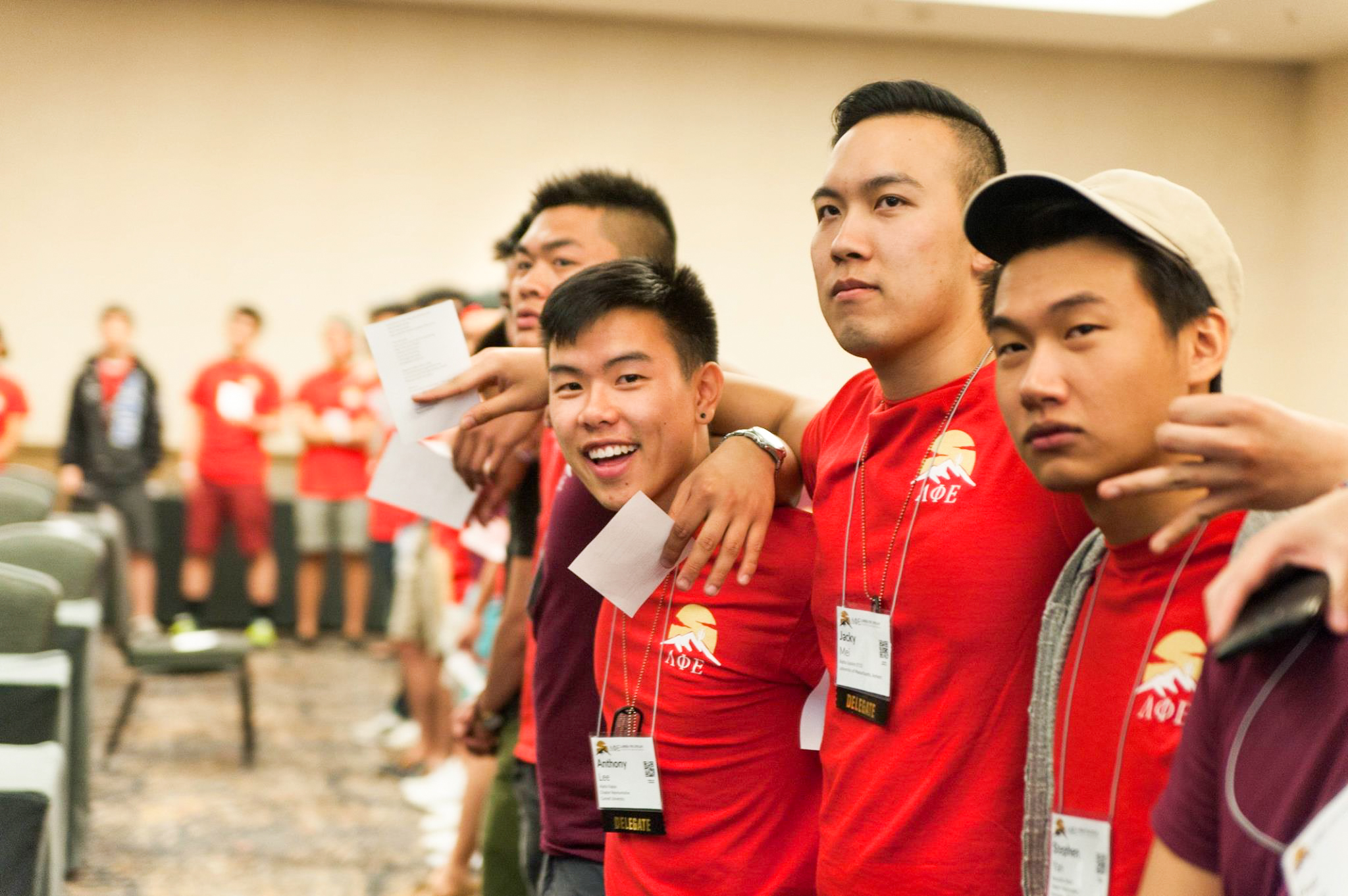 30 May

Convention 2016
Forging the Future
This past Memorial Day Weekend, Lambda Phi Epsilon chapters came rushing through the Sky Harbor Airport, entering the Grand Canyon State, in Phoenix, Arizona. Brothers convened for the Fraternity's 27th Annual Convention at the Hyatt Regency in Downtown Phoenix. Through a formalized partnership with sisters of alpha Kappa Delta Phi International Sorority, Inc, this Convention involved deeper programming between the two organizations, such as the opening ceremony and joint workshops.
Friday began with a first-timers gathering and opening remarks from the event organizers. President Charles Andrean kicked off Saturday with the State of Affairs presentation. Brothers engaged in meaningful discussion with each other and the fraternity's International Board on the newly revised constitution since the original version approved in 1994. The day proceeded with elections for the new Board of Directors, followed by professional development workshops hosted by brothers, sisters, and members of other NAPA organizations.
On Sunday, undergraduate members from the University of Georgia presented their piece on their development on campus and why they believed they were ready to take on active status. The House of Delegates passed proposed amendments to the Fraternity Constitution, which include (1) the establishment of the House of Delegates to ensure representative voting power among chapters; (2) provisions for the creation of Graduate Chapters; and (3) tier-based changes in chapter promotion policies. Members then headed to a nearby park to compete in both the Fraternity's annual Brotherhood Basketball Tournament and Sports Day.
Following an afternoon of healthy competition, members attended the Banquet Ceremony to conclude the three-day event. While dinner was catered, the Fraternity awarded and recognized exemplary chapters and individual members for their outstanding achievements within the Fraternity and commitment to its values. Outgoing President, Charles Andrean delivered a final, heartfelt message to Convention attendees. For his tireless efforts and dedication to the Fraternity, members sent him off with a standing ovation, roaring applause, and cheers of appreciation.
This year's Banquet Ceremony held a special surprise and twist from those in the past. Earlier during the day, members from the University of Georgia Associate Chapter hoped to achieve Status Advancement and recognition as a fully recognized Active Chapter, a journey that began with their inception on their campus in 2001. After the closing remarks by Jason Lau, the External Vice President, UGA members were pleased to find out their new status as the Alpha Chi Chapter of Lambda Phi Epsilon International Fraternity, Inc!
Thanks again to all those who helped make this Convention a success and to all who attended. The Fraternity leadership looks forward to seeing you next year!
IEB,
Justin "Pro.G" Lau
Convention XXVII Volunteer
Elected Board of Directors
President: William Tan, Rutgers University
Internal Vice President: Kuan Ren Su, Purdue University
External Vice President: Jason Lau, University of Toronto
Treasurer: Jacky Man, University of Massachusetts
Secretary: Victor Em, Stanford University
Recognition and Awards
Rising Leaders Among Men Scholarship: Jason Huang, University of Virginia
Rising Leaders Among Men Scholarship: Jason Huang, University of Virginia
Academic Achievement Scholarship: Richard Young, University of Virginia
Lambda of the Year Scholarship: Ryan Noble, VTech
Basketball Tournament Winner: East Coast Region
Sports Day Winner: West Coast Region
Chapter Philanthropic Excellence: University of Virginia
Chapter Academic Excellence: University of Georgia
Chapter of the Year: University of Houston
Chapter Charter Presentation: Loyola University Chicago
Chapter Promotion: University of Georgia, Alpha Chi Chapter