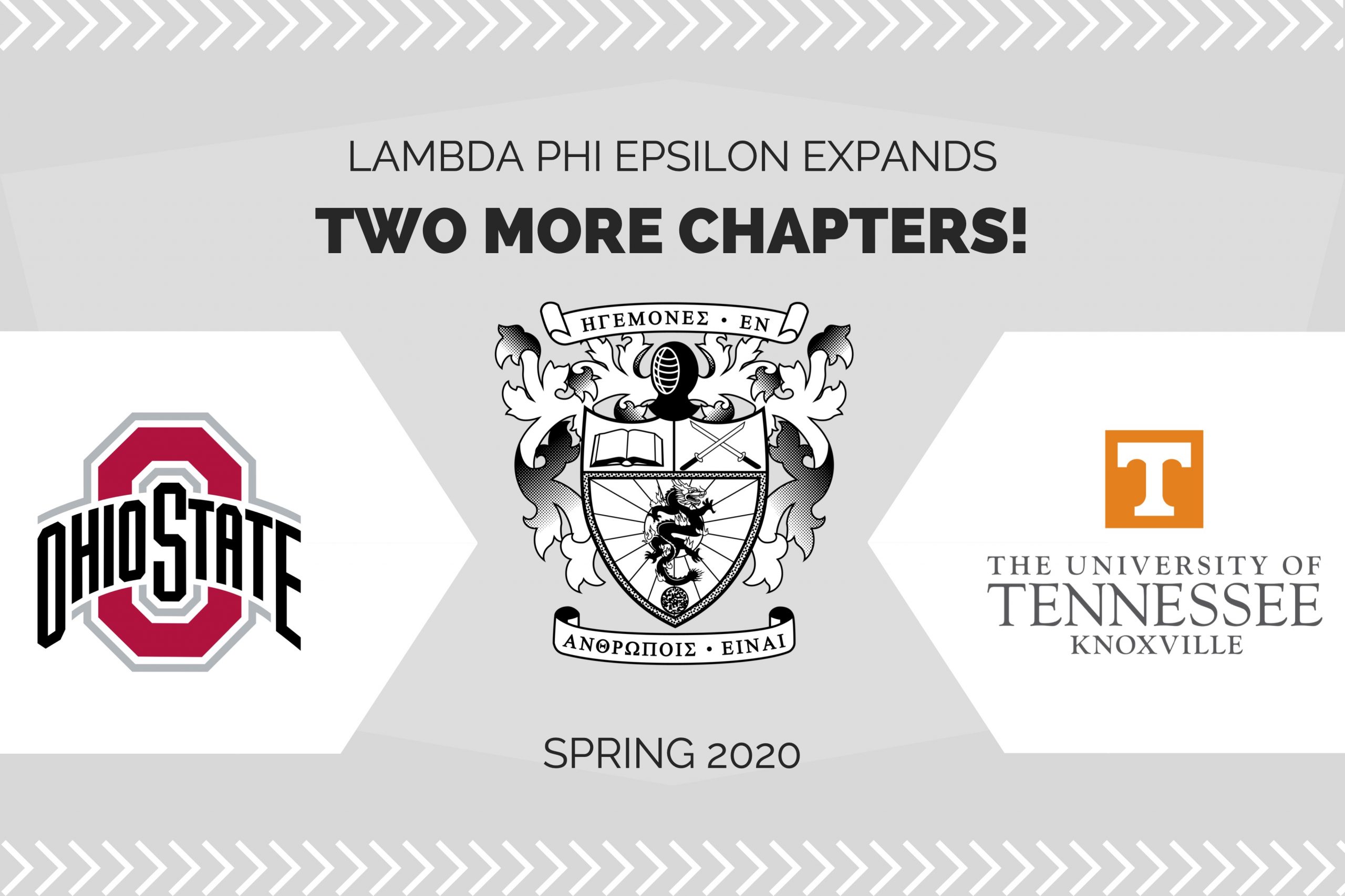 21 May

Breaking Ground in Ohio and Tennessee
Lambda Phi Epsilon Enters Two More States
The International Board of Lambda Phi Epsilon proudly announces its two newest chapters at The Ohio State University and the University of Tennessee, Knoxville as its 69th and 70th chapters, respectively.
#LFEFraternity successfully established new chapters in two more states this spring semester!

🎊 The Ohio State University
🎊 The University of Tennessee, Knoxville pic.twitter.com/Ak8kwfe7U4

— Lambda Phi Epsilon (@LFEfraternity) May 21, 2020
The Ohio State University Associate Chapter was established on April 2, 2020 and guided by New Member Educators Zac Antonius (Alpha Gamma Chapter, Spring 2016) and Jimmy Luu (Alpha Psi Chapter, Fall 2015). "This entire process has been a great learning experience for not only these new Brothers but also for all of the mentors involved in this process," says Antonius. "It has been a joy seeing this group go from an Interest Group to a new chapter of Lambda Phi Epsilon and I am proud to have been included in this journey."
Kenny Vo, the chapter's newly elected president, delighted in the opportunity to bring Lambda Phi Epsilon to his university. "We intend to actively provide engaging programming with the organizations on campus," says Vo. "We have high hopes of bridging communities and forming relationships with students from across the APIDA diaspora and alongside minority groups on campus."
The Ohio State University Associate Chapter Charter Class
1. Ethan Chan
2. Nicholas Dang
3. Sean Dupiano
4. Kent Hoang
5. Alex Nguyen
6. Anthony Nguyen
7. Trace Nguyen
8. Wesley Nguyen
9. Tag Sison
10. Jerry Ta
11. Kenny Truong
12. Kenny Vo
The Chapter at the University of Tennessee, Knoxville officially chartered on April 12, 2020 and was advised by New Member Educators Joe Vo (Alpha Chi Chapter, Spring 2008) and Matthew Wright (NCSU Associate Chapter, Spring 2017). "Our Noble Brother Program gave us the opportunity to educate our new charter class and holistically instill the values and leadership standard of Lambda Phi Epsilon—even amidst the pandemic—and empower them to innovate traditions as the newest Asian-interest fraternity in Tennessee," says Wright.
"Our chapter's goal is to create a common ground for creating leaders on campus," says chapter president Hoangnha Vo. "We aim to provide all brothers the skills they need to be successful in their own personal lives."
University of Tennessee, Knoxville Associate Chapter Charter Class
1. Taylor Chayavon
2. Ankush Patel
3. Gabe Godish
4. Jack Cahill
5. Lewis Hoang
6. Hoangnha Vo
7. Corbin Ryder
8. Brian Lung
9. Justin Gao
The inclusion of two new chapters in the states of Ohio and Tennessee expands Lambda Phi Epsilon's footprint into a total of 24 states (and one Canadian province) since its inception in 1981.
###
About Lambda Phi Epsilon
Founded in 1981 at Los Angeles, California, Lambda Phi Epsilon International Fraternity, Inc. has grown to become the world's largest Asian-interest fraternity. Lambda Phi Epsilon (ΛΦΕ, also known as LFE) aims to guide men on a lifelong discovery of authenticity and personal growth. To learn more, visit https://lambdaphiepsilon.com.
Media Contact
Zac Antonius, Executive Director
Lambda Phi Epsilon International Fraternity, Inc.
zac.antonius@lphie.org