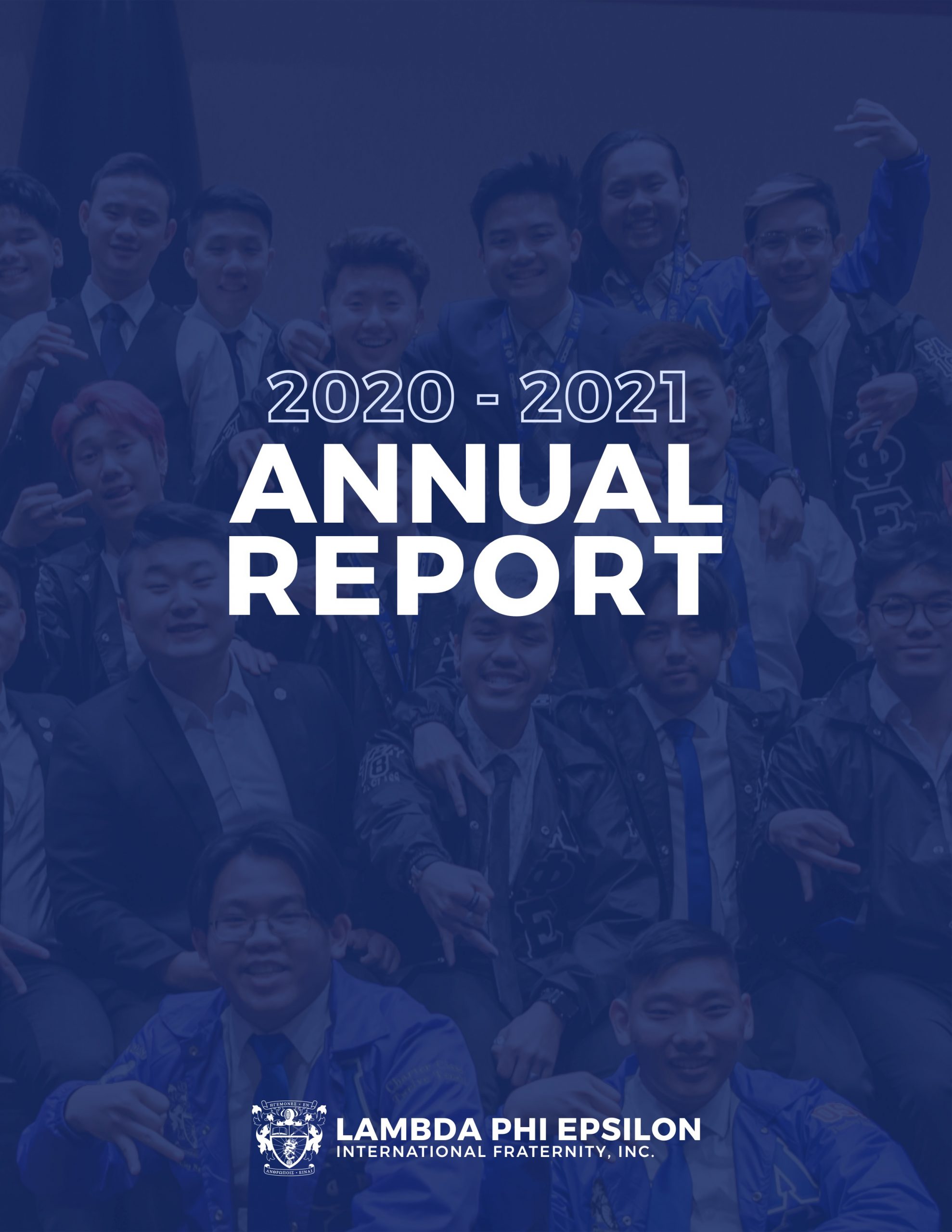 18 Sep

LFE Annual Report 2020-2021 Download Annual Report
Welcome from the President
The year 2020 was one of the most challenging years our membership faced as we navigated through multiple crises at once. On top of the COVID-19 pandemic, rising xenophobic attitudes, economic hardship, and natural disasters, we've seen racial unrest in our cities, abuses of trust and power aired out on social media, and watched a new Abolish Greek Life movement unfold across American college campuses.
"Recalibrating resilience" reverberated as a central theme for fraternity leadership in 2020. The International Board framed intentional conversations around the people, purpose, and potential of the fraternal experience. Despite the uncertainty of navigating a pandemic, the International Fraternity leadership determined the following shared priorities that will shape the course of the organization over the next two years:
• Elevate Standards: By improving advising, enforcing reporting, and raising the bar on fraternal standards, we set the organization for measured excellence.
• Uplift Community: In building awareness and advocacy for social justice, cultural, and philanthropic initiatives, we remain a relevant institution for developing the next generation of Leaders Among Men.
• Modernize Messaging: By developing an accessible forum for members to facilitate discussion and professional networking, we increase our accountability with the general public, partner organizations, and our membership.
• Grow Sustainably: We secure the long-term viability of the International Fraternity by scaling our active membership count with the expansion of new locations, promotion of rising chapters, reinstatement of dormant chapters, and development of chapters in good standing.
• Advance Alumni: Providing relevant programming and event opportunities to the largest segment of Lambda Phi Epsilon fraternity members will strengthen alumni ties to the Fraternity beyond their graduation.
Guiding the development of our committed officers as they scale the impact of their contributions to our membership at large has been of my favorite aspects of serving on the International Board. As Lambda Phi Epsilon Fraternity's 20th International President, I have been blessed to lead a board of courageous, confident, and compassionate leaders who stood tall amid swift and difficult decisions.
Our latest LFE Annual Report illustrates our collective progress over the past academic year. Despite the pain and trauma uncovered in 2020, our adversity does not define our future. By recalibrating resilience, we determine the direction of the fraternity by the ways we bounce back better, brighter, and bolder.
IEB,
Bryan Dosono, Ph.D.
President, Board of Directors
Lambda Phi Epsilon International Fraternity, Inc.
###
About Lambda Phi Epsilon
Founded in 1981 in Los Angeles, California, Lambda Phi Epsilon International Fraternity, Inc. has grown to become the world's largest Asian-interest fraternity. Lambda Phi Epsilon (ΛΦΕ, also known as LFE) aims to guide men on a lifelong discovery of authenticity and personal growth. To learn more, visit https://lambdaphiepsilon.com.