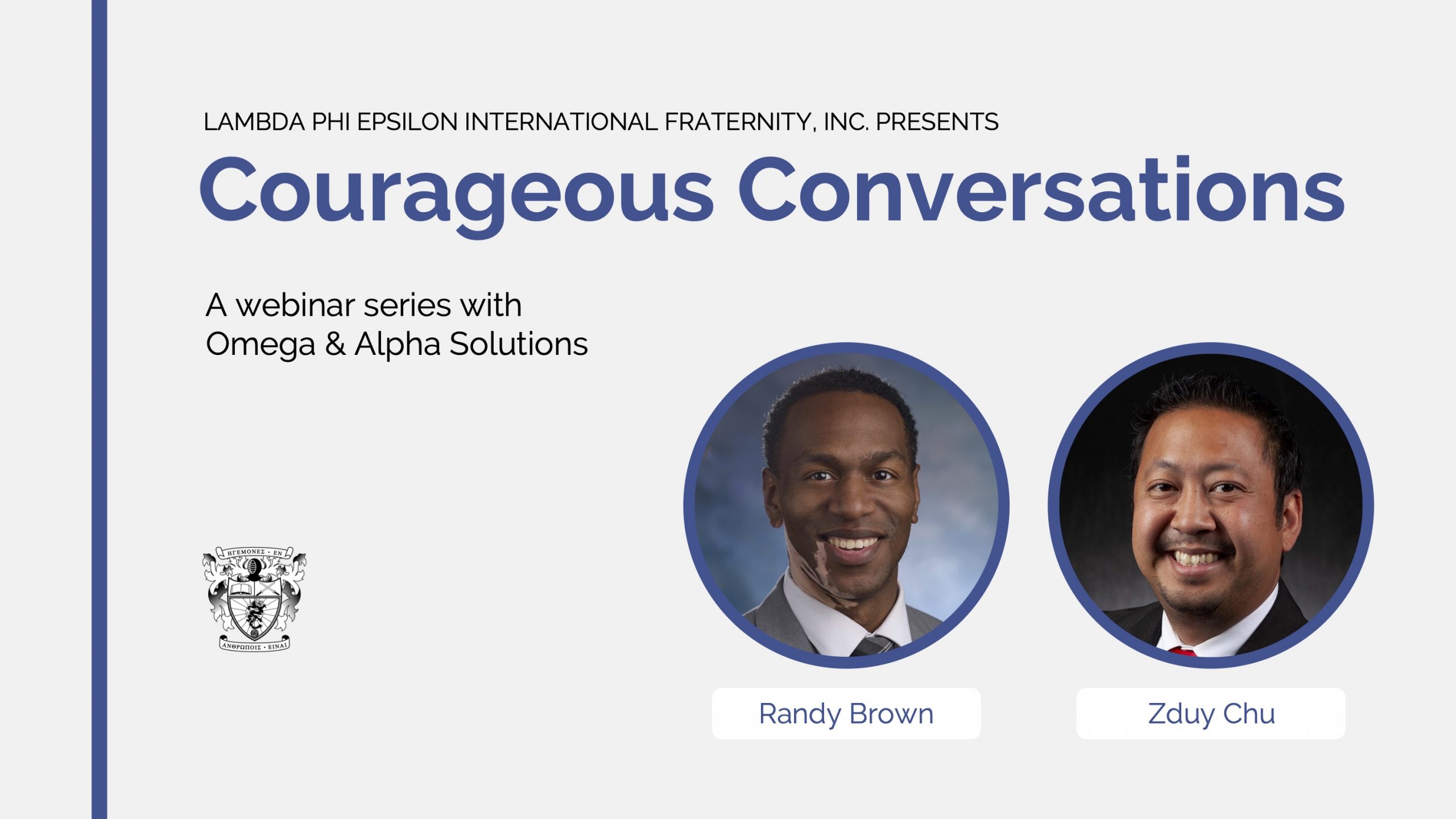 12 Oct

Announcing Courageous Conversations Webinar Series

The Lambda Phi Epsilon Board of Directors is pleased to announce a new year-long partnership with Omega & Alpha Solutions, LLC. Consultants Randy Brown and Dr. Zduy Chu will provide live, interactive webinars that inform fraternity membership on how to facilitate dialogue locally among their chapter and alumni in constructive ways, identify space and resources for healing during times of fraternal discourse, and show up as a visible ally for the Black community.

Topics to be presented on a bi-monthly basis to undergraduate membership include:
• Foundations of Courageous Conversations: Leading with Empathy and Emotional Intelligence (October 2020)
• Skills for Courageous Conversations: Leveraging Cultural Competency through Aligning Behavior for Intent and Impact (December 2021)
• Having Courageous Conversations: Addressing Anti-Blackness (February 2021)
• Being Resilient in Courageous Conversation and Navigating Cancel Culture (April 2021)

Brown and Chu have been working closely together for the past 19 years on various projects that focus on Diversity, Equity, and Inclusion (DEI). Both are Qualified Administrators of the Intercultural Development Inventory (IDI) and have created, led, and executed curricular designs for effectively cultivating DEI strategies for individuals and organizations to grow in their understanding of both themselves and the world around them.

"Courageous leadership is a core value of Lambda Phi Epsilon. Providing our membership with more opportunities to educate each other on the complexities across race and difference through courageous conversations will enable them to become more effective change agents within their chapter, council, and community," says International President Bryan Dosono. "We welcome the expertise of Randy Brown and Dr. Zduy Chu to call in and guide members through introspective dialogue that cuts at the core of current social concerns."

They come highly recommended by Tram Alisa Vo, a member of alpha Kappa Delta Phi International Sorority, Inc. who has bridged fraternal partnerships across groups like the National Association of Asian American Professionals and the Rape, Abuse, and Incest National Network. "It is riveting to watch change come to life," says Vo. "Randy and Zduy educate with passion and believe in the purpose of their work. I can attest to the strength and power of their ability to help our community start the process to heal in this time of crisis."

Randy Brown is originally from North Little Rock, Arkansas. He attended the University of Arkansas at Fayetteville, where he received a bachelor's in Business Management with a focus on Small Business and Entrepreneurship. Inspired by his undergraduate involvement and leadership in Student Government, National Pan-Hellenic Council, and Sorority and Fraternity Life as a member of Omega Psi Phi Fraternity, Inc., he went on to obtain his M.Ed. from the University of Vermont in 2007. Brown's passion for cultural competence initiatives was further nurtured during his time in Vermont and served as an incubator for his personal and professional growth. Randy's professional experiences have led him to several different leadership positions in university settings.

Dr. Zduy Chu attained his bachelor's in Marketing Management and master's in Higher Education and Leadership from the University of Arkansas where he also became an active member of Alpha Phi Alpha Fraternity, Inc. In 2006, Chu accepted a position with the University of California, Santa Barbara where he was able to expand and diversify his understanding of people, organizations, and structures as well as voyage in 2010 with Semester at Sea as a Living-Learning Coordinator to expand his international experience. In 2016, he received his doctorate in Educational Leadership from Georgia State University.

###

Contact
Zac Antonius, Executive Director
Lambda Phi Epsilon International Fraternity, Inc.
zac.antonius@lphie.org

About Omega & Alpha Solutions, LLC.
Randy Brown and Zduy Chu founded Omega & Alpha Solutions, LLC. on the values of faith, family, and socially responsible business practices. These three areas along with their philosophy of "Beginning with the end in mind" guide their work with clients as they present solutions that foster inclusive and socially responsible perspectives and behaviors.

About Lambda Phi Epsilon
Founded in 1981 at Los Angeles, California, Lambda Phi Epsilon International Fraternity, Inc. has grown to become the world's largest Asian-interest fraternity. Lambda Phi Epsilon (ΛΦΕ, also known as LFE) aims to guide men on a lifelong discovery of authenticity and personal growth. To learn more, visit https://lambdaphiepsilon.com.