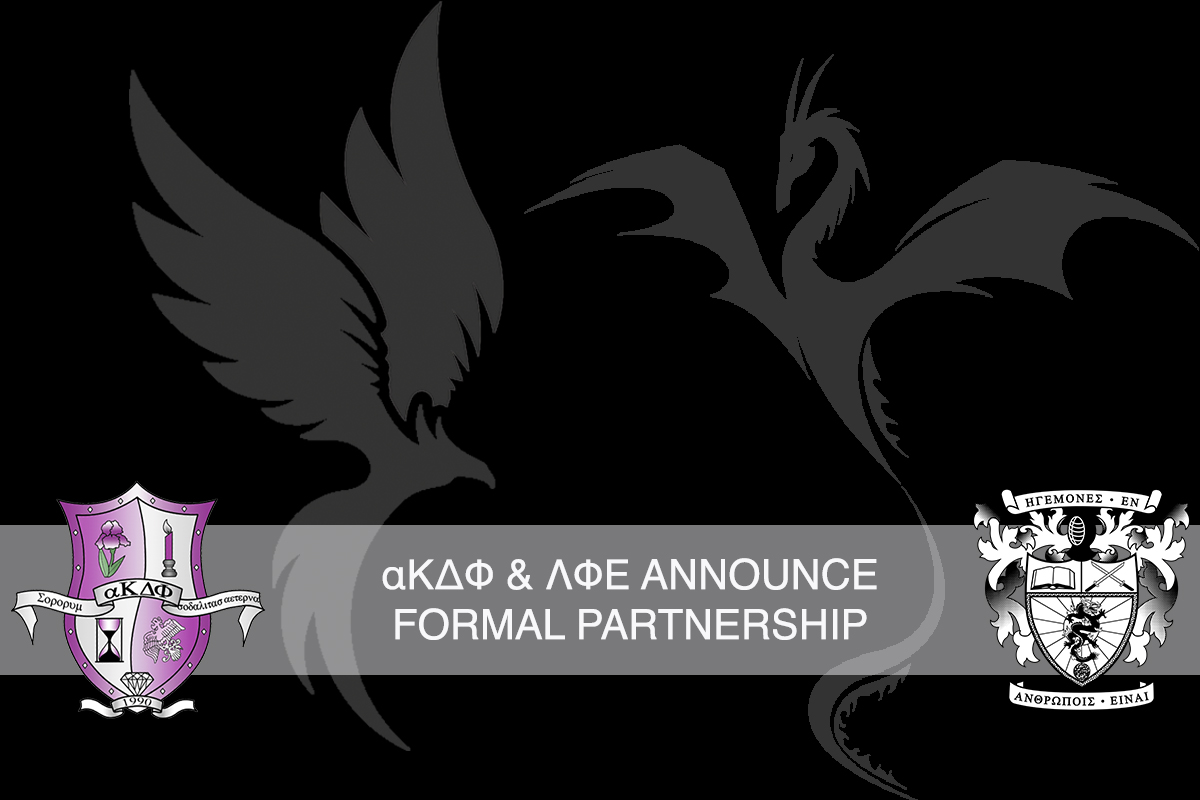 31 Aug

aKDPhi Partnership
Largest Asian-interest sorority and fraternity formally declare partnership for strategic planning
Chicago, IL — alpha Kappa Delta Phi International Sorority, Inc. ("aKDPhi") and Lambda Phi Epsilon International Fraternity, Inc. ("LFE") announced a formal partnership between the two organizations effective immediately. This marks a historic milestone in the Asian-interest fraternal movement as culturally-based Greek organizations continue to grow and evolve into more established groups who are recognized among other nationally-acclaimed Greek organizations.
Both founded in California, aKDPhi and LFE are the largest Asian-interest sorority and fraternity globally. In the past several decades, their organizations have expanded to the Midwest, South, East Coasts of the United States and Canada. During this period of expansion, aKDPhi and LFE first partnered together during their annual National Convention in 1993 and have regularly hosted their individual Convention meetings in the same city since. Establishing this ongoing partnership of shared assets led the organizations to begin formal discussions in 2014 for an official co-association. The purpose of these discussions is to address issues that would better serve their members with more resources and opportunities which could only be done as a concerted effort.
As part of the formal partnership, aKDPhi and LFE will coordinate and share the responsibilities of joint convention planning and the hiring of a shared Executive Director. More details on the partnership are expected to be announced in September 2015.
"The Greek landscape is constantly changing, especially as more culturally-based organizations expand across all parts of the nation and are in need of better resources to address the needs of their members. Recognizing that alpha Kappa Delta Phi has reached a level where professional support is not only needed but also required, we are excited to partner with Lambda Phi Epsilon and share resources that will serve our members better," said Donna Wang Su, Board of Directors Chairman, alpha Kappa Delta Phi.
"While we have been fortunate enough to partner with alpha Kappa Delta Phi on many levels previously, I am very pleased and excited that we are pursuing a partnership going forward that will allow us to collaborate and to share resources in ways we have not done before. We will be able to more fully leverage the capabilities of our two organizations to better serve our members. This new partnership is a common-sense path for both Lambda Phi Epsilon and alpha Kappa Delta Phi to take together in the next stages of organizational growth and expansion where professional support is necessary." Paul Nguyen, Chairman, Board of Directors of Lambda Phi Epsilon.
About alpha Kappa Delta Phi
alpha Kappa Delta Phi International Sorority, Inc. was founded in 1990 at Berkeley, California, and is the largest and only international Asian interest sorority. alpha Kappa Delta Phi fosters the making of innovative female leaders through the promotion of philanthropy, scholastic excellence, and Asian awareness in the community while creating lifelong relationships. The organization is comprised of more than 6,000 members worldwide with 50 chapters in the United States and Canada. alpha Kappa Delta Phi is a 501 (c)(7) organization with a separate 501(c)(3) foundation which supports scholastic and leadership initiatives. To learn more, visit http://akdphi.org or follow the sorority on Facebook and Twitter.
About Lambda Phi Epsilon
Founded in 1981 at the University of California at Los Angeles, Lambda Phi Epsilon International Fraternity, Inc. has grown to become the world's largest Asian interest fraternity. The organization aims to guide men on a lifelong discovery of authenticity and personal growth. The fraternity is affiliated with both the North-American Interfraternity Conference and the National APIA Panhellenic Association. To learn more, visit https://lambdaphiepsilon.com or follow the fraternity on Facebook and Twitter.
For more information, contact:
Donna Wang Su, Board of Directors Chair
BODChairman@akdphi.org
or
Paul Nguyen, Board of Directors Chair
paul.nguyen@lambdaphiepsilon.org
###
Graphic by Cole Hermida.