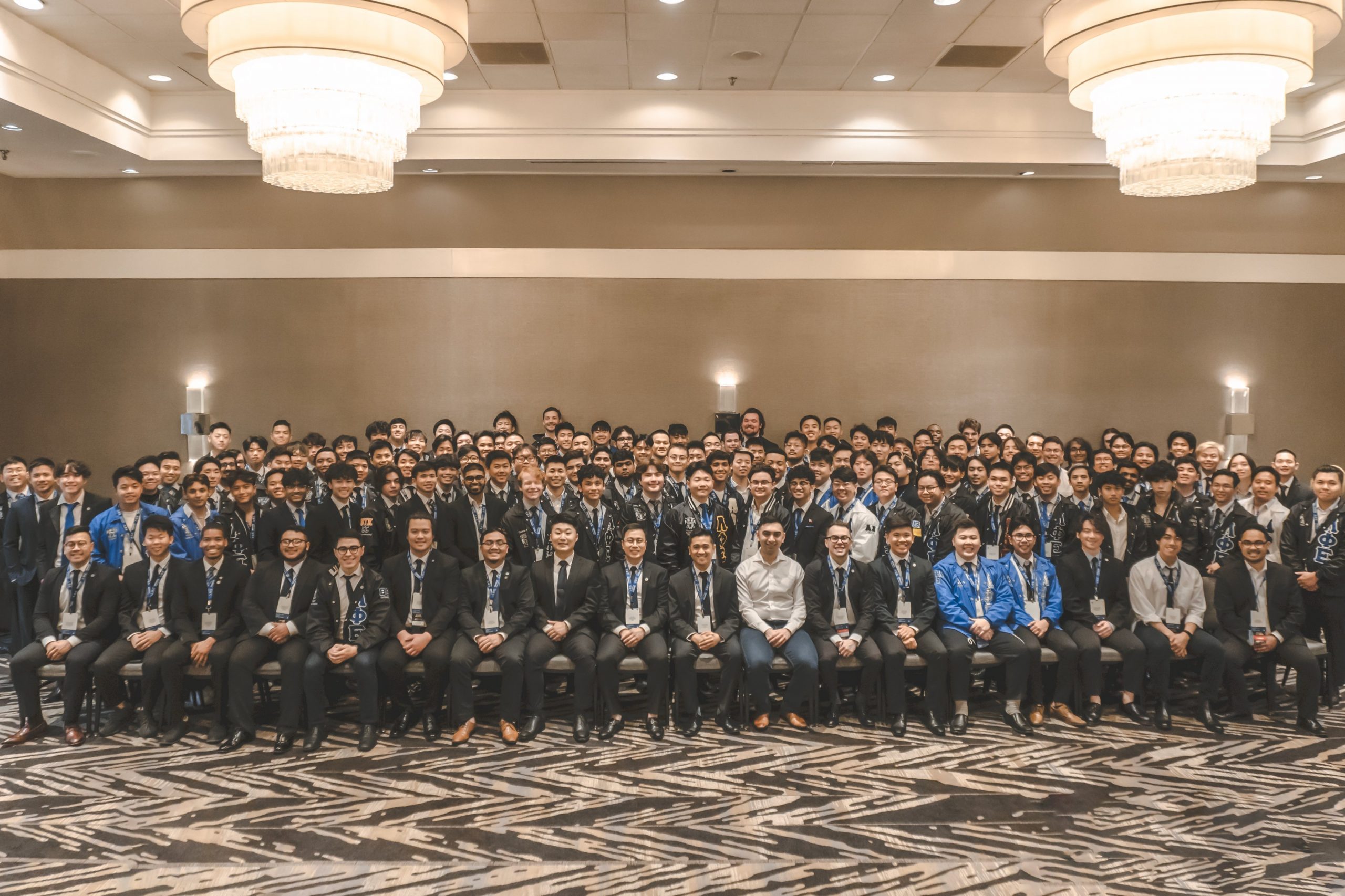 26 Jun

Convention 2022: Light The Way

Lambda Phi Epsilon members traveled to Tampa, Florida for the annual summer LFE Convention. Over 160 brothers and guests checked into the Hilton Tampa Airport Westshore Hotel from June 24th to 26th, 2022. 

This year's central theme of "Light the Way" sought to illuminate attendees with new perspectives for connection, innovation, and celebration. "As a first-time attendee, I engaged in much-needed talks with other bros across the continent," said Temuulen Batbold of the Virginia Polytechnic and State University Associate Chapter. "It provides what is necessary to be formal members of Lambda Phi Epsilon and why we need to incorporate our core values on a daily basis."
Be The Light, Be The Match
Friday evening began with a brotherhood kickoff event, followed by a philanthropy-focused program to educate members about their impact through service. Matthew Kroeger, Senior Manager of Partnerships for Be the Match, announced the results of a coordinated fraternity-wide philanthropy campaign for the National Marrow Donor Program. LFE chapters collectively registered 2,000 new individuals committed to donating their stem cells to patients in need. To date, there are 10,430 community members who joined the registry due to service efforts from Lambda Phi Epsilon members since the beginning of the storied partnership, and 33 became life-saving donors from our registry enrollments.
"This year's efforts with Be The Match proved to be a momentous one, setting new standards and acknowledging the grounds we've covered with our fraternal philanthropy," said LFE Programming Coordinator Mitchell Liang. "The presence of Be The Match at LFE Convention 2022 was greatly appreciated and demonstrated the potential of growth in partnership."
Fuel the Flame, Fuel the Future
The Saturday speaker lineup highlighted a range of LFE alumni who related their fraternal experiences with advice for development beyond college. Alex Su, Head of Community Development at Ironclad (and rising TikTok star), delivered the keynote address. He shared how chartering Lambda Phi Epsilon at Carnegie Mellon prepared him for success in the real world two decades years later.  Leland Yu, Founder of Run For Chinatown, articulated how he activated his local Chinatown community with economic support through the sport of running.
"Meeting other bros and seeing the effort that alumni are putting in, it's assuring to see first hand how much some alumni care and the passion that they have for the future of our fraternity," said Chandler Pham of the Florida State University Associate Chapter.
Workshops ranged from a wide array of topics spanning Saturday and Sunday, including:
"NPHC Acknowledgement: Appreciating the Roots of Greek Culture" by Daniel Patton

"How to Become a Millionaire without Being Super Smart or Talented!" by Kam Huang

"Building Blueprints: Michigan Endowment Case Study" by Victor Em & Hudson Tang

"LiFE After College" by Winston Lee

"Finding the Right Mindset about Growth and Balance" by William Park

"Lambda Factor: Building the Lambda Creative Network" by Richard Ngo and Matthew Wright

"How to Hack Travel with Points and Miles" by Dr. Bryan Dosono

"How To Run Your Chapter Externally" by Van Dao

"How to Serve with the International Board" by Nicholas Dang

"New Member Education and the Path Forward" by Jeremey Dela Paz & An Nguyen

"How To Run Your Chapter Internally" by Michael Seo & James Maynard

"How to Mentor a Charter Class" by Zac Antonius
"From the brothers met to the workshops attended, there was a consistent vibe throughout the weekend that I would describe as one of love, connection, and support. It was a learning experience as much as it was a fun one," said Taha Rizvi of the University of Minnesota Associate Chapter. "From the various workshops I attended, I learned professional and hobbyist advice mostly for my personal knowledge. I also learned about other chapters' experiences and situations with their university's Greek life and how things are similar or different from my own. I left convention having learned a lot more about a much wider range of topics than I initially expected—knowledge I hope to put to use as soon as the day after returning home."
Blaze New Trails, Pave New Paths
On Saturday evening, the International Fraternity applauded the success of its inspirational scholarship recipients and award-winning chapters in its signature Banquet Ceremony. 
Individual award recipients:
Rising Leaders Among Men Scholarship: Eric Rao of the University of North Carolina at Chapel Hill Associate Chapter

Academic Excellence Scholarship: Steven Nguyen of the Florida State University Associate Chapter

Lambda of the Year Scholarship: Connor Noble of Alpha Tau Chapter at the University of Virginia

Man of the Year Award: Leland Yu of Alpha Alpha Chapter at State University of New York, Binghamton
Outstanding chapter award recipients:
Outstanding Scholastic Programming: Alpha Rho Chapter at Columbia University

Outstanding Asian Advocacy Programming: The Ohio State University Associate Chapter

Outstanding Communications and Public Relations: University at Albany Associate Chapter

Outstanding Philanthropic Programming: Alpha Tau Chapter at the University of Virginia

Chapter of the Year: Alpha Gamma Chapter at Baylor University
The International Board's 27 officers contributed 10,775 hours of service to the fraternity over the course of the past year, and their efforts were honored with Presidential Volunteer Service Awards (PVSA) through AmeriCorps and Points of Light.
Pass the Torch, Light the Way
The House of Delegates meeting convened on Sunday to elect officers onto the Board of Directors for the 2022-2024 term. Delegates elected David Kim from the University of Texas at Austin to the role of the 21st LFE International President and Byron Solis from Florida State University Associate Chapter to the role of the LFE External Vice President. "I am both honored and excited to represent the organization as the next External Vice President," said Byron Solis. "Within my term I want to portray the positive image that we know we have to folks who might think otherwise."
On Sunday, a brotherhood showcase revealed two new chapter promotions via confetti cannon fanfare: Beta Delta Chapter at Washington State University and Beta Epsilon Chapter at the Rochester Institute of Technology!
"Attending the LFE 2022 Convention was life-changing. I learned not only how I can improve as a brother in the fraternity, but also as a person," said Joseph Jimenez of the newly promoted Beta Epsilon Chapter of Rochester Institute of Technology. "It also prepared me for my upcoming school semester and after college, learning how I can create change on campus and prepare for life and graduation."
To end the weekend with a bang, LFE Director of Communications Matthew Wright hosted a brotherhood showcase that had attendees showcase a wide range of talent, from gymnastics to fashion, to strolling, to comedy. "I genuinely love this brotherhood and if this past year has proven anything, it's that we are resilient, driven, increasingly progressive, extremely resourceful," said Matthew Wright. "I know this weekend inspired, excited, and enlightened the next generation of brothers as we continue to make this fraternity better."
###
About Lambda Phi Epsilon
Founded in 1981 at Los Angeles, California, Lambda Phi Epsilon International Fraternity, Inc. has grown to become the world's largest Asian-interest fraternity. Lambda Phi Epsilon (ΛΦΕ, also known as LFE) aims to guide men on a lifelong discovery of authenticity and personal growth. To learn more, visit https://lambdaphiepsilon.com.
Lambda Phi Epsilon Contact
Zac Antonius, Executive Director
Lambda Phi Epsilon International Fraternity, Inc.
zac.antonius@lphie.org