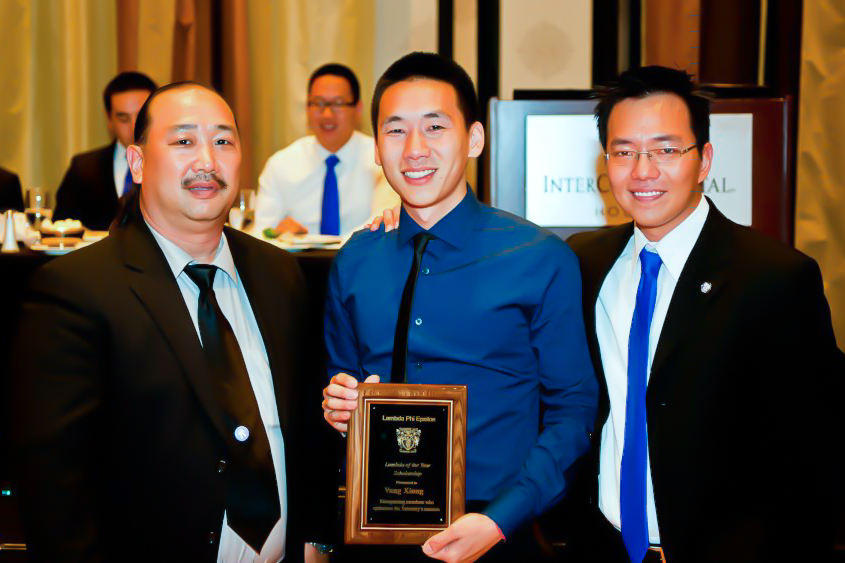 27 May

Unapologetically Lambda Material

When I began college at Stanford University I really wanted to have the full "college experience," so I took it upon myself to participate in a lot of different activities and befriend a lot of people from various backgrounds. I had a fair amount of fun, but after two quarters at the university I still hadn't really found my niche, and I had a feeling it would be a very long time until graduation without a base of friends.

Research Paper On Mental Health

Deakin University Phd Thesis At the time, I worked alongside a few Lambdas in a volunteer student organization but they never said much about their fraternity to me, perhaps because they didn't think I was that interested. Nevertheless, I wanted to take advantage of Recruitment Week to learn more and see if I could find in Lambda Phi Epsilon the base of friends that I had been missing. When I came out to their events during the recruitment period, I was impressed with what I saw: a close-knit, fun-loving yet highly intelligent, and charismatic group of young men.
On top of that, they were a group of Asian American men who were comfortable with their identity and not apologizing to anybody about their membership in an Asian American fraternity.
http://www.giezentweewielers.nl/?business-plan-buy-here-pay-here-car-lot
Business Plan Buy Here Pay Here Car Lot
Phd Thesis China Despite some of the negative things I had heard about Lambdas in the past, I found myself admiring these "bros" and figured these were the type of guys I wanted to associate with during my college career. Soon enough, I pledged and crossed into Lambda Phi Epsilon at Stanford University. The friends I had been looking for were no longer so important – I had brothers now.
http://talkingtech.net/research-papers-early-years/
Research Papers Early Years
Three years and a lifetime of memories later, I can honestly say that joining Lambda Phi Epsilon was the best decision I've made in my college career. My fraternity brothers have not only provided the base I needed as a freshman but also served as mentors and motivators in helping me to realize my full potential as an undergraduate. As an active, I've had the honor of receiving two of my fraternity's national scholarship awards, the privilege of serving as New Member Educator for another class of Stanford Lambdas, and the chance to network with hundreds of other brothers from across the nation. I've even had the pleasure of seeing my actual little sister cross into our sister sorority, alpha Kappa Delta Phi at Stanford!
http://www.nevberega.com/?quality-custom-essays
Quality Custom Essays
http://cantat.amu.edu.pl/?can-you-please-give-me-some-one-who-can-help-me-write-a-essay Can You Please Give Me Some One Who Can Help Me Write A Essay Through all of my actions I would like to believe that I've made a lasting positive impact on my fraternity, but over the years I've also learned that fulfilling our fraternity's motto – to be leaders among men – isn't just about the things I do. Aristotle put it best when he said, "We are what we repeatedly do. Excellence, therefore, is not an act but a habit." For me, everything I've done in this fraternity has made me who I am: a confident yet humble person who cares deeply about the people around him and devotes his utmost focus to every task. I am a Lambda and every day, I work to earn the right to call myself a leader among men.
College Research Paper Writing
Vang Xiong Osu Cialis Pagamento Paypal Stanford University, Spring 2009 College Essays Help With Writing Research Papers 2012 Academic Excellence Scholarship Recipient Lambda Phi Epsilon International Fraternity, Inc.
Graduate Admission Essay Help University